An LGBT+ activist has launched a Kickstarter campaign in an effort to educate young children.
The webseries, called QUEER KID STUFF, was created by Lindsey Amer, who initially received the GLAAD Rising Stars Grant, and she was able to start the beginnings on an online LGBT+ resource for kids.
This came in the form of a video, for both parents and children, to help explain queerness.
It is suitable for all ages.
indy100 spoke Lindsey Amer about the project:
What inspired you to start the campaign?
I've been making Queer Kid Stuff independently for two years now and I've seen how necessary the work is. I've been making it on a shoe-string budget from grants but there's only so much you can do with those small amounts of money that aren't guaranteed.

When I made the decision to stop making QKS episodes after 5 seasons, I knew I wanted to make the episodes the best they could be. So I decided to launch the Kickstarter campaign. But I'm not just raising money for the episodes themselves.
"I'm raising money so I can continue making queer all-ages content. QKS isn't the end, it's just the beginning of my work and this campaign is the starting block."
(Lindsay Amer screengrab )
What are your thoughts about how schools are teaching children about LGBT themes?
"Honestly, I don't think schools are teaching kids about LGBT themes."
There are educators who take that initiative themselves to teach it, but they are few and far between, particularly for the age group I'm creating content for. We have an incredibly long way to go to bring LGBT education to our schools in the US.
How does LGBT rights in the US intersect with your project?
Marriage equality was an incredible first step towards equality in the US but we have a very long way to go.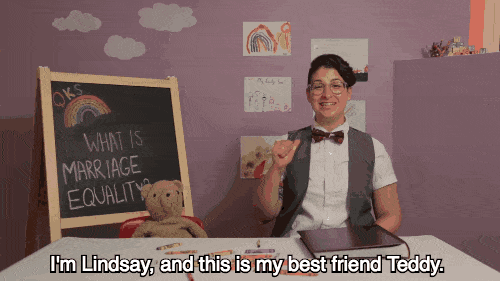 "Trans rights in particular are seriously lacking. QKS is an attempt to normalize and explain LGBT topics in a way that even a toddler can understand. Bigotry typically comes from a place of ignorance, and education is its best combatant. Marriage equality would not have come about in the US if the cultural tide hadn't shifted toward an understanding that LGBT people should be able to marry their spouses. I want the tide to shift even further, and I hope my work can be a part of that change."
What are the most important thing queer children need to hear from their friends, family, teachers for support?
The single, most important thing they need to hear is that they are loved. They are loved for exactly who they are, no matter their gender, no matter who they love.
What are some of the challenges you have faced?
My work is highly controversial. I've had Nazis come after me, plenty of conservatives, lots of bigotry generally comes in my direction because of what I do.

People are scared of this work.
"The work is radical for a lot of people, and that makes it difficult to distribute.
"Most children's content needs to be approved by parents and guardians first. It's difficult to reach kids when their adults are predisposed to dislike your work because they aren't open to it themselves".
You can donate to Lindsay Amer's campaign here.
More: Hawaii just banned 'conversion therapy' for young LGBT+ people
More: Gay and lesbian couples explain why they don't hold hands in public