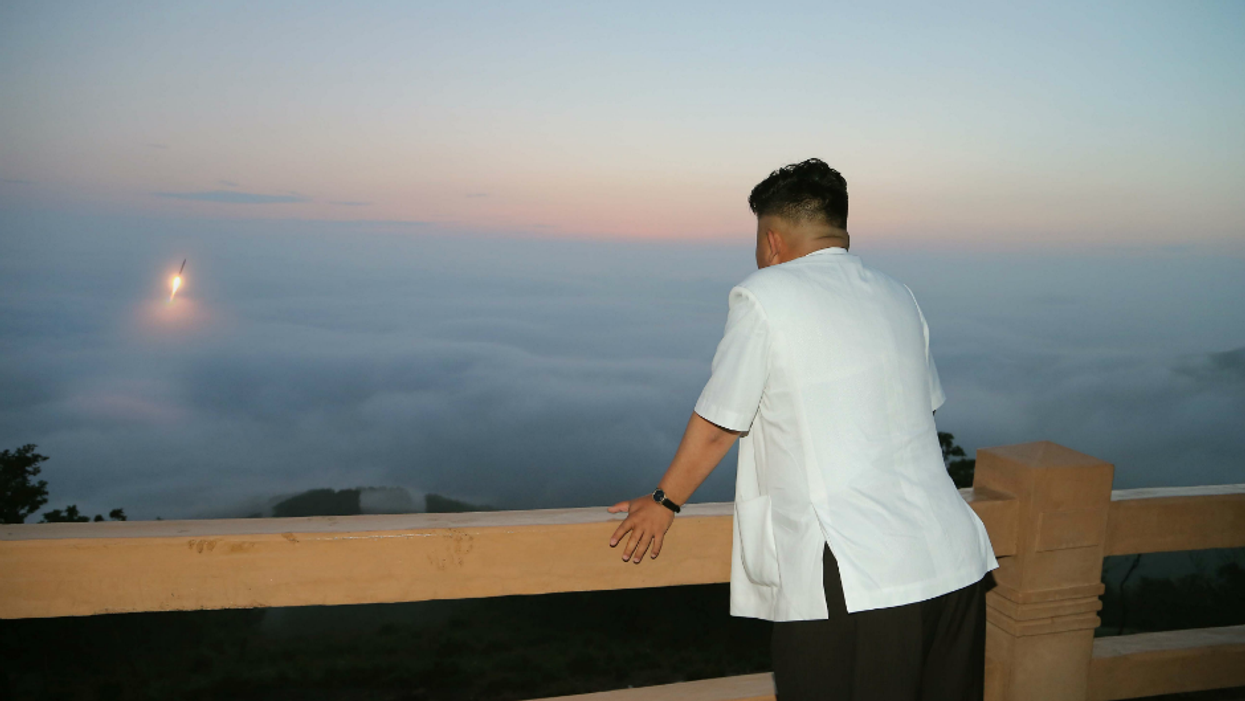 Amid rumours of an addiction to Swiss cheese and video evidence of a severe limp, North Korea's despotic supreme leader Kim Jong-un has disappeared from public life.
Cue frenzied discourse as to his whereabouts and what it all means for the future of the "Hermit Kingdom".
Owing to the country's secrecy, no one knows exactly what is going on. But here are some theories...
When did we last see him?
Kim was last seen in public on 3rd September when he was walking with a visible limp.
He has since missed several high-profile public events - including the founding day of the Democratic People's Republic of North Korea on 9 September and the Supreme People's Assembly two weeks later.
Poor health?
Video of Kim with a visible limp
A report in the South Korean paper Chosun suggests Kim underwent surgery after fracturing both his ankles. The paper reports that Kim injured himself "during a gruelling tour of military bases and factories in Cuban heels".
South Korean news agency Yonhap cited anonymous sources which said the dictator was "suffering from gout along with hyperuricemia, hyperlipidemia, obesity, diabetes and high blood pressure".
Time reports that the simplest, and likeliest, answer as to his whereabouts is that he is ill. Both his father, Kim Jong-il, and grandfather, Kim Il-sung suffered from gout, which tends to run in families.
Some have suggested his sister Kim Yo Jong is running the country while he recuperates.
Deposed as leader?
Hwang Pyong-so at the closing ceremony of the Asian Games, Incheon, South Korea (Picture: Getty)
North Korea is " in the midst of a civil war ", according to defected army official Jang Jin-sung, who spoke in the Netherlands last month. With rumours that the capital, Pyongyang, has been shut down, it seems almost certain that all is not well in the country.
"This sort of action suggests there has either been an attempted coup or that the authorities there have uncovered some sort of plot against the leadership," Toshimitsu Shigemura, a professor at Tokyo's Waseda University told the Telegraph .
"If it is a military-backed coup, then the situation in Pyongyang will be very dangerous and I have heard reports that Kim has been moved out of the capital," he continued.
A former intelligence officer of the regime also told Vice that Kim was deposed in 2013 and is now merely serving as a puppet leader for the country's Organization and Guidance Department (OGD).
Kim dynasty fell long ago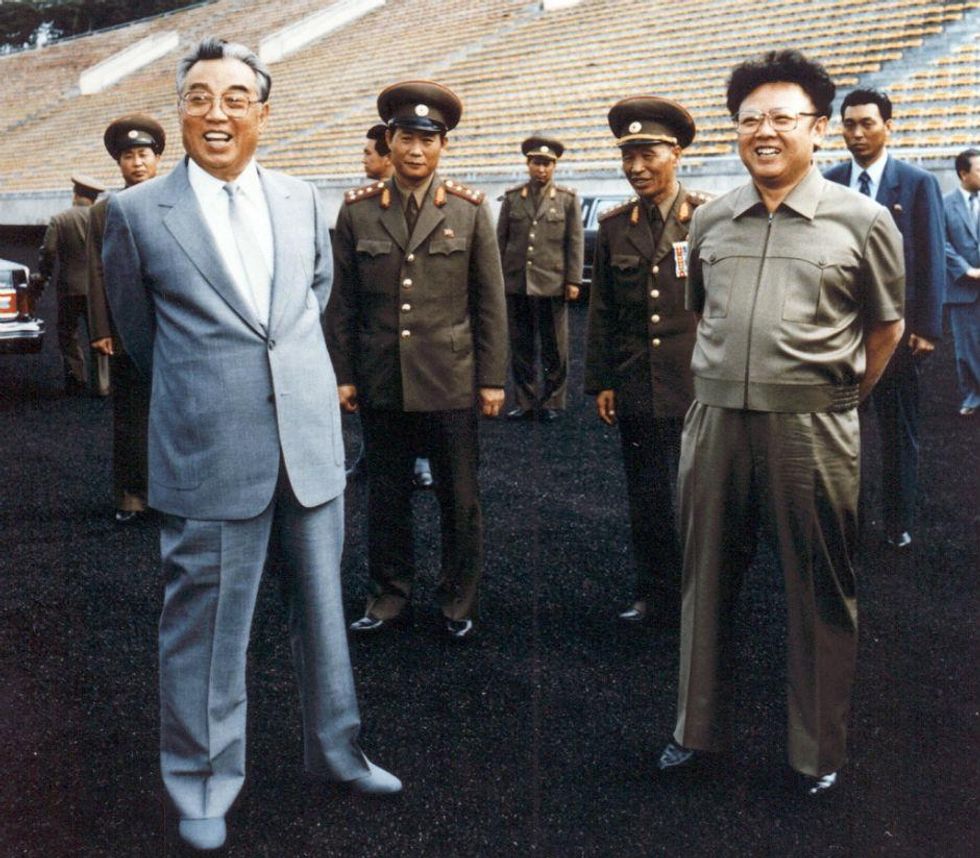 Kim Jong-Il (right) and Kim Il-Sung. The Kim dynasty has been in power since 1948 (Picture: Getty)
For Remco Breuker , professor of Korean studies at Leiden University in the Netherlands, the events of the last month could represent the confirmation of power of the OGD.
A group of senior officials who held strong ties to Kim's father Kim Jong-il, the OGD help to co-ordinate surveillance, the security of the leader and appoint all senior civil servants.
The Kim dynasty, as we know it, has already ended.
Professor Remco Breuker, speaking to i100.
"Kim Jong-un is not the dictator we all think he is. I don't think he is entirely powerless, and I don't think he's a puppet. I do think he might be the first among equals and not much more," explained Professor Breuker, speaking to i100 .
Several events in the past 12 months give evidence to the suggestion that the power of the Kim dynasty has slipped since Kim Jong-il's death in 2011.
"I don't think he [Kim] really knows what is going on in terms of governing the country. He doesn't have many people he can trust. He doesn't have a network to run the country. His father's old friends from university [the OGD] do," explained Prof Breuker.
He wasn't raised in the country. He doesn't even know his own brother, which tells you something about his isolation.
As BuzzFeed reports, a delegation of the OGD was sent to Seoul, the capital of South Korea, for diplomatic talks in September. This was notable for the person who led it. Hwang Pyong So, the top political officer in the military, and vice chairman of the National Defence Commission — "often considered the second most powerful person in North Korea". Could he be the new man in charge?
"They have sent out high ranking officials before but never in the capacity of representing the supreme leader. This may well be the first time," Breuker said.
Hwang's appearance at the closing of the Asian Games was also seen as significant.
If you put everything together things really seem to be changing. Maybe today, maybe tomorrow Kim will re-emerge, but it won't really matter because he's not in charge. We need to look past the face of the regime.
A news report explaining the dismissal of Kim Jong-un's uncle Jang Sung taek last year (Picture: Getty)
The public dismissal of Jang Sung-taek, Kim's uncle (by marriage) last year was unusual too. Professor Breuker explained that purges of senior officials have happened in the past but they would almost always be behind closed doors, particularly for someone so close to the leader.
"They [the OGD] have been a bit more bold, a bit more certain in their role in the country."
The future
By removing Kim as leader, the regime could may attempt to distance itself from the horrors of the dynasty. Human rights abuses are rife in the country and the regime, for the first time ever, admitted to the existence of labour camps this week - although not to all their horrors.
"It may be the case that we all get excited about changes in North Korea and then nothing changes, which is what usually happens. But it is worth getting excited because life is so terrible there, if there is any chance of making this work then we need to make it happen," explained Prof Breuker.
Whatever is going on, it is clearly not business as usual in North Korea.