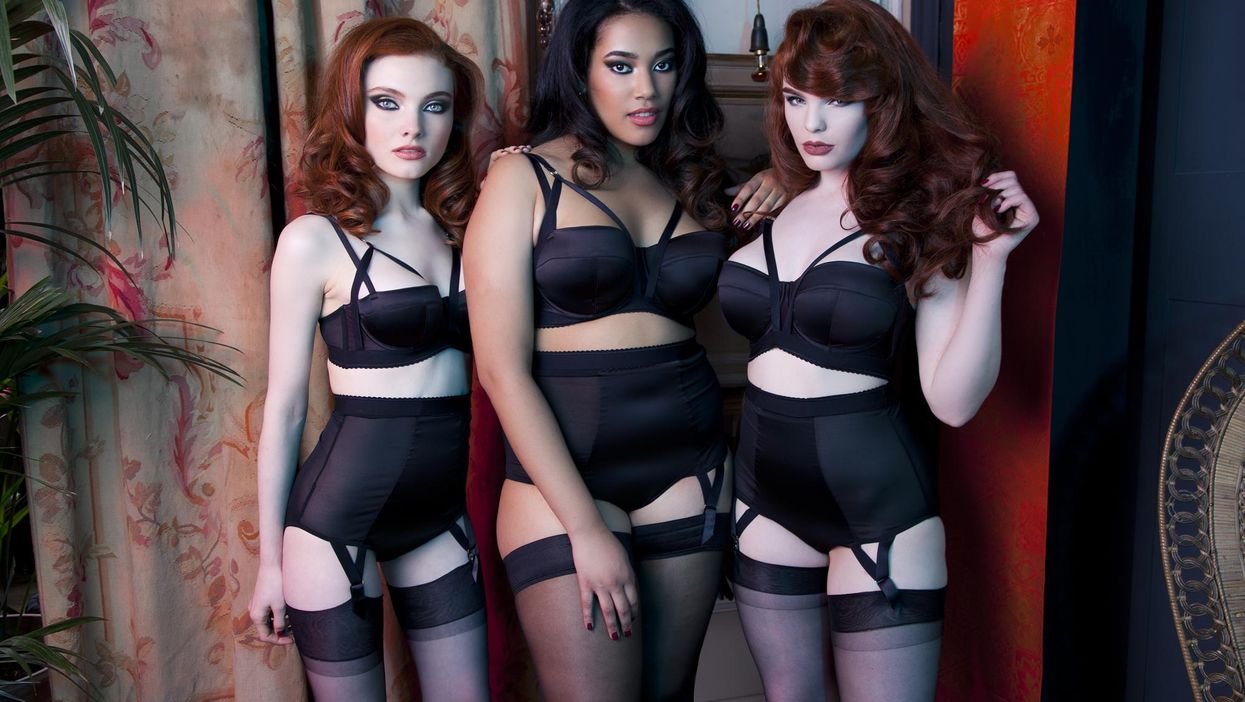 "I think it's important to acknowledge the ingrained beauty ideals that favour lighter skin and European features, and to examine how this affects the images we see as consumers."
These are the words of Anna Sampson, brand director of the progressive, London-based lingerie label Playful Promises, which last week sparked a crucial discussion around race and representation in the lingerie industry.
In a refreshingly transparent Twitter thread, the brand revealed:
"The disparity between engagement on images of white women and women of colour is something that I had heard other people mention a few times," explains Sampson. "But it's a claim that I've rarely seen explored in articles discussing body image and social media. As far as I'm aware, nobody has made a study of this, but as diversity is important to our brand, I wanted to look into this with our own engagement."
The brand's popular Instagram account proved to be fertile testing ground; at the time of writing, Playful Promises has more than 100,000 Instagram followers and a reputation as a particularly forward-thinking retailer.
Despite this focus on diversity and inclusivity, Sampson found some surprisingly large gaps in engagement. She describes posting visually similar images at similar times of the day as an experiment – the only difference between the two was the skin colour of the model. Models of colour were 'liked' at much lower rates, sometimes up to 70 per cent less.
Sampson highlights that this lack of engagement likely stems from "implicit bias" – "we have amazing, supportive followers, and one of the things that draws them to our brand is our emphasis on diversity".
It's highly unlikely that our followers would hold racist beliefs, but bias regarding beauty can be evident in how we respond to a few seconds of an image scrolling through Instagram.
Author, blogger and Playful Promises model Cora Harrington, also known as The Lingerie Addict, states that this bias and these statistics more generally come as no surprise.
She responds by highlighting that the fashion industry – and, by default, the lingerie industry – favours Eurocentric beauty standards and an aesthetic of 'femininity' which inherently favours models with light (preferably white) skin.
Of course there's a problem – I'm not sure how anyone could look at ad campaigns, magazine covers or brand lookbooks within the fashion industry and arrive at the conclusion that there isn't a lack of diversity.
Harrington also describes the amplification of this issue within the "more conservative and insular" lingerie industry, which she argues is more resistant to change. She exemplifies this resistance by citing its recent realisation that, "for darker-skinned women of colour, beige is not 'nude'."
That, in and of itself, speaks to the lack of diversity within intimate apparel.
Harrington's statement seems to be in reference to the relatively recent success of companies like Nubian Skin, a lingerie company which set out to "redefine nude" a few years ago by releasing a range of underwear and hosiery in a series of darker skin tones. Writer Charlie Brinkhurst Cuff spotlighted the company for The Guardianback in 2016 alongside two others – Own Brown and Bianca Miller. Although she highlighted that there was still work to be done, she wrote of her joy at finally finding a 'nude' shade to match her own skin tone.
This positive reception to companies actively incorporating diversity underlines that the demand for more diverse product lines and campaigns does exist.
Stephanie Yeboah, an acclaimed writer who also blogs at Nerd About Town, highlights that the industry rarely recognises this fact.
Instead, it continually assumes that a focus on white models will yield more profit – "society still seems to think that whiteness means more sales, so brands play it safe and adhere to this ideology."
By doing this, they are further perpetuating the idea that white bodies are more valuable in society than black bodies.

This sort of dangerous thinking can have a damaging ripple effect across society, and across the black community in general.
The frustrating fact is that Playful Promises' recent revelations underline the ongoing significance of the problem.
Models of colour – particularly those who are darker-skinned – are still often left out of campaigns, whereas numerous models have shared their experiences of colourism online and underlined the ways in which photographers and creative teams are ill-equipped to work with them. Victoria's Secret model Leomie Anderson has spoken in more detail about this in the past, filming her own advisory 'Black Model Survival Kit' and frequently recounting experiences of being dismissed or scorned for speaking out.
The fact is that incorporating a genuinely diverse range of models after years of exclusion and erasure isn't easy, and Sampson worries that Playful Promises' findings could deter other brands from casting diverse models in their campaigns:
Another brand might see the drop in likes and use it as a poor excuse to stick with white models.

We see it as a drive to be more inclusive – if diversity becomes the norm, hopefully one day society will be able to acknowledge beauty beyond race.
She also points out that this disparity in social media engagement doesn't translate into sales – in other words, models of colour on the actual website don't stop customers from clicking through and actually buying the products they're wearing.
Bethany Rutter, herself a writer and social media editor at plus-size label navabi, has often been credited with sparking crucial debates around the mainstreaming of body-positivity.
Earlier this year, Rutter released a book, Plus+, which spotlighted a genuinely innovative range of plus-size bloggers in inventive, impeccably styled outfits. She is similarly unsurprised at these revelations of racial bias, but also highlights that the problem is doubly tough on plus-size women of colour:
The lens through which most of us see the world is, to varying degrees, racist, so that problems explains why posts featuring women of colour – especially black women – receive lower engagement than those featuring white women.

This goes double for plus-size black women because of cultural racism as well as cultural fatphobia. I think a lot of this has to do with what the advertising and fashion industries position as 'aspirational', which is always thin and white.
She goes on to underline that "even the most stylish, creative plus-size black woman" is at a disadvantage because of this dual discrimination – a fact which is undeniably picked up on and considered by brands keen to drum up online engagement.
But breakthroughs can happen.
Sure, she's a global megastar with enough cultural clout to attract hundreds of thousands of buyers alone, but Rihanna recently revolutionised the makeup industry with an expansive cosmetics line founded on inclusivity as a core principle. Now, she's extending her reach to incorporate a lingerie line – and even teaser posts have revealed that spotlighting plus-size models and models of colour has been a casting priority.
Ultimately, the media and consumers have the power to shift the narrative for good – a fact which Yeboah concisely underlines. However, a genuine push in this progressive direction also requires in-house trailblazers like Rutter, who says that she continuously argues the benefits of a diverse Instagram feed.
I do social media management for a brand, and what I personally would say to combat this is to think about making your social media useful as well as self-serving.

What's the use in only posting things that reinforce cultural norms and never trying to do better at representation because you won't be rewarded in 'likes'?

I've been really clear that consistently representing women of colour on our Instagram is more important to me than figuring out what images people double-tap the most.
As well as like-minded allies willing to push for diversity, Sampson underlines the importance of consumers showing brands that they demand inclusivity – and that they are willing to step up and actively demonstrate it. She advises doing so by following more women of colour on social media and actually engaging with their content – which, again, can require individual effort which is unfortunately needed to ensure diversity as a long-term goal rather than a passing trend.
"Perseverance is key," says Yeboah as a word of advice to other women of colour seeking to challenge the problem.
Unfortunately, as black women, we have to work twice as hard to get half the success of our white counterparts. While this shouldn't be the case, the only way we can move forward is to use every available platform to make our voices heard.

If this means creating communities for us to uplift each other and thrive, then so be it. Keep making yourself as visible as possible, and take up space.
More: This tweet perfectly sums up why diversity is important