Composite: Getty Images (Thierry Chesnot) / Twitter (Screenshot)
Correction 10/05/2017:
Since publication of the below article, it has emerged that the Twitter account "@Wollygogg" was a fabrication, and the claims of a failed bet that Marine Le Pen would win the 2017 French Elections was a joke.
Before reporting on the Twitter exchanges between the account and Ladbrokes indy100 attempted to contact the user in question. They failed to reply.
The user behind the account has since confirmed to various outlets that there was no such bet and they had made a habit of starting hoax stories such as this one.
The account had been made to look as genuine as possible, featuring the name and location of an individual from Great Yarmouth and YouTube videos of that individual.
The Guardian reports that the person behind the hoax even went so far as to create fake betting slips in Photoshop to provide further 'proof' to journalists who had requested interviews.
indy100 commented on the day of reporting: "We're all going to feel horrendous if the claims prove true."
Fortunately, they proved not to be.
Albert Einstein once said that only two things are infinite: the universe, and human stupidity - and he wasn't sure about the former.
Last night, far-right presidential candidate Marine Le Pen was crushed by Emmanuel Macron in the French elections, despite continuing to brag of a "historic, massive result".
Unfortunately, the charmingly-named @Wollygogg, or Colin Johnson, was pretty sure of her victory...
Picture:
So sure, in fact, that he claimed to have placed a £500 bet on a Le Pen victory.
And brag about it on Twitter...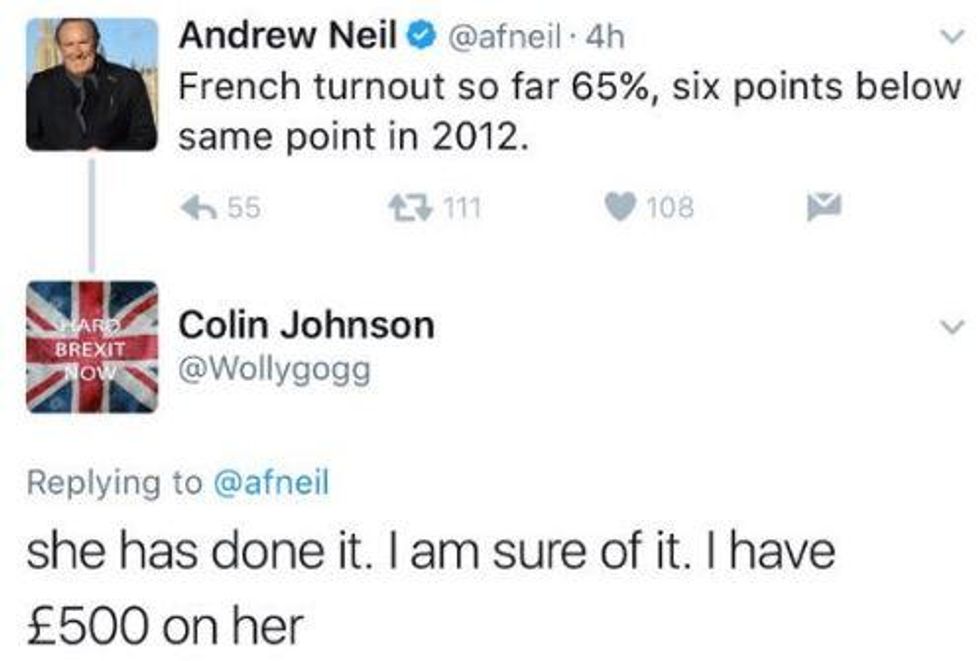 But then...this...
And 'Colin' had a problem.
So, OK, he claims he didn't place the bet - he says his 13-year-old child did.
Regardless of the fact that one could claim that about literally any wrong bet, ever...
Yes, Colin was utterly wronged.
...And he took it to a WHOLE NEW LEVEL.
Call les gendarmes!
Outrageous!

Is it though, Colin? Is it?
People on Twitter have absolutely savaged him...
Colin has deleted all the above tweets.
Some cruel individuals also decided to offer 'help' and 'coverage' to @Wollygogg, leading him to repeat his claims.
And this ploy worked more than once.
We're all going to feel horrendous if the claims prove true.
If.
indy100 has contacted Mr Johnson for comment and possibly consolation.