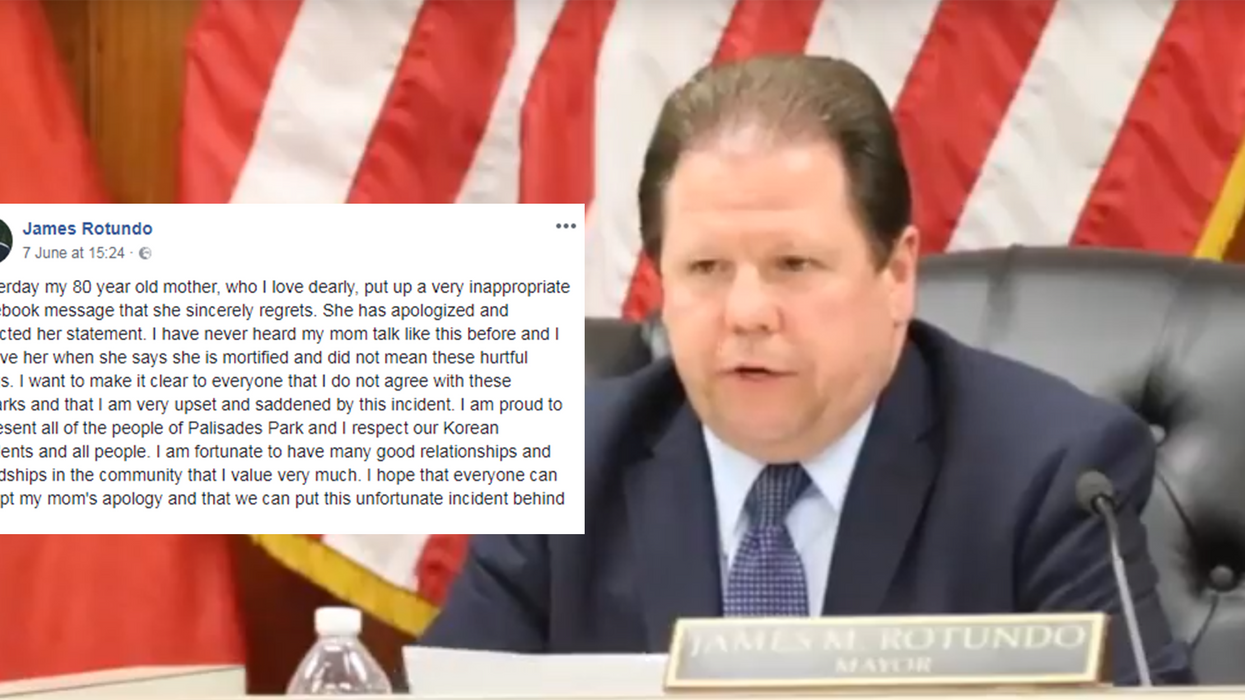 Mayor James Rotundo / YouTube
The mayor of Palisades Park, New Jersey, has apologised after his 80-year-old mother went on a racist rant on Facebook.
Lorraine Rotundo, the mother of mayor James Rotundo, went off on a rant against Korean Americans who live in her borough in New Jersey.
Writing on Facebook, Ms Rotundo claimed her son is the victim of "illegal voting" and wrote:
Go to hell PALISADES PARK, let the GD KOREANS have this F'n town.

All of us AMERICANS are so done.

I am going to suggest that only English be spoken in our Boro Hall at least while an AMERICAN is still the mayor.
The post, which has since been deleted, was screen-shotted and posted to social media.
Mayor of Palisades Park, NJ apologizing after his mother posted this message on FB. It has since been deleted. He c… https://t.co/NqkzpiAOWp

— CeFaan Kim (@CeFaan Kim) 1528414948
After the post was reported to the press, Rotundo took to Facebook and apologised for his mother's racist rant, saying that he 'does not agree with these remarks'.
I have never heard my mom talk like this before and I believe her when she says she is mortified and did not mean these hurtful things.

I want to make it clear to everyone that I do not agree with these remarks and that I am very upset and saddened by this incident.

I am proud to represent all of the people of Palisades Park and I respect our Korean residents and all people.
The mayor's mothers's post also struck a nerve with other residents in the area, who expressed their shock and dismay at such outdated views to Eyewitness News, ABC 7. Tenafly council member Daniel Park said:
Shocking. It's the 21st century and it's still happening.
Sarah Kim, of the Korean American Association of New Jersey said:
Especially hurtful is what she said is we Americans and you Koreans. I am an American as well.
Others took to Twitter to express to say that if Rotundo is willing to play down a racist rant, then he must be racist, too.
https://t.co/0rmkSSiFVP James Rotundo your mom is a racist and you cover for her. I can understand the difficulty o… https://t.co/OEj5BzkDeT

— chicken sandwiches (@chicken sandwiches) 1528476331
The comments have been made in the run up to Rotundo's re-election bid in the Democratic primaries.
Rotundo is separated from his competitor Councilman Chris Chung, a Korean American, by just two dozen votes.
Provisional ballots are still to be counted and Rotundo has yet to concede.
According to the last census, over half of the borough's population is Korean American.
The post comes after a number of high profile racist rants that have gone viral on social media in recent months.
In April, a lawyer went viral after a racist rant in a restaurant in Manhattan, and earlier this week, a mother was filmed launching an aggressive racist rant at a fellow passenger on the New York Subway.