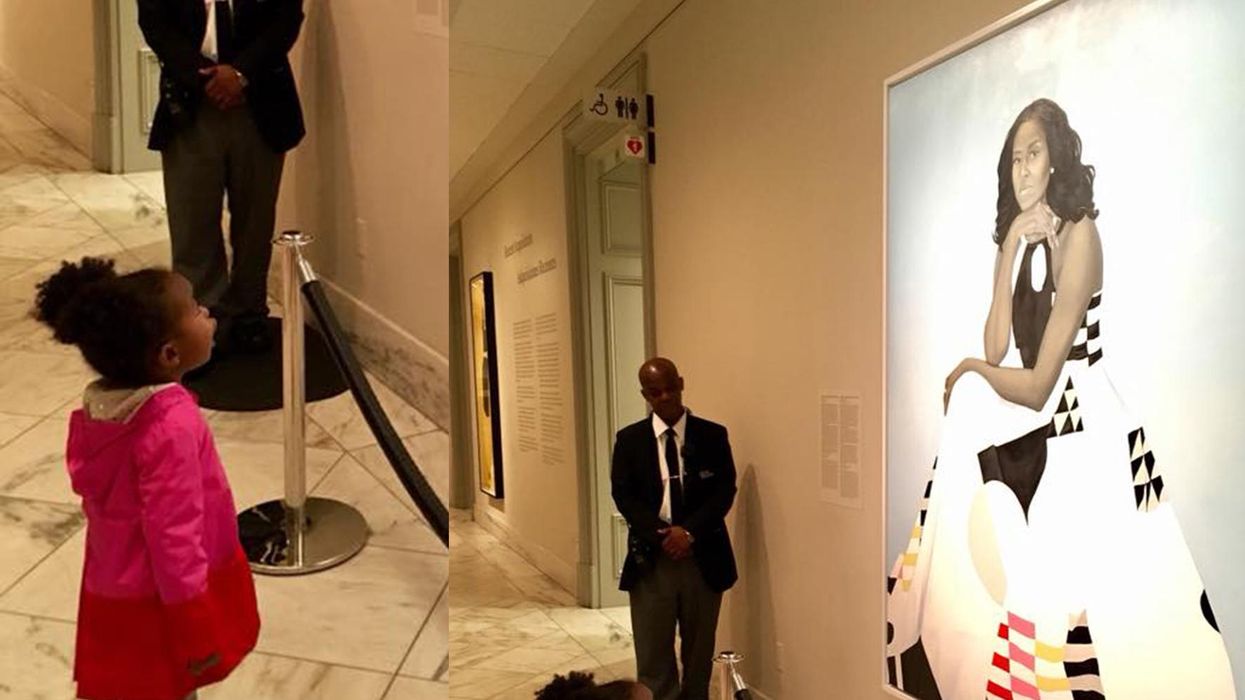 Ben Hines/ Facebook
A few weeks ago, the official portraits of Barack and Michelle Obama were unveiled at the Smithsonian National Portrait Gallery in Washington, DC.
The paintings by Kehinde Wiley and Amy Sherald respectively proved to be inspiring pieces of art which provoked all sorts of discussions, ranging from conspiracy theories to Photoshop battles.
For one little girl who was fortunate enough to see the portraits in person, the image of Michelle proved so powerful that it left her awestruck.
The image was captured by Ben Hines, who was visiting the museum with his wife and happened to be standing in line with the girl when he saw this moment.
Since sharing it on Facebook, the image has gone viral on social media with even Amy Sherald sharing an alternative view of it on her Instagram, explaining how she experienced a similar moment when she visited the Smithsonian when she was younger.
Others echoed Sherald's thoughts when they shared the image, with many stating how moving they were and how it serves as a powerful reminder of why representation matters.
"I'm also thinking of all the young people...who will see an image of someone who looks like them hanging on the wa… https://t.co/ssW2rz8Tt2

— Britni Danielle (@Britni Danielle) 1520015646
The girl in the photo has been identified as two-year-old Parker Curry, who was said to be full of energy and excitement.
Speaking to BuzzFeed, Ben Hines admitted that the girl's enthusiasm was infectious.
It was so touching and uplifting for me to see this beautiful child looking at a beautiful portrait of a powerful woman.

I was so delighted to have been in the right place at the right time.

I think we were all just smiling, and her joy and her awe was infectious.
Parker's mother, Jessica, added that she had no idea her daughter would prove to be such a source or inspiration.
As a little person looking at a portrait that large, I can imagine it's fascinating. She had a little moment.

I didn't realise it would be so moving to so many people," she said of the incredible response to the images.

In the world we live in today, I'm just trying to raise a little girl who has opportunities to see women who look like her doing great things.
HT Mashable