Twitter/ Ankit Panda/ KCNA
You might have noticed that there is quite a bit of international tension at the moment involving North Korea.
The secretive nation successfully test two Hwasong-14 intercontinental ballistic missiles (ICBM) in July, which experts believe may have the potential to reach mainland America with a warhead.
This has lead to threats of 'fire and fury' and military action from President Donald Trump and further sanctions imposed upon North Korea for developing the weapons. These sanctions could severely limit their foreign trade revenue.
The country's ruling party have chosen to celebrate the launching of their missile with a series of commemorative stamps.
The bizarre collection has been shared online by writer and editor Ankit Panda, and feature several images of the missile, plus a jubilant Kim Jong-un cheering the launch.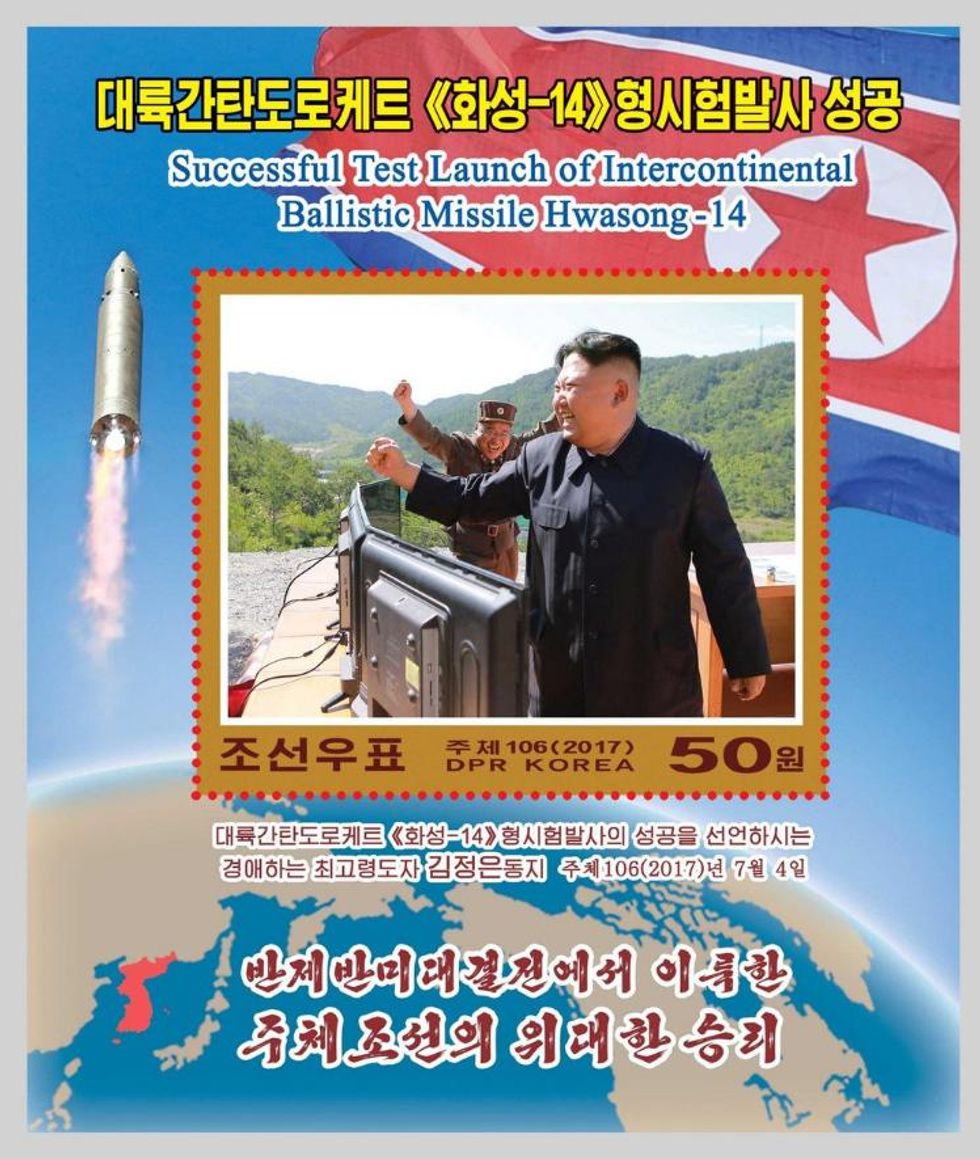 Picture: Twitter/ Ankit Panda/ KCNA
Picture: Twitter/ Ankit Panda/ KCNA
This one even features information about how far the missile travelled.
Picture: Twitter/ Ankit Panda/ KCNA
Picture: Twitter/ Ankit Panda/ KCNA
A statement from North Korea's state run news agency, KCNA, states:
All those stamps represent the success in the test-fire of ICBM Hwasong-14, a breakthrough into the final stage of rounding off the national nuclear force.

It is a great victory won by North Korea in the anti-imperialist, anti-US showdown.
Although the stamps aren't nearly as threatening as a nuclear missile, it does further illustrate North Korea's intentions and the pride they have in their ICBM's.
Previous special edition stamps from the country have marked the anniversary of the Korean War and even the life of Princess Diana.