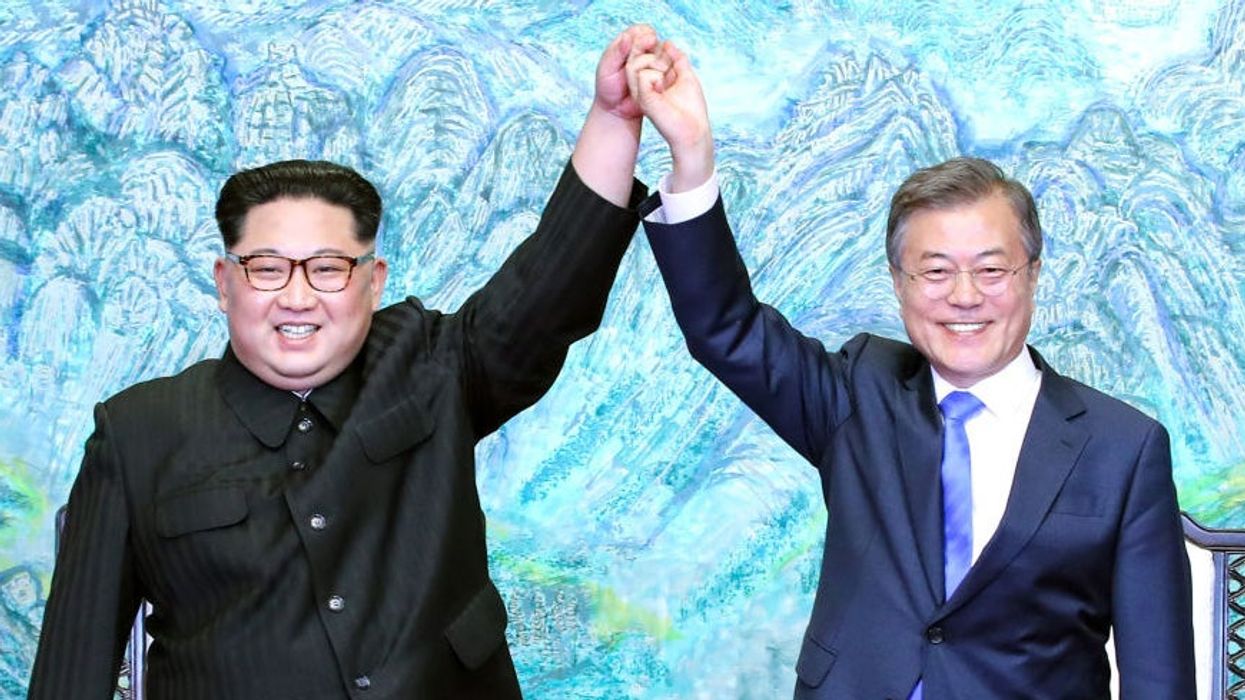 Korea Summit Press Pool/Getty Images
In a stark turnaround from last year, North Korea has indicated it would abandon it nuclear programme without requiring American troops to leave the Korean Peninsula.
This all comes after Kim Jong-un's historic talks with the South Korean leader Moon Jae-In at the demilitarised zone in April.
Since then, North Korea has been on the charm offensive, reportedly vowing to begin dismantling its nuclear testing site, something that pleased Donald Trump greatly.
This news has gotten many people excited with the US Secretary of State Mike Pompeo hailing the country as having "a future brimming with peace and prosperity."
It would appear that the North Korean's are sticking to their word.
Thanks to a report from the arms control expert Jeffrey Lewis on Arms Control Wonk, satellite images would suggest the testing site in Punggye-ri is being dismantled.
Several buildings have already been torn down ahead of a potential visit from journalists and experts to the area.
The site will reportedly be demolished after the underground tunnels are collapsed and blocked. Lewis quotes the North Koreans as saying:
Dismantlement of the nuclear test ground will be done in the following sequence-making all tunnels of the test ground collapse by explosion; completely blocking entries; removing all observation facilities, research institutes and structures of guard units on the ground.
While that does sound encouraging on the global peace stage, Lewis has also uncovered reasons to stay cautious.
He reports that a site in Pyongsong has seen the construction of a structure that is usually associated with the production or modification of the Hwasong-15 intercontinental ballistic missile.
The vertical structure would allow for a missile to be erected. The structure was first seen in November and was taken down in March and then recently rebuilt. Lewis writes:
So, although North Korea does seem to be getting ready to invite foreign delegations to the nuclear test site, it also appears to be continuing the expansion of the its ICBM force. 

Of course, its possible the North Koreans are just jerking our collective chain.  That's certainly how we feel sometimes.