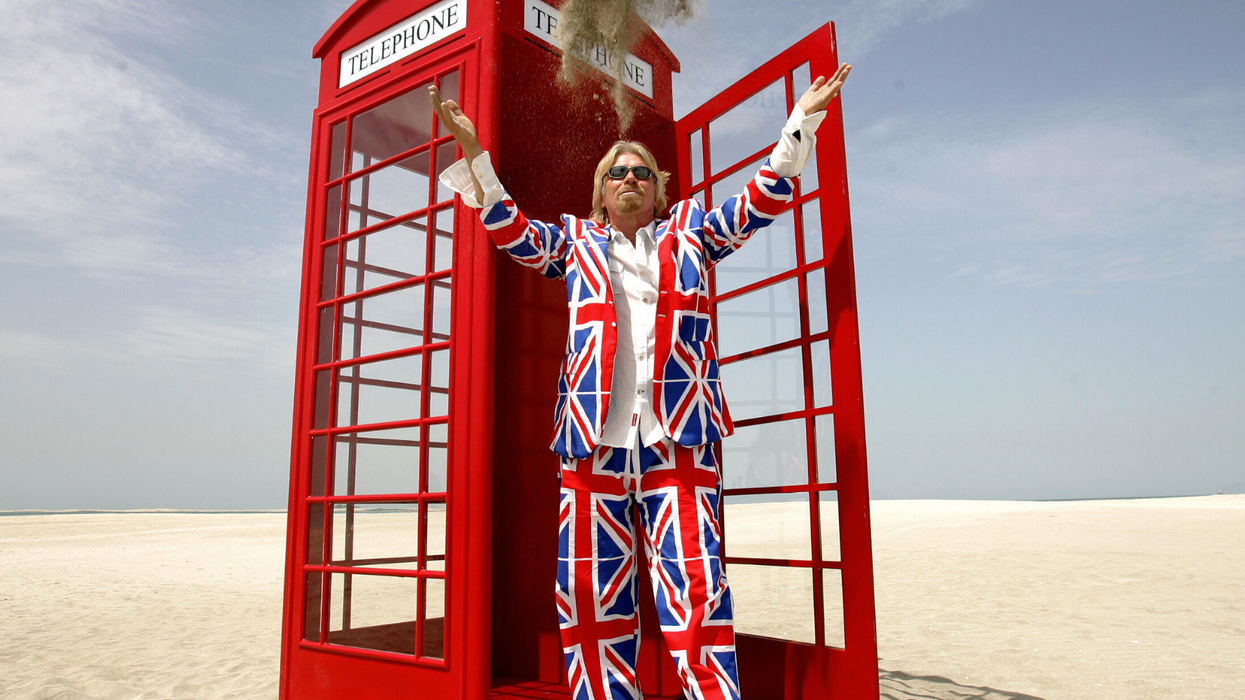 Getty
Richard Branson has offered up his private island in the Caribbean as collateral in the hopes of securing a government bailout.
In an open letter to Virgin employees, Branson promised to "raise as much money against the island as possible" as well as his other businesses.
The UK government rejected Branson's initial plea for £500m of commercial loans to keep the his company afloat through the pandemic. Branson claimed that Virgin Atlantic needed this cash injection of taxpayers' money to "keep going", but others pointed out that his personal fortune of £4.7b might help.
The businessman now wants to convince the government, and his employees, that he's willing to put his own wealth on the line in the hopes of receiving government money.
The private island home Branson says he is putting up to save his company is tax free. But that's not why he lives there, according to his blog post:
Joan and I did not leave Britain for tax reasons but for our love of the beautiful British Virgin Islands and in particular Necker Island, which I bought when I was 29 years old, as an uninhabited island on the edges of the BVI. Over time, we built our family home here. The rest of the island is run as a business, which employs 175 people.

As with other Virgin assets, our team will raise as much money against the island as possible to save as many jobs as possible around the Group.
In his blog, Branson addressed several of the criticisms made about him and Virgin throughout the pandemic.
1) Branson sought a government bailout despite his staggering net worth.
Last month, Branson promised $250m from "Richard and the Virgin Group" as a rescue package to protect his 70,000 employees. But he says the economic recovery of Virgin depends "critically on governments around the world".
In his blog post, Branson also pointed out that his billions aren't in a bank account ready to go.
I've seen lots of comments about my net worth – but that is calculated on the value of Virgin businesses around the world before this crisis, not sitting as cash in a bank account ready to withdraw.
Forbes puts his cash mound at something more like £520m ($600m).
The Guardian estimates his personal contribution to save Virgin, and particularly his airline Virgin Atlantic, amounts to about 5 per cent of his net worth.
2) Branson asking for money from the same government people think he doesn't pay tax to
Branson has repeatedly denied being a tax exile, a claim he repeated in his most recent blog post. Branson bought Necker Island in the 1970s, but moved there permanently the late 2000s.
He has previously claimed that the move was to benefit his "health", but now says he was inspired by his "love" of the beautiful Caribbean island.
3) Branson 'suing' the NHS.
In 2017, the NHS made an undisclosed private settlement with Virgin Care, Branson's private healthcare group. Virgin Care sued the NHS after losing out on an £82m contract to provide children's healthcare in Surrey.
In his blog post, Branson wrote that:
Some will say it was unwise for Virgin Care to do this, but the most important thing is that Virgin Care was never intending to profit from it and 100 per cent of the money awarded went straight back into the NHS.
Is this true? According to a blog post by Virgin Care's chief executive, the damages were "invested into delivering the services we're commissioned to by the NHS – to pay the salaries of doctors, nurses, other health professionals and colleagues delivering healthcare services."
So it might be more accurate to say they were re-invested, rather than going "straight back" to the NHS.
4) People think Virgin Money Giving profiting from funds raised to charities fighting coronavirus
Out of every £20 donated to Virgin Money Giving, £0.90 is taken by Virgin as a processing fee. Also, Richard Branson hasn't owned Virgin Money Giving since 2018.
But Virgin is not directly profiting from donations made through Money Giving.
Often, the justifications Branson offers for criticisms levelled against him is that he did not pocket any money. But this is an easy deflection from a businessman whose billions were raised by continual investments in aviation, healthcare, trains and a mobile network to name a few.
No, Richard Branson may not have a £5m pot of gold ready to be dished out to Virgin employees. But does anyone really expect him to?
It's up to the government to decide whether to grant him the bailout he points out is a taxpayer loan to be paid back, "not a handout".
Whether or not Branson loses his private island remains to be seen. What can be confirmed is that Virgin staff face eight weeks unpaid leave across six and a half months as Branson struggles to save his Virgin empire.