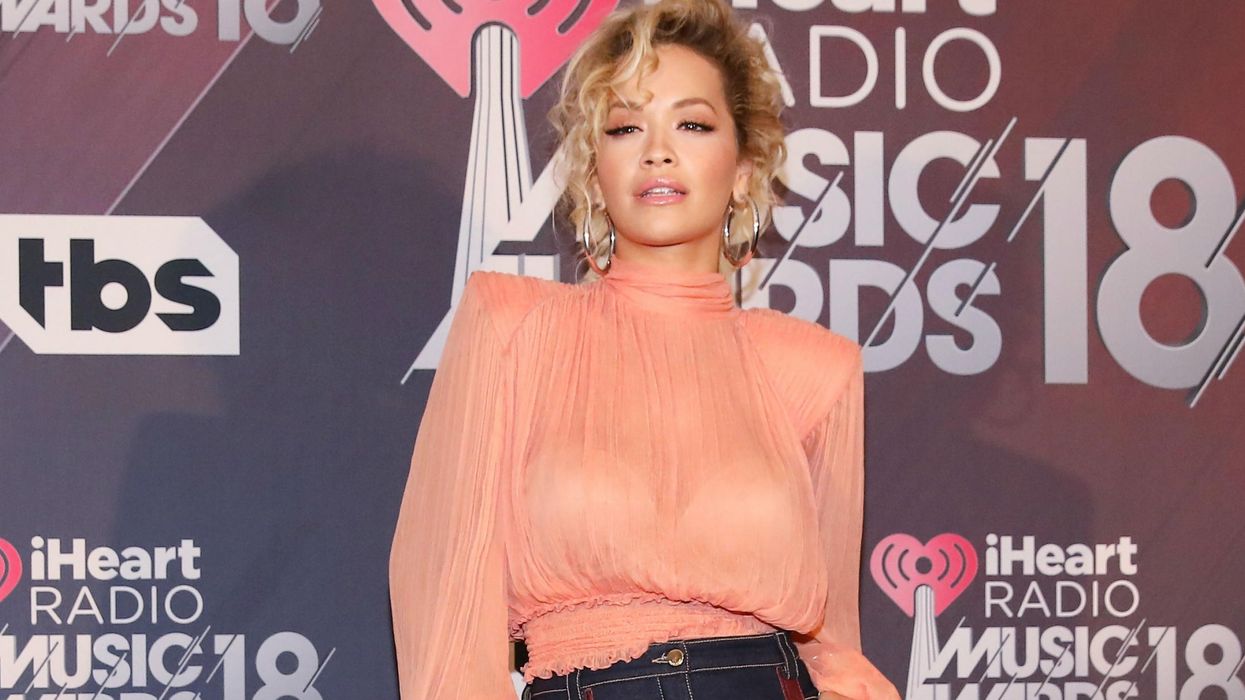 "I ain't one-sided, I'm open-minded, I'm fifty-fifty and I'm never gonna hide it."
These are the lyrics sung by Rita Ora on new track 'Girls', a collaboration with Cardi B, Bebe Rexha and Charli XCX, which yesterday galvanised and divided the Internet.
Speaking to People.com, the star revealed her inspiration as Katy Perry's 2008 hit 'I Kissed A Girl', which touched on similar themes of same-sex intimacy and sexual fluidity.
However, 'I Kissed A Girl' also caused some controversy, with some saying it trivialised bisexuality. Perry even distanced herself from the track's initial lyrics, claiming she would rewrite them.
As well as discussing the song's inspiration, Ora also answered the inevitable question of whether or not she identities as "bisexual or fluid":
I think the way... If people look at it like that, it's very narrow-minded, and I don't think that's what this record is. I don't think that that even matters. Yeah.
Elsewhere in the interview she says she's '50/50', implying bisexuality, but her words appear deliberately ambiguous throughout.
Ora also spoke of the song in a ContactMusic interview a year ago to clarify its meaning:
When Katy Perry sang 'I Kissed A Girl', it wasn't necessarily her saying: "Guys, I'm a lesbian." It was more about feeling empowered to be outspoken and free to choose and pick, and say things.

That's what 'Girls' is about and it's really exciting - I'm not the only one doing it. A lot of people have been doing it throughout the years. I'm just joining the pack.
The track has sparked debate online, but one of the highest-profile statements coming from openly bisexual musician Hayley Kiyoko. The star, responsible for hits like 'Girls Like Girls', weighed in on the debate with a tweet which has since gone viral.
In a lengthy statement, Kiyoko claims to "fully support other artists who freely express themselves and applaud male and female artists who are opening up more and more about their sexual identities".
But every so often, there come certain songs with messaging that is just downright tone-deaf, which does more harm than good for the LGBT+ community.

A song like this just fuels the male gaze while marginalising the idea of women loving women.
The musician then goes on to highlight that these problems weren't intentional, but reiterates that they're problems nonetheless.
Referring to the track's lyrics, she says:
I don't need to drink wine to kiss girls; I've loved women my entire life.

This type of message is dangerous because it completely belittles and invalidates the very pure feelings of an entire community.
Kiyoko's thoughts have provoked a slew of reactions, some of whom agree that the song contributes to the ongoing sexualisation of queer women, often carried out to please men.
Some social media users disagree, with one describing the track as "brave":
Others support Kiyoko's claim that the song's intentions were good but its execution was poor:
It's likely these conversations will have no bearing on the song's inevitable success, but 'Girls' has at least opened the floodgates for open, nuanced discussions of bisexual representation in the music industry.