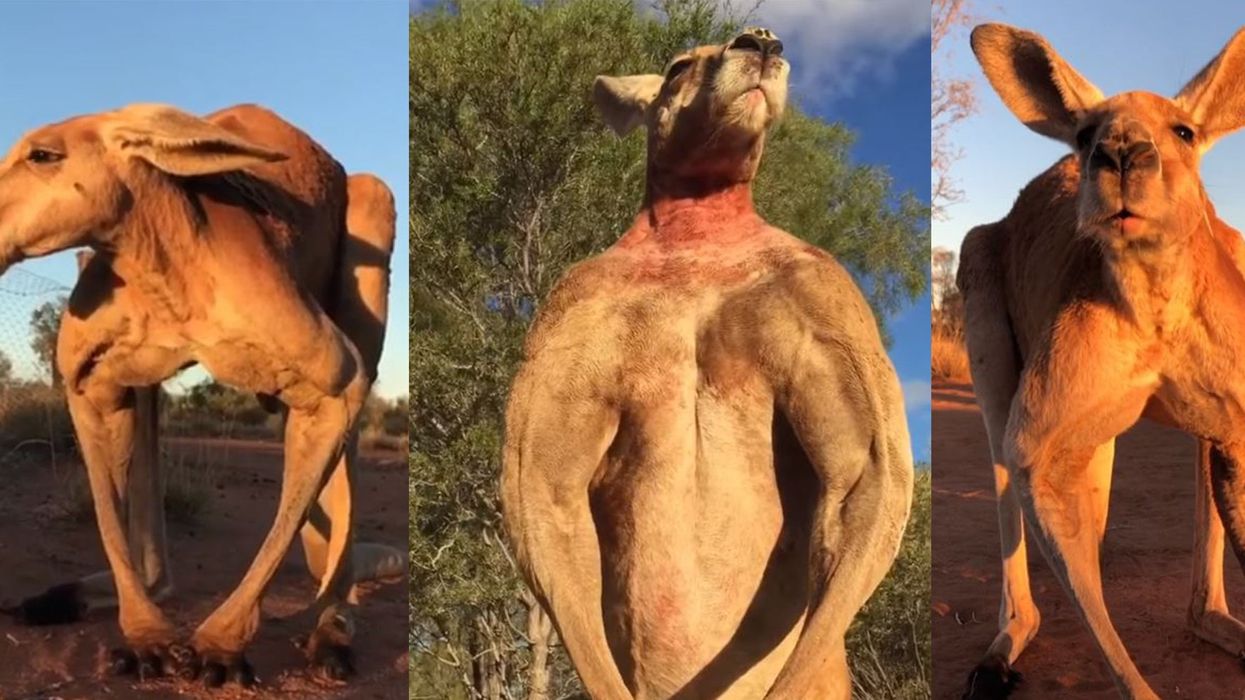 The Kangaroo Sanctuary Alice Springs/Facebook
If you've spent any time on the internet in the past few years then you will be more than likely aware of Roger, the muscly kangaroo.
The 200 centimetre tall marsupial, who looked like he spent as much time in the gym as he did the outback, became a viral hit for his impressive physique.
We mean, just look at the size of him. Absolute unit.
He could even crush literal metal buckets with his bare hands!
However, we're sad to report that Roger passed away earlier this week, with his death being confirmed on Saturday by The Kangaroo Sanctuary in Alice Springs, in the Northern Territory, where he lived for the last 10 years.
In a touching tribute to Roger on Facebook, sanctuary boss Chris 'Brolga' Barnes highlighted the joy that he gave to so many people's lives around the globe.
It's a very sad day here today for we have lost our beautiful boy, Roger

Ten years ago, I built this sanctuary to house Roger and a couple of his wives, Ella (and) Abigail. We built it so they'd have a place to live.

Roger was our alpha male for many years and he grew up to be a kangaroo that people from all over the world have grown to love as much as we love him too.

He will always be here. We've laid him to rest out here so he can be with his family.
Roger had been suffering from arthritis since 2016. He had been with Barnes since 2006 after he was found as a joey on a roadside next to his dead mother.
The passing of Roger has been treated by some of his fans as a major celebrity death, with many paying their own tributes to him and his biceps on Twitter.
The only celebrity death I've ever felt sad about, RIP Roger the buff kangaroo 😰😰😰 https://t.co/Uw6xGei7Ac

— baseball gregg (@baseball gregg) 1544310719
HT Daily Mail