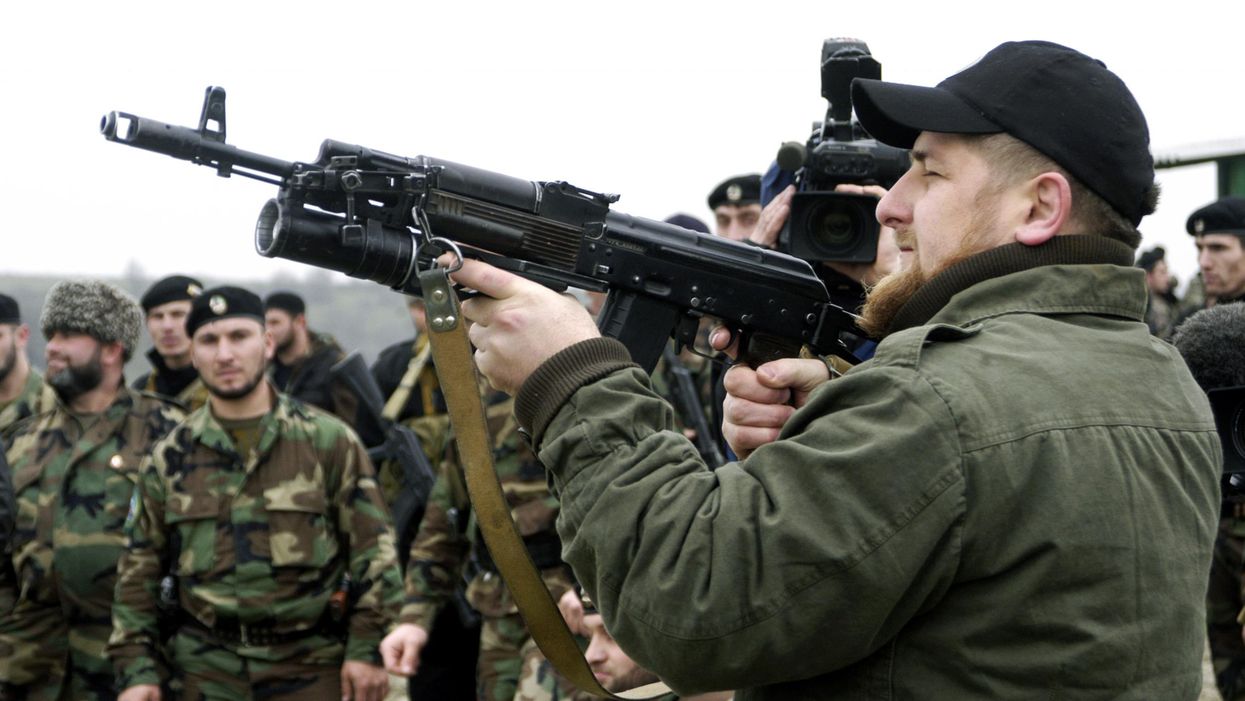 Getty Images / Kadyrov Press Office
There have been reports of a horrifying "gay purge" in Chechnya, Russia.
The claims, originally published by Russian opposition newspaper Novaya Gazetaand picked up by the Daily Mail, assert that authorities in the strictly Conservative Russian state have set up a Nazi-style concentration camp.
Campaigners say that a secret prison, located in the town of Argun, is designed to imprison and torture LGBT men, and murder those who refuse to leave the republic.
This comes just a week after reports that 100 men suspected of homosexuality had been detained, tortured and three killed.
The International Crisis Group and the Human Rights Watch have confirmed that at least three are feared dead following raids.
Novaya Gazeta points to a campaign by Russian gay rights group GayRussia.ru, which aims to end a de facto ban on gay pride demonstrations, as trigger to this violent crackdown.
Svetlana Zakharova, of the Russian LGBT Network, told MailOnline:
Gay people have been detained and rounded up and we are working to evacuate people from the camps and some have now left the region.

Those who have escaped said they are detained in the same room and people are kept all together, around 30 or 40.

They are tortured with electric currents and heavily beaten, sometimes to death.
According to Tanya Lokshina, the Russia program director at Human Rights Watch: "
For several weeks now, a brutal campaign against LGBT people has been sweeping through Chechnya.

These days, very few people in Chechnya dare speak to human rights monitors or journalists even anonymously because the climate of fear is overwhelming and people have been largely intimidated into silence.

It is difficult to overstate just how vulnerable LGBT people are in Chechnya, where homophobia is intense and rampant.

LGBT people are in danger not only of persecution by the authorities but also of falling victim to 'honour killings' by their own relatives for tarnishing family honour.
It is alleged that the President of Chechnya and key Putin ally, Razman Kadyrov, ordered the purge.
Putin himself has pursued strongly homophobic policies since 2013.
​Amnesty International has demanded an investigation, while the U.S. Department of State expressed grave concern about the situation.
State Department spokesperson Mark Toner has demanded that authorities "ensure the release of all illegally detailed, conduct an independent investigation into the reports, and punish those responsible".
German government representative for cooperation with Russia, Gernot Erler, called for investigation into "these terrible reports".
Baronness Joyce Anelay, the Deputy Head of the Foreign Office, noted that:
The human rights situation for LGBT people in Russia has deteriorated significantly in recent years, and we continue to voice our serious concern with Russian authorities at all levels.

The detention and ill-treatment of over 100 gay men in Chechnya is extremely concerning. 

The statement by the regional government, implying that such treatment towards LGBT people is acceptable, is particularly abhorrent.
However, Kremlin spokesperson Dmitry Peskov told Interfax that officials were unsure "to what extent the information was true" and that investigating the claims was "not a prerogative of the Kremlin."
And in response to international outrage, Kadyrov's spokesperson released this chilling statement:
You cannot arrest or repress people who just don't exist in the republic.

If such people existed in Chechnya, law enforcement would not have to worry about them, as their own relatives would have sent them to where they could never return.
More: The LGBT page has disappeared from the White House's website