The last few years have seen an unprecedented rise in the popularity of drag as an art form.
Shows like RuPaul's Drag Race have challenged stigma and exposed a mainstream audience to the subversive art of drag, but it seems that some pockets of society are still unwilling to get on board.
14-year-old Lewis Bailey, a student at Dudley's Castle High School and Visual Arts College, discovered this for himself when his recent request to perform in drag at his school talent show was flatly declined.
The reason? Apparently, it would be "illegal".
In a statement issued to UniLad, Bailey explained the official refusal further:
They claim it's because I'm illegal – but I think the real reason is they don't accept me for who I am.

I'm heartbroken and confused. After all the effort I have put into it, it has knocked my confidence a lot. When I'm in drag, I feel I'm truly being myself.
Further quotes explain that Bailey's newfound love of drag has helped him gain confidence, and that his mother, Michelle, believes the school's refusal likely comes from reluctance to offend other parents.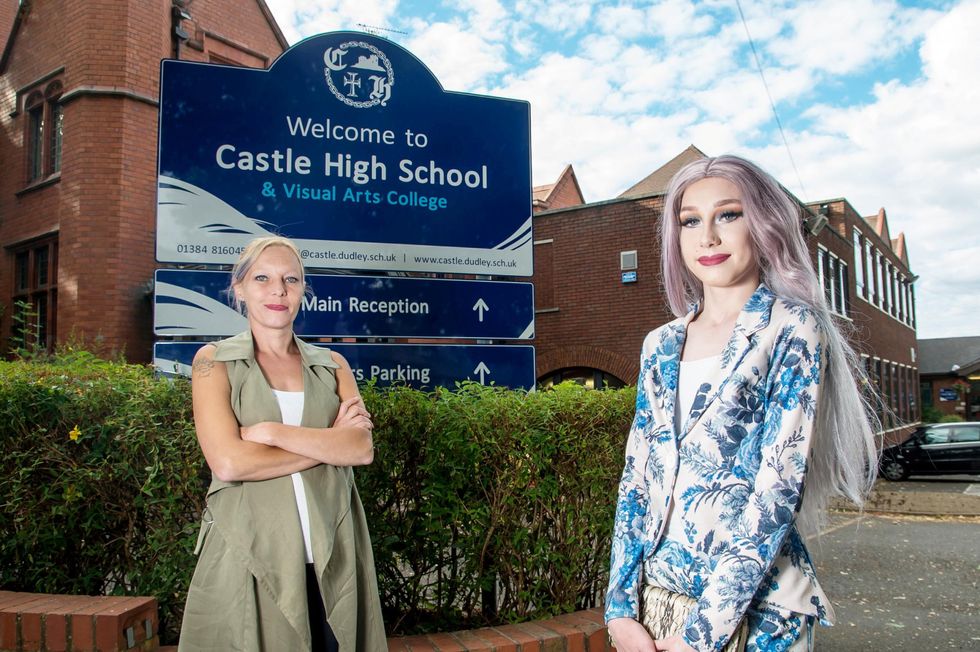 Lewis Bailey, 14, who was banned from a school talent show as he was going to perform a drag act
Of course there does not appear to be any official law banning under-18s from dressing up in drag, yet it's not the first time that children have been banned from embracing the practice. In fact, one of this year's most popular West End shows is based on the real-life tale of Jamie Campbell, a queen who was similarly banned from his prom after attending as his drag alter-ego, Fifi la True.
The story of rejection initially sparked a BBC3 documentary and then went on to charm theatre audiences, yet it seems this success hasn't entirely managed to eradicate societal prejudice.
Interestingly, school headmistress Michelle King mentions nothing of a law banning under-18s from dragging up in her official statement, which cites concerns that the act would be 'raunchy' or laden with sexual innuendo.
Bailey's mother confirmed that this wasn't the case, and that her son's act was entirely PG, but King seemingly refused to accept this reasoning. Speaking again to UniLad, she explained:
We understood Lewis wanted to appear in the style of RuPaul, whose style of performance is characterised by strong language and sexual innuendo.

This decision was made one day before the planned show when the full nature of this performance was made known. We respect the long tradition of female impersonation in theatre, however, to appear as a drag queen, goes beyond this.
This statement seems to highlight common misunderstandings of drag – although initially coined as an acronym of sorts referring to the phrase 'dressed as girl', (its counterpart, 'drab', 'dressed as boy', failed to catch on) its meaning has since expanded to refer to an art form which deliberately disrupts gender norms.
Increasingly, a new wave of drag artists – many of whom identify as either trans or non-binary – are dispelling the outdated myth that drag is synonymous with female impersonation.
'Drag Queen Storytime' events – conceived to eradicate the idea that the art form is inherently inappropriate for children – are also growing in popularity.
Their aim is to teach young students to be more inclusive and accepting, as well as to destigmatise a crucial part of LGBT+ history and show children like Bailey that creative expression should be encouraged, not stifled.