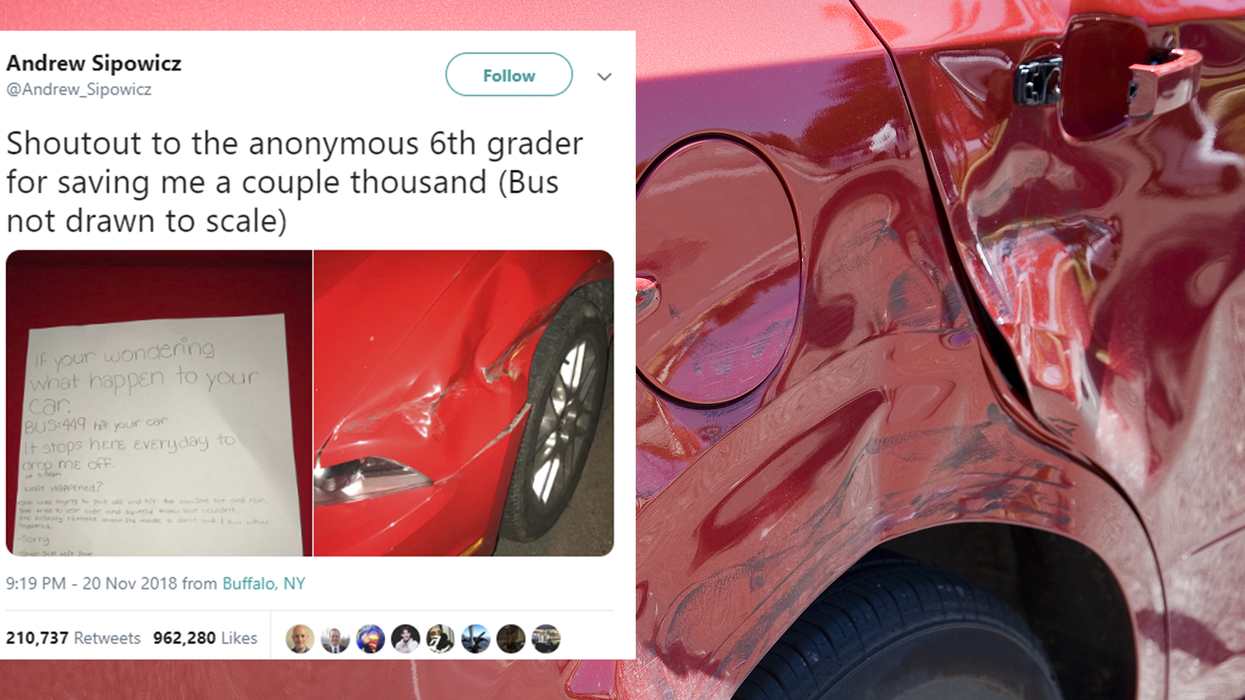 iStock Getty / yellowsarah / Twitter
If you are a driver and have been the victim of a hit-and-run that wasn't witnessed, there is no doubt that the one thing you wish is that somehow it was recorded, so that you could know for sure what happened.
Well, that's exactly what happened to 21-year-old college senior at Canisius College, Andrew Sipowicz, when he realised his car had been hit - but not in the way you'd expect.
Sipowicz was returning to his car which was parked up near his home in Buffalo, New York, on Monday evening, when he discovered the front of his bright red Ford Mustang had been badly damaged.
Speaking to Buzzfeed News about the discovery, he said:
I was like, 'You gotta be kidding'.

[I was] kind of in a panic.

And that's when I saw the note.
The handwritten and illustrated note by a 6th grade student explained exactly what happened:
If your wondering what happen to your car. 

Bus: 449 hit your car. It stops here everyday to drop me off. At 5:00pm. 

What Happened? She was trying to pull off and hit the car. She hit and run. She tried to vear over and squeeze threw but couldn't. She actually squeezed threw. She made a dent and I saw what happened. 

Sorry. 

Driver seat left door. A lady in the bus driver seat 999.

Buffalo Public School Bus. A 6th grader at Houghten Academy 
Incredible.
Taking to Twitter to share the discovery, Sipowicz wrote:
Shoutout to the anonymous 6th grader for saving me a couple thousand (Bus not drawn to scale).
The tweet quickly went viral, and has now been re-tweeted over 200,000 times.
He then followed it up with an update to say the kind student had been found.
Many social media users were blown away by the note.
One compared the child to 'Picasso'.
Bus jokes started to pour in.
Some praised the 6th grader's character.
Get that kid to college!
Others said the exact same thing had happened to them.
In a statement to Buzzfeed News, First Student, which owns the buses and employs the drivers for Buffalo Public Schools said:
The actions of our former driver are completely contrary to First Student's training and what we stand for as a company.

We have initiated the process to terminate the driver.
It added:
We would be remiss if we didn't mention that we are very impressed by this exceptional sixth grader.

We commend her for her actions.
HT BoredPanda
More: Person leaves £5 and thank you note on ambulance after paramedics block their drive
More: Read the heartbreaking note left with a rose by the side of a lake