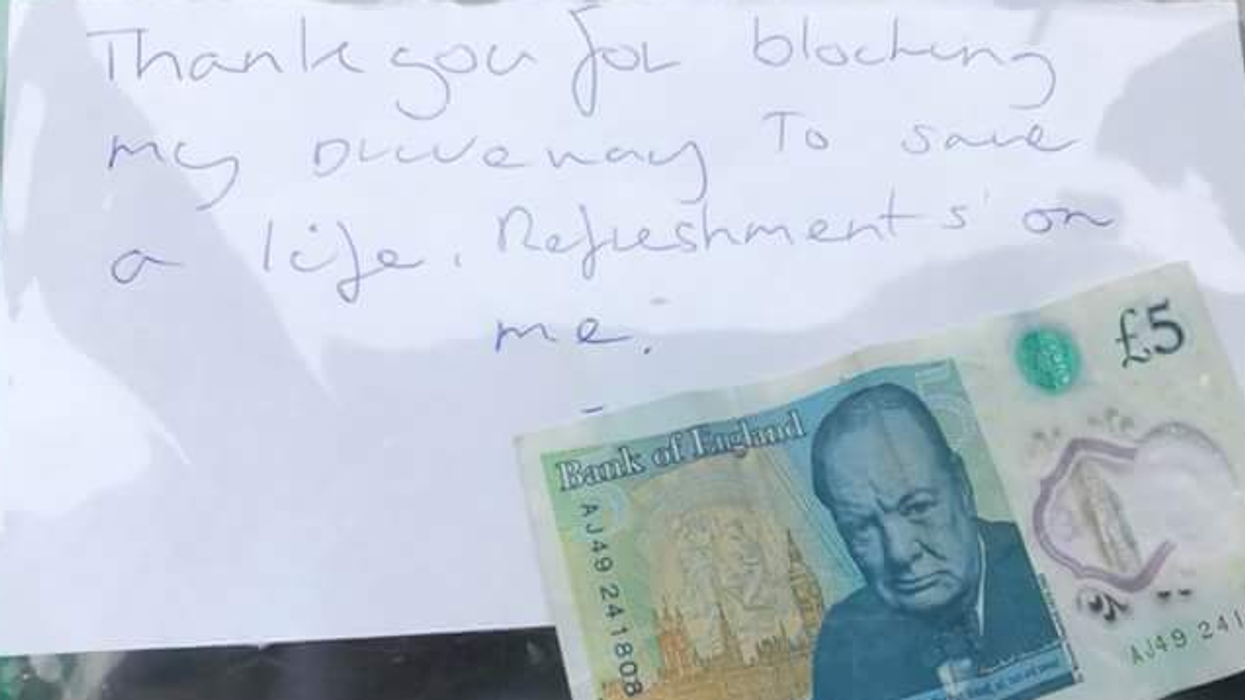 @dt_lloyd / Twitter
For some strange and inexplicable reason, ambulances have been the source of negative news in the past year.
Firstly in November 2017, an inconsiderate person left an angry note on an ambulance which was blocking their drive while paramedics attended to an emergency.
Sometimes we just don't know what to say. This was the note left on an ambulance today. At the time, the crew were… https://t.co/2e3uuI0pv8

— West Midlands Ambulance Service #HelpUsHelpYou (@West Midlands Ambulance Service #HelpUsHelpYou) 1510344633
Then there were the idiotic scenes during the World Cup, where rowdy football fans trashed an ambulance in London after England's victory over Sweden.
In May, there was also an incident where someone threatened to 'smash' an ambulance if they found it in their private parking space again.
Thankfully, we now have some good news to share about ambulances because something nice has finally happened to the hard-working paramedics of the UK.
A tweet shared by Dewi Lloyd, a paramedic working for Flintshire Ambulances in Wales, showed a picture of a £5 note attached to an ambulance along with a message attached.
Heart warming note left on one of the Flintshire Ambulances#Welshambulance https://t.co/MDFn7HRqHW

— Dewi Lloyd (@Dewi Lloyd) 1534942047
The note reads:
Thank you for blocking my driveway to save a life.

Refreshments on me.
Dewi's tweet, which was posted on August 22, has gone viral receiving over 400 retweets and more than 1,000 likes at the time of writing.
The identity of the person who put the not on the vehicle hasn't been revealed but people on Twitter love this thoughtful gesture.
The world needs more of these- very heartwarming ☺️ https://t.co/Cx7TrbNUBG

— Amara Ajoku (@Amara Ajoku) 1535268705
Unfortunately, this seems to be a rare case of someone showing some humility and common sense towards the ambulance service.
Earlier this month, East Midlands Ambulance Service had to plead with members of the public to talk to them rather than leave disgruntled messages on their ambulances.
Lee Brentnall, a Paramedic and Ambulance Operations Manager from Leicestershire said:
It is so disappointing to see that a rude note has yet again been left on one of our ambulances. This upsets our dedicated ambulance crews when they are trying to help our patients and do their job.

Leaving a note will not resolve the situation as we are unlikely to see it until we are leaving in the ambulance to take the patient to hospital or to go to our next job.

Our crews are approachable. If you genuinely need to leave your house urgently and we are blocking your access, please come and knock on the door where the emergency is taking place.

Sometimes we will be able to move the vehicle, for example, if we are treating a patient but they do not need both of us there at the time.

However, there will be times that we are treating someone experiencing a life-threatening and time-critical emergency and moving our ambulance will not be our priority.

In these cases, you will need to be patient as we try to save someone's life.
HT Metro