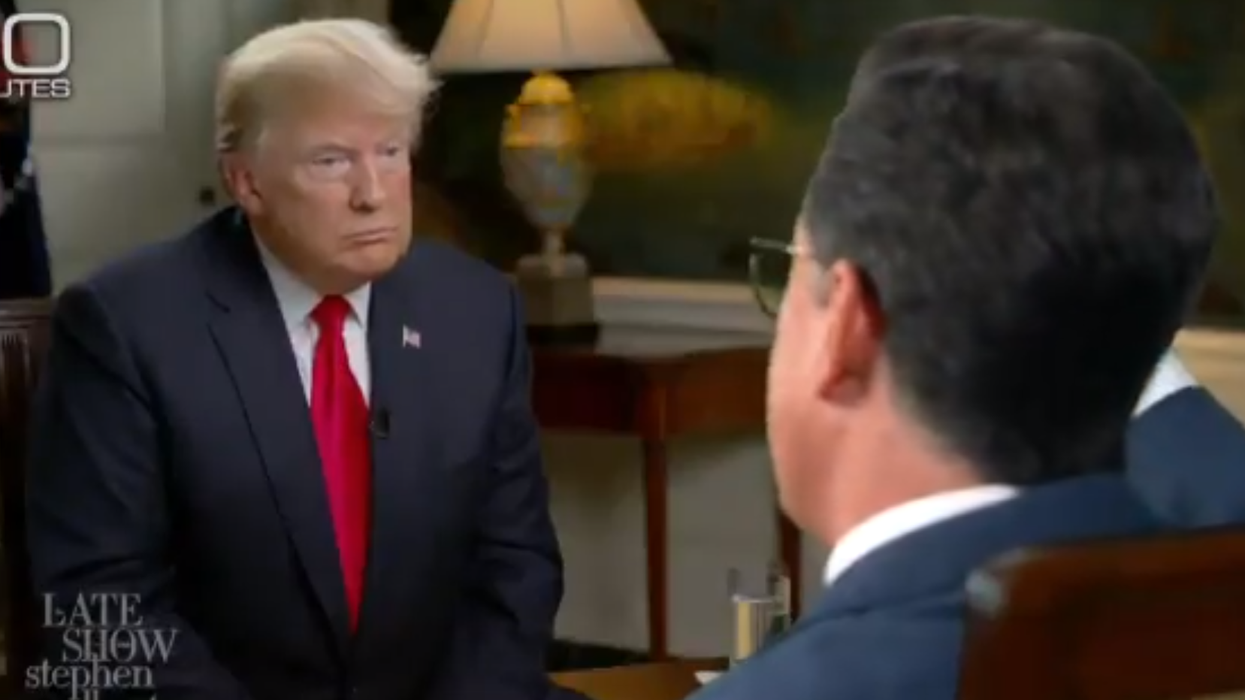 @Colbertlateshow / Twitter
American comedian Stephen Colbert has done his own version of Trump's extremely bizarre and worrying '60 Minutes' interview, and it's hilarious.
The comedian turned his attention to Lesley Stahl's interview with Donald Trump, in which the president made many worrying remarks, including that climate change could 'change back', and a refusal to apologise for mocking Christine Blasey Ford's testimony before the Supreme Court at a rally in Mississippi.
Through Colbert's lens, the interview suddenly make a whole lot more sense.
On #LSSC tonight: @StephenAtHome gets deep with President Trump in his own @60Minutes interview. https://t.co/TFfm6biXnE

— The Late Show (@The Late Show) 1539653547
In an opening gambit, he says:
Mr President, you've been president for two years.
POTUS:
There is something really terrible and disgusting about that.
Colbert agrees. He then continues:
How would you sum up your administration so far?
Trump responds in the only way possible:
It is vicious, it is full of lies, deceit and deception.
You don't say.
Colbert then turns his attention to Jeff Sessions, asking POTUS who he'd replace Sessions with if he got rid of him. Trump offers the response:
Pillows and blankets.
Could this get any better?
Next, Colbert turns his attention to Trump and Kim Jong-Un's 'love affair'. How's it all going?
The day before I came in, we were going to war with North Korea.
Well, that's pretty much a complete lie, isn't it, Donald? When Colbert wonders whether we'll ever hear Trump telling the truth about anything, Trump responds aptly:
Don't count on it.
Don't worry - we won't.
He then turns his attention to Eric and Donald Trump Jr, stating that because of them, the presidency hasn't been a complete tragedy - they inject a helping of comedy into the situation.
They're a laughing stock all over the world.
Yep, they sure are.
Finishing the interview, Colbert asks Trump why he thinks he manages to get away with his mountain of lies?
I'm president and you're not.
Then for the pièce de résistance. After noting Trump appears to be 'a little cranky', he asks the president whether he needs a bottle and a warm blanket. To which he, obviously responds:
I'm not a baby... 

I'm not a baby! 
We beg to differ...
HT Deadline.com