Eduard Rodríguez
The bike rider makes a silhouette in the air before landing on the ground and undertaking a few complicated acrobatics. You can clearly see the satisfaction on his face. He is one of many young people who, in a troubled area of Honduras, have swapped misdemeanors for sports thanks to the Skate Brothers.
"I do these tricks on bikes, but I am also a skater. I was on the wrong track for six years; I was looking for an adrenaline rush on the streets and found one here that doesn't put my life at risk. Here we are one big, happy family," says Gendrik Torres, 19, before jumping his bike onto a multipurpose track that many others are enjoying.
When the sun sets, a swarm of children and young people come together every day to demonstrate their skills on the track, while others show off their singing and dancing talents in a room next door. Some speed off on roller skates like arrows, others do tricks on their skateboards, still others take to the track with their bikes.
Picture:
"Pain is temporary, but satisfaction is forever. I love coming here because there is a family atmosphere and it stops you from thinking about getting into gangs or things like that," explains young skater Bayron Rodriguez, 13, with the wisdom of an adult.
He and Torres are just two of the many young people who gather every afternoon to take part in this program, which came along like a light in the darkness for younger generations in Cofradía, a community south of San Pedro Sula, one of the most violent places in Honduras. At the end of 2017, the country's homicide rate was 42.8 per 100,000 inhabitants, one of the highest in the world.
The inspiration to create the program came from Jessel Recinos, a Honduran who traded crime for skating and founded Skate Brothers to keep young people away from gangs. Unbuttoning his shirt to show the scar, Recinos says:
I joined a gang when I was 15, but in 2005 my life changed after I was shot with a 9-millimeter pistol. The last bullet went through my back and came out above my heart.
That vow to "become a good person" led him to start Skate Brothers in 2011, a nonprofit skating club that has become a model for young people tempted by drugs, crime and the maras (gangs). "We have prevented many people from falling into vandalism; we are the antivirus to this problem," says the 27-year-old.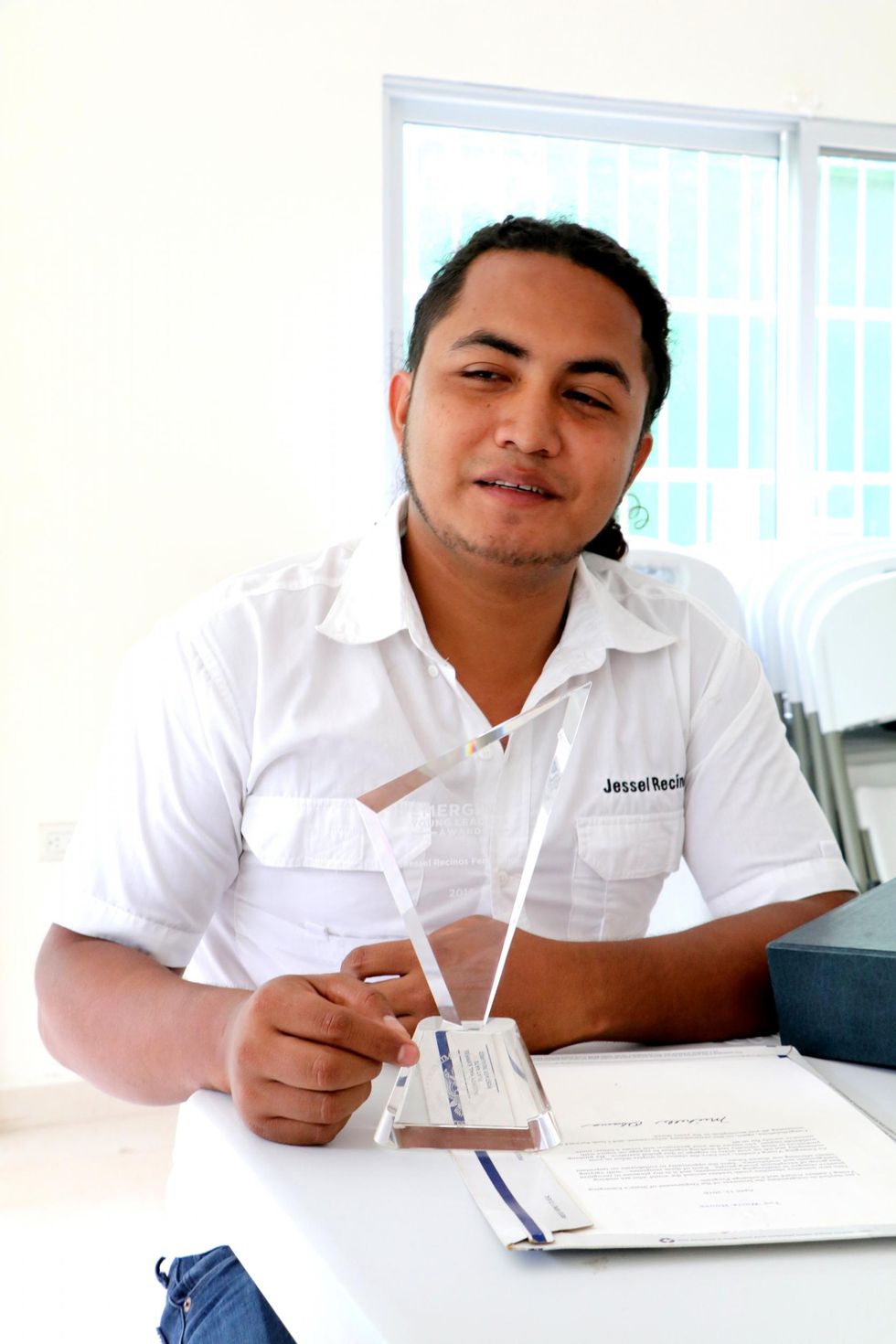 Picture:
At first, the project was located within Cofradía's Outreach Center (Catholic Church aid centers for children and young people in high-risk areas) and was equipped thanks to a donation of 24,400 Honduran lempiras (USD 1,030) from the United States Agency for International Development (USAID), via the Alianza Joven Honduras program.
In 2017, also thanks to donations from USAID and the Catholic Church, they were able to open their own facilities, which include an office, a gym, a meeting room, football and basketball courts, a multipurpose track, bathrooms, a cafeteria and locker rooms.
"When we cut the ribbon, I sat down on the track, looked at my 'sheep' and it brought tears to my eyes to see how many young people were already safe," says Recinos, who in 2016 was chosen by the U.S. Department of State as one of 10 Emerging Young Leaders across the world.
Today, about 70 children and young people come to have fun for free at a place where they can practice rollerblading, skateboarding, acrobatics, modern dance, rap and football. Recinos says:
Some of them used to belong to gangs, and Skate Brothers has changed their lives. We don't just teach them different disciplines, we are also mentors because we have become friends
The club goes far beyond sports. This year, some 2,000 inhabitants of the region will benefit from a nutritional program sponsored by USAID. "We have a direct link with the public. Every September 15 [Honduras Independence Day] we take part in parades, put on shows at streets fairs, and go to every event that the community invites us to," says Recinos.
Picture:
The institution makes ends meet thanks to meeting room rentals, a gym, sponsorships, raffles and other activities. "We do it out of love," says the founder, but he admits that they need further financial support.
Among their current objectives is obtaining legal person status so they can process any aid that comes to them, and also reaching out to other parts of the country. Recinos says:
One of our goals is to expand into parts of Honduras where there are conflicts. If we can find an organization to support us the project will keep on flourishing, because we want more young people to be reached by Skate Brothers.
This article was published as part of impact journalism day, an international initiative involving more than 50 media outlets worldwide, highlighting local solutions to global problems and spreading stories in the first step towards change.
Top 100