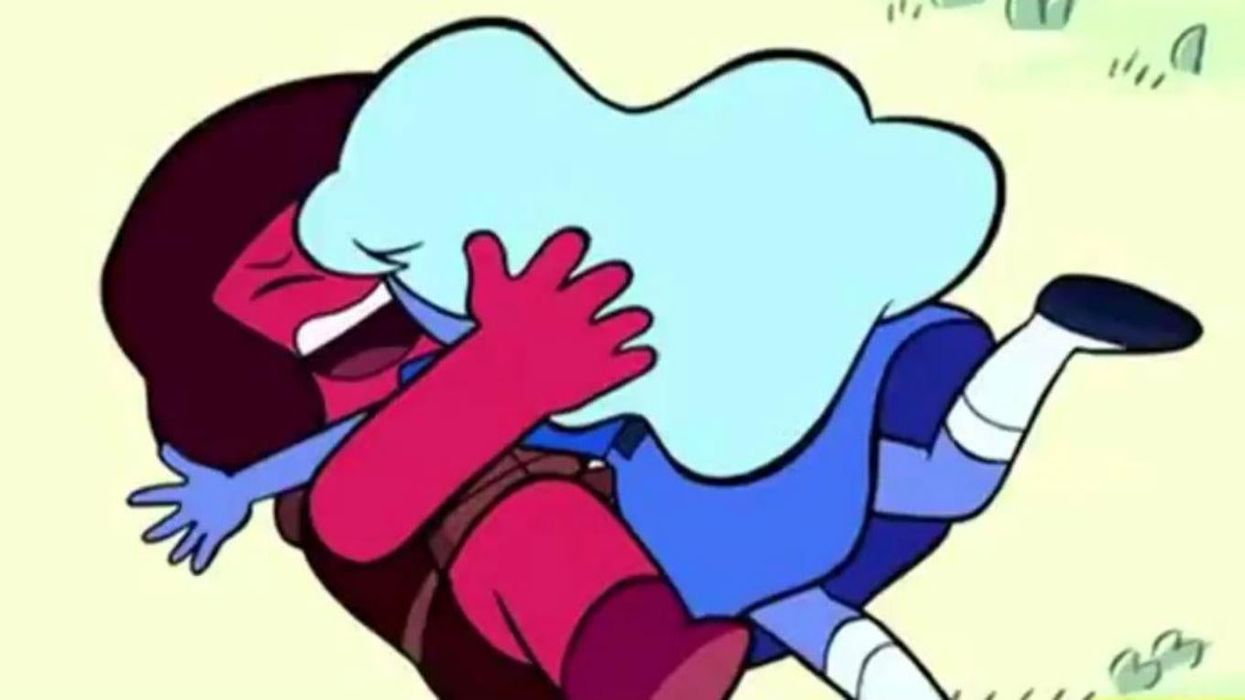 A cartoon depicting a romance between two female characters appears to have been altered when it was translated into Swedish, and activists are launching a campaign to urge Cartoon Network to halt what they say is "censoring" of the show.
The campaigners claim that episode five of the Emmy-nominated American cartoon Steven Universe, which is noted for its LGBTQ characters, was translated from English to Swedish in a way that deliberated obscured a lesbian romance.
Picture: Cartoon Network/YouTube. Ruby is on the left, Sapphire on the right
Sweden is renowned for its progressive politics, having been one of the first countries to legalise same-sex marriages in 2009.
The petition, which has almost 1,500 signatories, outlines the interaction between the two female characters which they claim was altered:
Ruby:
Just look at the ball
Sapphire:
I'm trying, but all I want to look at is you.
Which becomes:
Ruby:
Just look at the ball.
Sapphire:
I'm trying, I have problems with concentration.
And:
Ruby:
Do not worry; you can look at me when you're running for home.
Becomes:
Ruby:
No worries, focus on victory when you run around.
Allegations of censorship are not new. In January, Britons were up in arms about censorship of Steven Universe in the UK.
At the time, Cartoon Network issued a statement to Pajiba:
Cartoon Network (in Europe) often shows amended versions of programmes from US originals. The US broadcast system requires that shows are marked with a rating - in this case PG (parental guidance necessary). In the UK we have to ensure everything on air is suitable for kids of any age at any time. We do feel that the slightly edited version is more comfortable for local kids and their parents.
However, regarding the Swedish matter almost five months later, Cartoon Network appears to have changed its tune, telling The Local:
As a channel we celebrate diversity, which can be seen in many of our programmes and characters. We do not aim in any way to censor scenes where same-sex relationships are shown and we are proud that our programmes have many healthy role models for children to relate to.
indy100 has contacted Cartoon Network for clarification.