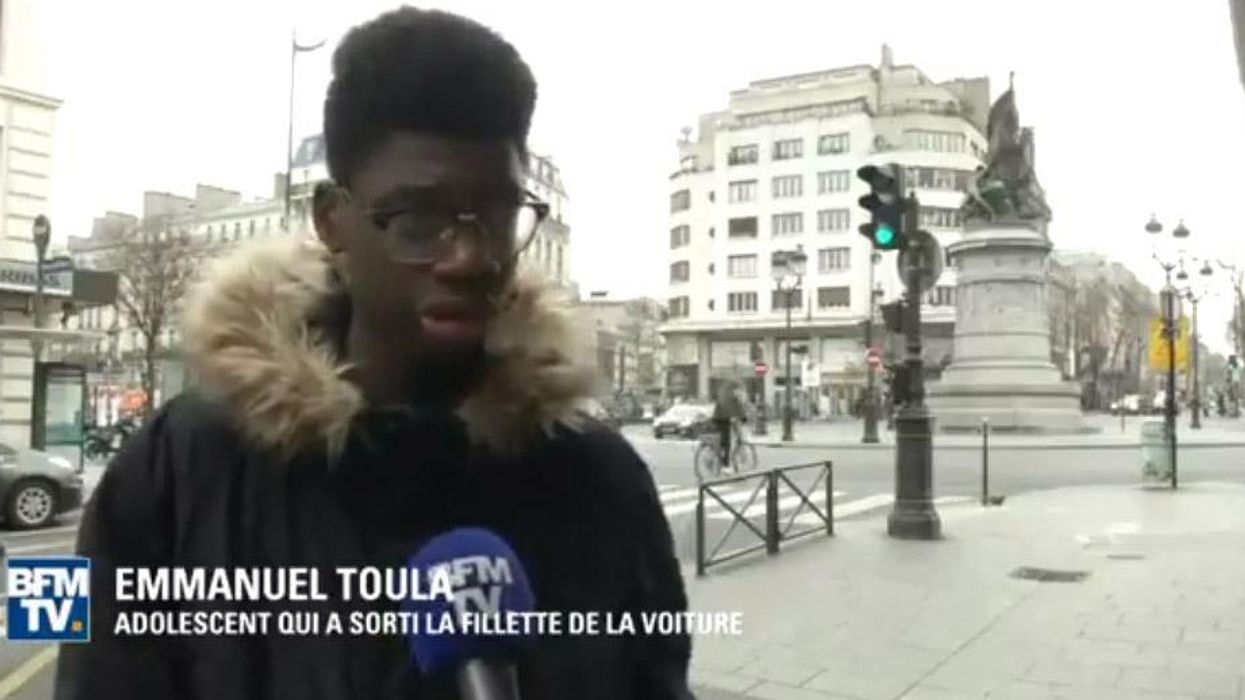 BFMTV/Facebook/Screengrab
A 16-year-old protester from a Paris suburb has been labelled a hero after he rescued an infant from a burning car during the riots in Bobigny on Saturday.
Protesters had gathered to demonstrate, after a man, publicly identified only as 'Theo', was allegedly sexually assaulted with a baton by police, following an ID check in Aulnay-sous-Bois on 2 February.
The protests escalated to a riot, and fires broke out while police fired tear gas.
Among the protesters, Emmanuel Toula, 16, saw a terrified woman jumping out of a car, taking her young son with her.
Protesters had placed burning garbage next to the car, and fire began to creep up the hood.
According to RT, Toula said:
At that moment, I approached the car and I saw a little girl.

She was terrorised. I was afraid because I imagined the car could explode at any moment.

I have four little brothers and two little sisters and I thought I could not leave a little girl like that.
Toula approached the car, opened the door and helped the girl out. She looked shocked but was not crying.
He then took the girl in her arms and tried to run.
According to Toula, at this point police began to fire tear gas canisters in their vicinity.
Toula looked for the girl's mother but could not find her, eventually he saw the car burn up and explode.
He left the child with a policeman to search for the mother. He never found her and lost sight of the policeman.
Paris police later claimed in a report that they "had to intervene" to help the girl from a burning car.
Toula and three witnesses confirmed the teenager had rescued the child.
Police then clarified that the report must have resulted due to a miscommunication. They later tweeted thanks for Toula's actions.
Since the 2 February attack on the man identified as 'Theo', one officer has been charged with rape while three others have received aggravated assault charges.
Theo has been treated in hospital for his injuries.
HT RT