It has been 42 days since the massacre in Parkland, Florida left 17 people – including 14 students and three members of staff – dead.
Since that massacre at Marjory Stoneman Douglas High School, at least 60 school-age teenagers (that's 12 to 17-year-olds) have been killed, and at least 198 more have been injured.
This is according to an indy100 review of the the Gun Violence Archive, a not-for-profit organisation that logs the people who have been killed or injured by guns in 2018 with a specific database for teenagers. As the Gun Violence Archive draws its data from media reports, there may have been cases that weren't included.
Though the gun debate in the US has reached a fever pitch after the shooting at Marjory Stoneman Douglas High School, gun control campaigners are grappling with conveying the breadth of the shootings and the depth of the suffering that follows.
Buried within the statistics is 17-year-old Gregory Thompson who was killed in his home after he was shot in the chest; a brother (aged 18) and sister (aged 17) were killed after playing cards with their alleged shooter who had been "acting unusual"; and a 19-year-old man who attempted to rob a 16-year-old boy and shot him dead after the younger teen tried to defend himself with a pocket knife.
There is not space to describe each incident here, the quieter stories that followed the massacre in Florida. Though the severity of these statistics is shocking, they shouldn't be surprising.
In 2018 alone, there have been 13,054 incidents of gun violence in the United States, including 51 mass shootings, leading to 3,338 deaths and 5,848 injuries with 146 children (aged 0 to 11) and 623 teens (aged 12 to 17) killed or injured.
Here is a a map showing all the teens killed and injured by guns in 2018.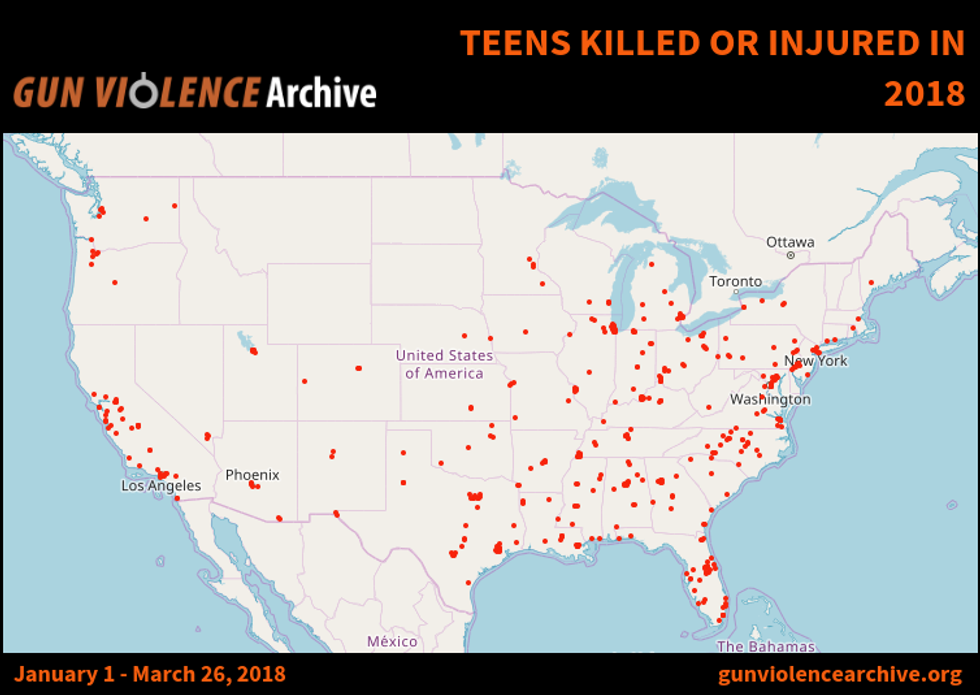 Picture: Gun Violence Archive (Updated: March 26)
For the purpose of this report, indy100 focused on the 12-17 age category to reflect on the age of the teenage Parkland students and victims.