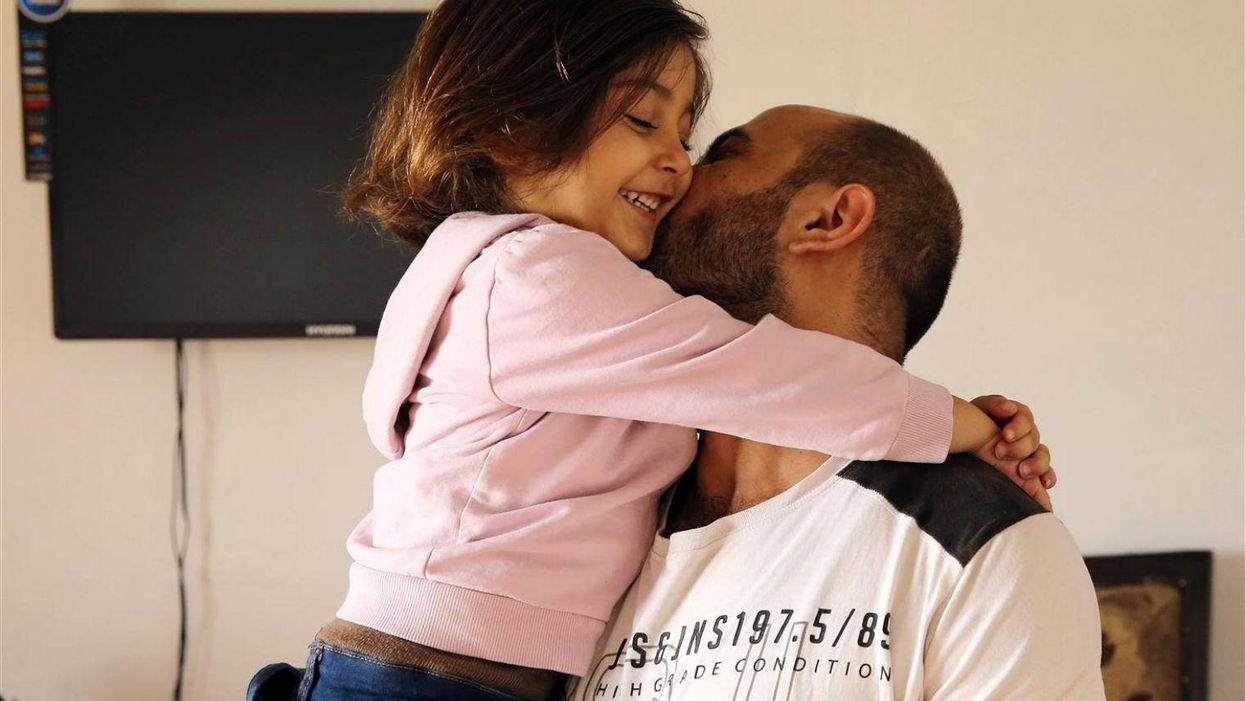 A picture of Abdul Halim al-Attar walking the streets of Beirut, sleeping daughter Reem over his right shoulder and cheap blue biros in his hand, touched Oslo-based journalist Gissur Simonarson.
He tweeted it out last August, and it caused many others to stop and lament the fates of the millions displaced by the Syrian civil war. People started asking how they could help, and Simonarson, with the help of activists in the city, tracked him down.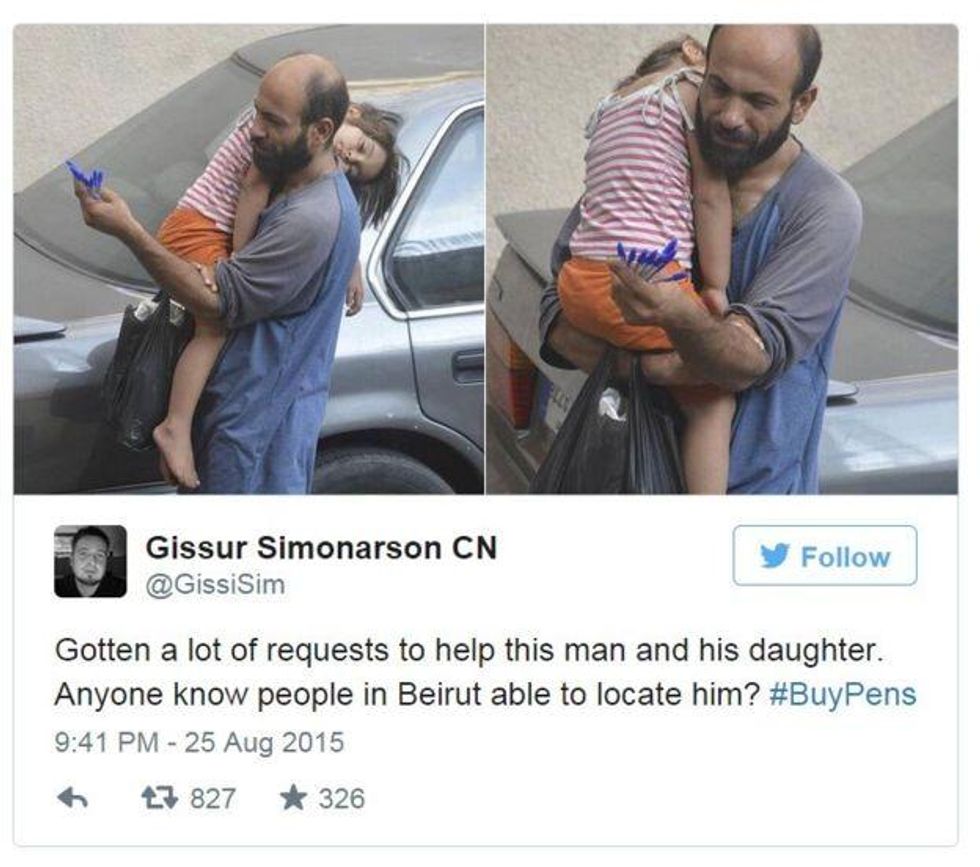 Not only that - when al-Attar opened the door to these strangers they could tell him that close to $200,000 dollars had been raised online by Simonarson's #BuyPens campaign to help him and his family.
It turns out al-Attar, a Palestinian who lived in the Yarmouk Palestinian refugee camp near Damascus, fled to Lebanon with his wife and two children in 2012 when fighting in Syria intensified.
Local activist and journalist Carol Malouf stepped in to become the al-Attar family's sponsor in Lebanon. Some of the money went to her as insurance, as she is legally responsible for al-Attar's business dealings.
(@BuyPens)
She and Simonarson say they transferred $65,000 to Abdul, and he used it to set up a bakery, kebab shop and small restaurant and by December employed 16 Syrian refugees.
Not only did my life change, but also the lives of my children and the lives of people in Syria whom I helped.
(Hussein Malla/AP)
His nine-year-old son, Abdullelah, was able to go back to school after a three-year hiatus. His wife has since returned to Syria, many media outlets have reported, and the couple are now separated.
Al-Attar told the AP in December he also gave away about $25,000 to friends and relatives in Syria.
(Hussein Malla/AP)
But things are not going well.
A shocking recording of a phone call between al-Attar and a woman, reportedly Carol Malouf, has emerged this week, in which al-Attar asks for the rest of the funds, and the woman threatens to either have him arrested or deported:
al-Attar, who has not responded to indy100's Whatsapp messages, is adamant that Malouf is withholding the rest of the money from him - and indeed, if she is the woman on the phone, she says that the money is not his anyway.
Simonarson, who originally started the campaign, told indy100 that the video doesn't tell the whole story, though.
The reason [Carol Malouf] reacted like that, even though it is of course no excuse, is because Abdul [al-Attar] has been threatening her and hounding her for months now after losing his money.

She hit a breaking point with this a while ago, and it seems like they caught it on video. It's sad really, because he wouldn't have gotten any money if it wasn't for Carol.
He understands from Malouf that al-Attar has managed to spend $90,000, with very little to show for it. She thinks he was swindled out of a lot of it by people she had previously warned him about, Simonarson said.
The video has caused outrage in Lebanon, where an item about the growing scandal made TV news bulletins last night.
So where is the money, and who should get it?
That there was trouble getting the rest of the funds to al-Attar became known last October: the crowdfunding site Indiegogo through which the money was raised as well as Paypal automatically deducted fees of close to $20,000 for the campaign, and Lebanon does not allow PayPal to operate in the country.
Simonarson said at the time he was trying to transfer the funds in a way that would avoid using his own Norwegian account, which would mean 45 per cent would immediately be taken in tax.
He told indy100 that efforts to get a friend - who was also a major donor to the Buy Pens cause - to route the money through Dubai were unsuccessful, and incurred even more charges.
At the time of writing, $71,000 of wellwishers' money from #BuyPens is still sitting in Simonarson's PayPal account.
But given the sad turn of events and growing distrust over both al-Attar and Malouf's version of events, it's not clear what to do with it now.
Simonarson told media last year that since far more than the original target had anticipated, he was going to have to "reconsider" whether al-Attar would be the recipient of every last penny anyway.
But I'm not sure what amount that is... $250,000, $500,000? It's a kind of double edged sword, it's all happened so fast it's difficult to recognise what's going on.
He is still looking for a way to move the remaining money out of his PayPal account to give it to al-Attar, as promised.
indy100 understands Malouf is currently in Iraq. We will update this post with her side of the story about what went wrong with #BuyPens when we hear back.
PayPal has also been contacted for comment on the fees incurred by fundraisers when they try to transfer money for charitable causes.