Medics have given a man paralysed from the chest down the ability to walk again after pioneering a technique to mend his severed spinal cord.
A revolutionary implant of regenerative cells knitted back together the spinal cord of the wheelchair-bound firefighter, restoring sensation and muscle control to his legs.
The astonishing breakthrough by an Anglo-Polish medical team is the first ever instance where a complete spinal paralysis has been reversed. The technique must be replicated and refined before it can offer hope of life-changing therapy to the 2.5 million people paralysed by spinal injury across the world.
The treatment, developed by researchers at University College London and put into practice by surgeons in the Polish city of Wroclaw, uses specialist human cells which repair damage to nasal nerves to enable spinal nerve fibres to regrow and bridge a severed cord.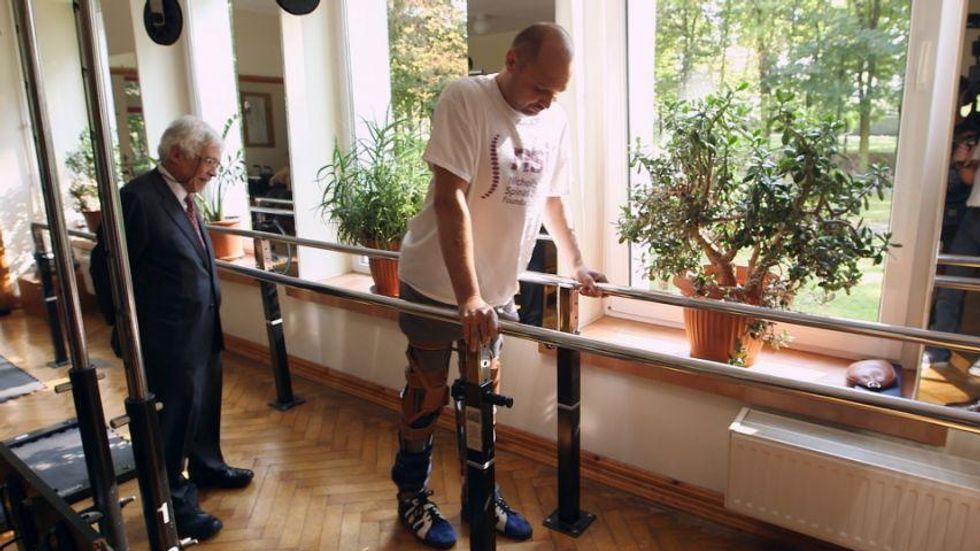 Doctors implanted harvested cells – known as olfactory ensheathing cells (OECs) – into an 8mm gap in the spinal cord of Darek Fidyka, a Bulgarian firefighter confined to a wheelchair in 2010 after an attacker stabbed him in the back, slicing cleanly through his spine. His doctors had given him a less than 1 per cent chance of even slight recovery.
More: Sex was invented by a 385million-year-old fish from Scotland