Syria is on the brink of entering its sixth year of civil war.
Tuesday marks the fifth anniversary of the first pro-democracy Arab Spring demonstration in Damascus. Five years on, however, the hopes of the popular uprising have been extinguished by a complicated war which has destabilised the entire region and led to the growth of groups like Isis.
A Kurdish Syrian woman walks with her child past the ruins of the town of Kobani, also known as Ain al-Arab, on March 25, 2015. Isis fighters were driven out of Kobane on January 26 by Kurdish and allied forces (YASIN AKGUL/AFP/Getty Images)
The next round of peace talks are set to go ahead in Geneva on Monday - but with more than 4.8m people displaced by the conflict, 250,000 civilians dead and one in three Syrian children never knowing anything but war, for many families, life will never be the same again.
Syria's artistic community, though, has never stopped trying to give a voice to those affected by conflict and create spaces where debate and exchange can flourish, as a new project funded by the British Council is highlighting.
'Artists in Recovery' aims to show how crucial the arts are in daily life by supporting and sharing the work of displaced Syrian artists, both established and emerging.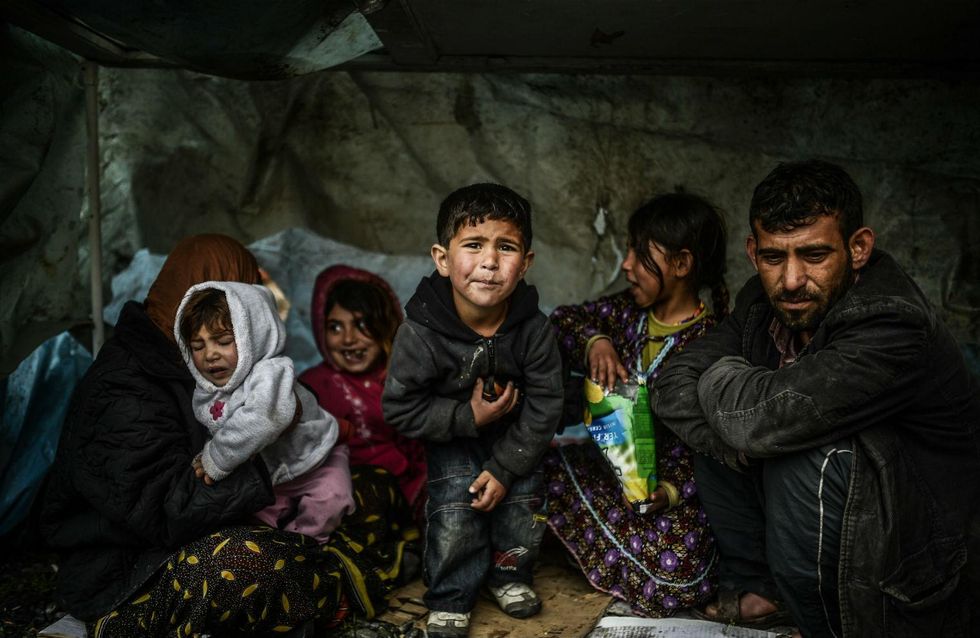 A family from Aleppo, Syria, shelter in Istanbul, Turkey, on March 8, 2014 (BULENT KILIC/AFP/Getty Images)
The 'Andﻭ' project for Syrian art is completely digital. Gregory Nash of the British Council, who is co-curator of Artists in Recovery, says the idea is to reconnect displaced people and artists to each other despite physical barriers, and with international audiences.
The artists were invited to take part from where ever they live, and some under pseudonyms or anonymously, to share their stories of the past, present and hopes for the future.
Nash said:
Most of the pieces represent new ways of working for the artists. All of them show us that it's possible to go on living and creating in the most extraordinary of circumstances.
Bashar Zein, one of the artists to be featured first by the programme, created a short film called 'Resurrection'.
It is designed to convey the psychological conditions of detention and torture, and viewers should be aware they might find it upsetting.
Zein told indy100 that the media, in all its forms, has failed to "adequately convey the reality of the events in Syria", and what he wanted to do is give back the "dignity and being" of the disappeared of Syria's war.
This figure of the prisoner remains the only true symbol of pain, defeat and loss in war but also, to some extent, of hope and resistance.
indy100 is proud to premiere 'Resurrection' below - and you can view the other artists' work here.