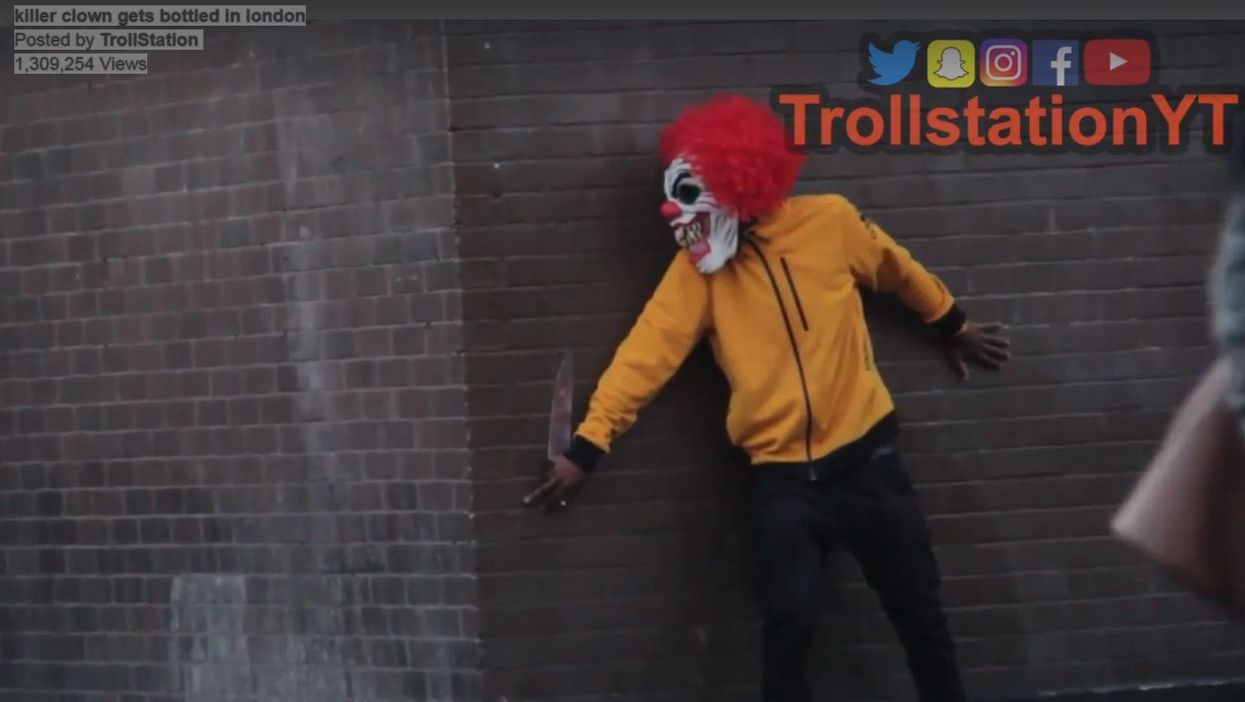 TrollStation
A video released this week shows a prankster dressed as a creepy clown trying to scare a Londoner - and getting bottled in the head in return.
It shows a prankster in a 'killer clown' horror mask waiting to jump out on an unsuspecting passerby.
But the 'creepy clown', dresed in an equally horrifying yellow jumper, got more than he bargained for when he pounced.
Burly shopper guy proceeds to scream: "What the f*** is wrong with you...you think this is a joke?"
He then violently smashes the bottle down on the clown's head, before standing over his motionless body with a maniacal glint in his eye, shouting: "Ha, ha, ha, ha...that's a joke."
YouTube channel Trollstation posted this video on Saturday, and it's already garnered almost a quarter of a million views, and over 14,000 likes on their Facebook page.
This comes amidst the recent surge of 'creepy clown' incidents all over the world, including the UK, the US and Canada.
While a few viewers questioned the video, many believe the incident really happened.
Nevertheless, 'Light' from TrollStation (so-called because he "lights up peoples lives") confirmed to indy100 that the video is a staged prank; a comment on the recent 'killer clown' craze.
People are going around doing this for real, but this video is a public sketch, a sort of street theatre. It's designed to make a mockery of the recent 'killer clown' prank videos, but also to show how they can go wrong.
Both the clown and the burly shopper are actors, using a sugar glass bottle.
We think that the craze has gone too far. People shouldn't be doing anything like this near schools, or elderly people. Others are walking around with machetes and chainsaws. You can't do that in a public place, because you're terrorising people.
He added: "We don't condone anything like that."