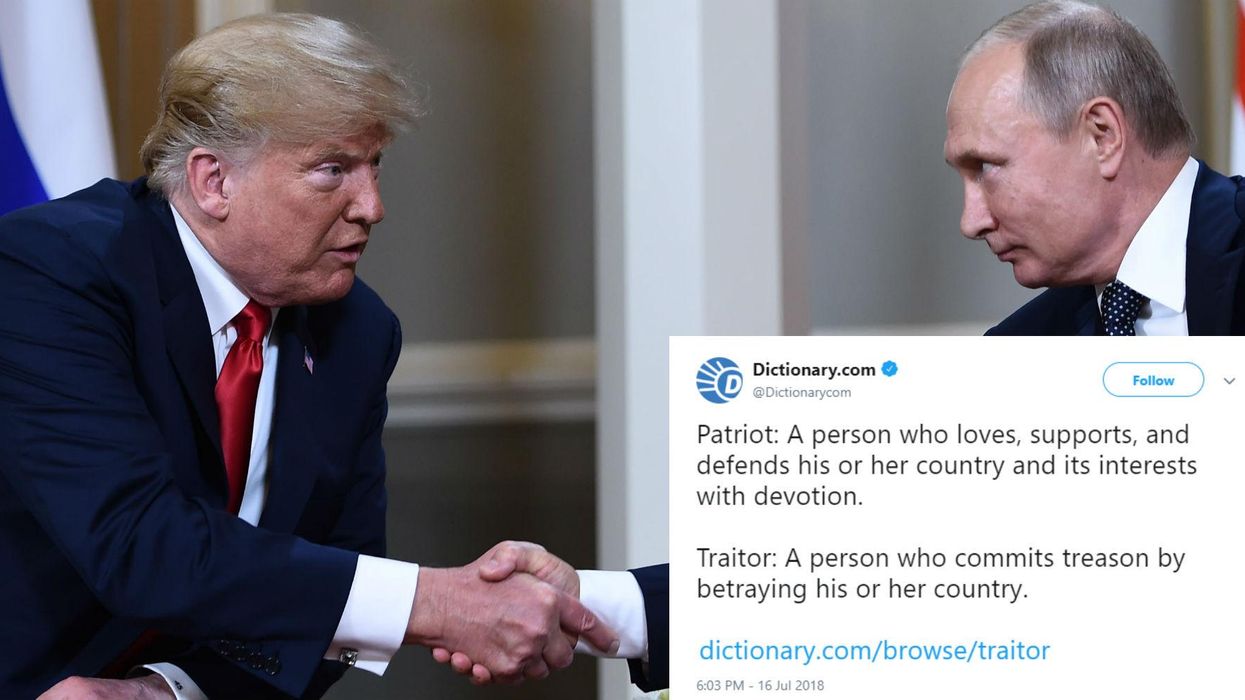 Few Twitter accounts are shadier than Dictionary.com.
Last week, the sassy social mastermind behind the account posted the definition of the term 'self-made', a tweet sent in reference to Forbes' headline declaration that Kylie Jenner was on track to become a 'self-made' billionaire.
There was clarification in the article that Jenner was born into a multi-million dollar family and therefore slightly more likely to become a billionaire than the average budding teen entrepreneur, but the headline still went viral.
Naturally, Dictionary.com's response quickly outpaced the initial story and earned praise from messy Twitter users who lived for the drama.
Jenner is safe this week; now, the account's attentions have turned towards president Trump who, to put it lightly, hasn't had the best few days. On Monday, he met with Russian president Vladimir Putin at the long-awaited US-Russia summit in Helsinki.
Here he committed a series of disastrous missteps, such as delivering a formal statement which he later corrected, blaming an apparent transcript error.
Even by Trump's standards, the backlash was swift and pretty terrible. Not only was he fiercely criticised for seemingly accepting Putin's denial of Russian collusion in the 2016 election, – this was the statement which he later retracted – he was also roasted online and described as 'treasonous' for criticising his own country.
At this point, Dictionary.com waded in with a series of tweets – including one which consecutively listed the definitions of 'Patriot' and 'Traitor'.
It wasn't exactly difficult to infer the tweet's meaning; it was an obvious Trump subtweet.
The account later ditched the implied critique and quote-tweeted the president directly, listing his tweets alongside the definitions of 'denial' and 'double negative'.
Naturally, people were thrilled that Dictionary.com was doing such amazing work in continuously denouncing Trump – after all, someone has to.
Keep it up, Dictionary.com – you're doing amazing, sweetie.