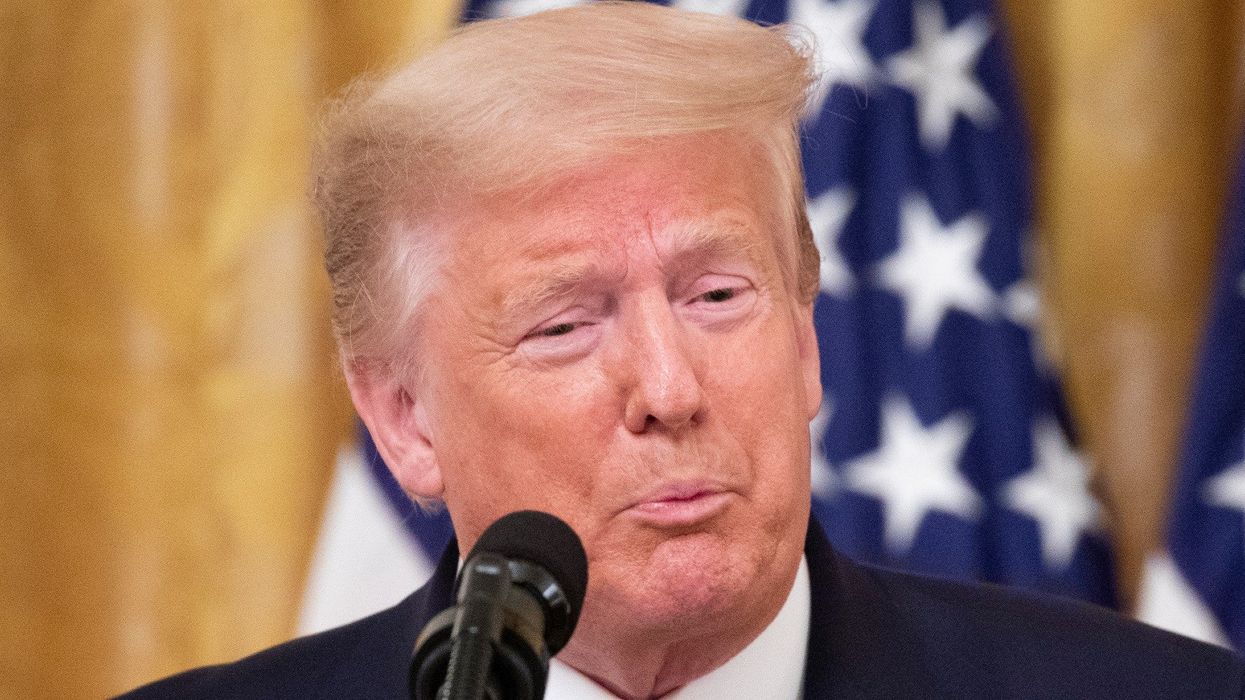 MICHAEL REYNOLDS / POOL/ EPA
On Wednesday night, Donald Trump took part in a very candid interview with his good friend on Fox News, Sean Hannity.
During a near 30 minute discussion the two exchanged words on a variety of pertinent topics like coronavirus, Black Lives Matter, police brutality and the upcoming election.
Given the two people involved the interview was hardly succinct and descended into something of a personal therapy session for the president.
Trump started off boldly claiming that he has done a lot for race relations in the United States and how much he has done for black unemployment.
Hannity also asked the president about 'dirty cops' and tried to get him to talk about the FBI. Trump also called coronavirus 'the Chinese plague.' This was all within the first two minutes of the interview.
Trump then went on to claim that the executive order that he had signed on Monday which would address police reforms but not institutional racism, was actually a bill that was passed by congress.
He also went on to bemoan the Democrats and claimed that if Joe Biden became president he would "abolish the police" which seems to be Trump misunderstanding what 'defund the police' actually means.
Bizarrely Trump then claimed that Joe Biden has been left in a basement
He says that Biden's campaign team are making all his statements for him, which seems pretty rich from a man who recently hid in a bunker from protestors.
Next up was Trump sarcastically complimenting the autonomous zone in the city of Seattle, known as CHAZ.
Trump complimented the area, saying saying they were "obviously very good at real estate" which is something he knows a thing or two about.
Next we move on to police murders of black men...
You can't resist a police officer. If you have a disagreement, you have to take it up after the fact. It was a very sad thing. You take a look, the whole situation was out of control. I heard today that the police officers lawyer said that he heard a sound like a gunshot and he saw a flash in front of him. That's an interesting. I don't know if I necessarily believe that but I will tell you that is a very interesting thing. It's up to justice right now. I hope he gets a fair shake because police have not been treated fairly in our country.
Those are Trump's poignant words on the death of Rayshard Brooks, an unarmed black man who was shot dead by police in Atlanta last week after he was questioned about sleeping in his own car.
Trump then goes on to claim, without evidence or irony, that coronavirus is "fading away" despite the fact that cases have begun to rise across the country.
They then returned to discuss the Black Lives Matter protests and whether it is safe for large numbers of people to be meeting in public
Trump will host a huge rally in Tulsa, Oklahoma on Friday. Trump then called the protesters 'anarchists' and said that "many of them didn't even know what they're protesting about."
Then he went back to coronavirus.
Trump added some very problematic comments about Tijuana, Mexico and claimed that infections would be a lot higher if it wasn't for his border wall.
Very few people are coming through on our border. We have a tremendous border. Tijuana is one of the most infected places on Earth and we have a wall between there and San Diego. It's like a beautiful and very powerful wall and California is very happy that they have it because they would numbers like you wouldn't believe right now.
At the time of writing, Baja California, the state where Tijuana is has reported just over 7,600 cases of Covid-19. San Diego country which is just a few miles from Tijuana has more than 8,600 cases. So much for that wall Donald.
A classic line came next
Trump says that the 1918 flu pandemic happened in 1917 and ended World War I. This is a mistake that Trump has gotten consistently wrong throughout the pandemic.
Trump then went on to criticise Colin Kaepernick, the NFL player who started the 'take the knee' protest and was shunned from the league as a result.
The president said:
He was terrific in his rookie year, I think he was very good in his second year and then something happened. So his playing wasn't up to snuff.
As the interview came to a close, Trump then tried to take credit for the Covid-19 death toll not being 3.5million
He also got a few licks in on China because, you know, according to him it's all their fault.
Just a typical day in the Trump presidency. They only thing this was missing was some completely unnecessary digs at Obama...