Getty Images / OLIVIER DOULIERY / Contributor
Finally, the fashion item everyone not-so-secretly desired has been designed: clothing, any clothing really, as long as it calls for Donald Trump's impeachment.
Walmart has faced furious backlash for selling the 'Impeach 45' baby onesie on its website, though it's hard to believe the superstore didn't see the torrent of outrage coming.
The website even took a step to spell it out. You might think Walmart is crying for the end to number 45 rather than the 45th President, but no, the product description leaves you with no doubt:
Impeach 45 45th President Donald Trump Soft Baby One Piece
Oh, yeah - forgot to mention that the gorgeous off-white one piece with retro lettering and a pop-button triplet fastening is only for babies.
That's undoubtedly a crying shame, though the activists behind the crowdfunding campaign to launch a Trump-as-a-baby inflatable over London might argue it is actually perfect fit for the American president.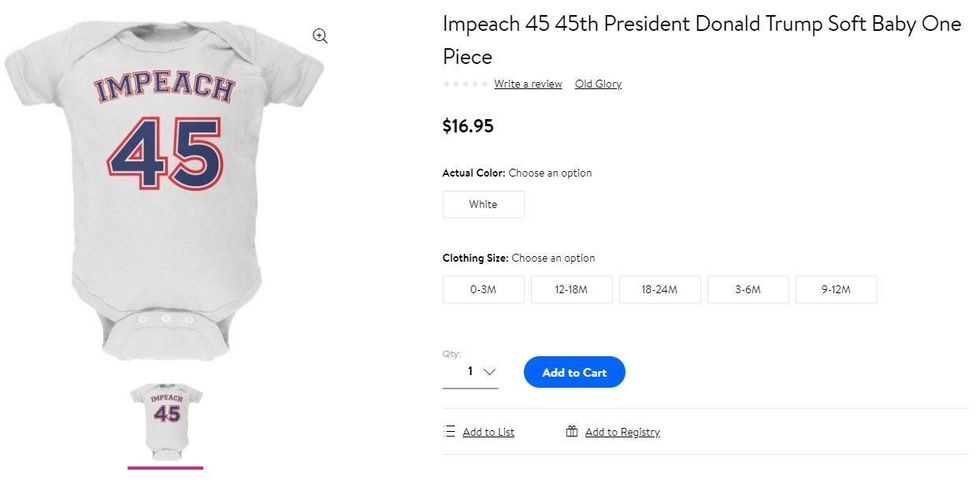 Picture: Walmart
Ryan Fournier, chairman of the presumably miniscule group Students for Trump, was reportedly one of the first to notice the piece and took the company to task on Twitter.
His discovery went viral, and soon came calls to boycott the shop.
Old Glory, behind the apparel, does not appear to be the only company selling Trump impeachment merchandise on Walmart.
Exhausted after playing with your novelty 'Impeach the Peach' frisbee? Why not relax with a beer, perfectly cooled by the 'Donald Trump Funny Can Cooler'? Be sure to get a sober adult to drive your car home though, if you can find it under all those 'Impeach Donald Trump' bumper stickers.
This does not appear to be a deliberate dig on the company's part. Walmart also sells plenty of pro-Trump gear, including various items of 'Make America Great Again' clothing, a Trump colouring book and an 'I love Donald Trump' t-shirt.
indy100 has contacted Walmart for comment.
HT IB Times
More: This is what Mexico's newly-elected president thinks about Donald Trump