Getty / indy100
President Donald Trump has some of the most dismal approval ratings in modern history.
The First Lady Melania Trump is regularly mocked online and Donald Trump Jr isn't doing much better.
But public scorn isn't a family-wide trait, it seems.
According to a new Morning Consult / Politico poll, which questioned almost 2,000 voters, Trump's daughter Ivanka is the most popular adviser in the White House.
The numbers for the First Daughter and other staffers are broken down in the Statista graphic.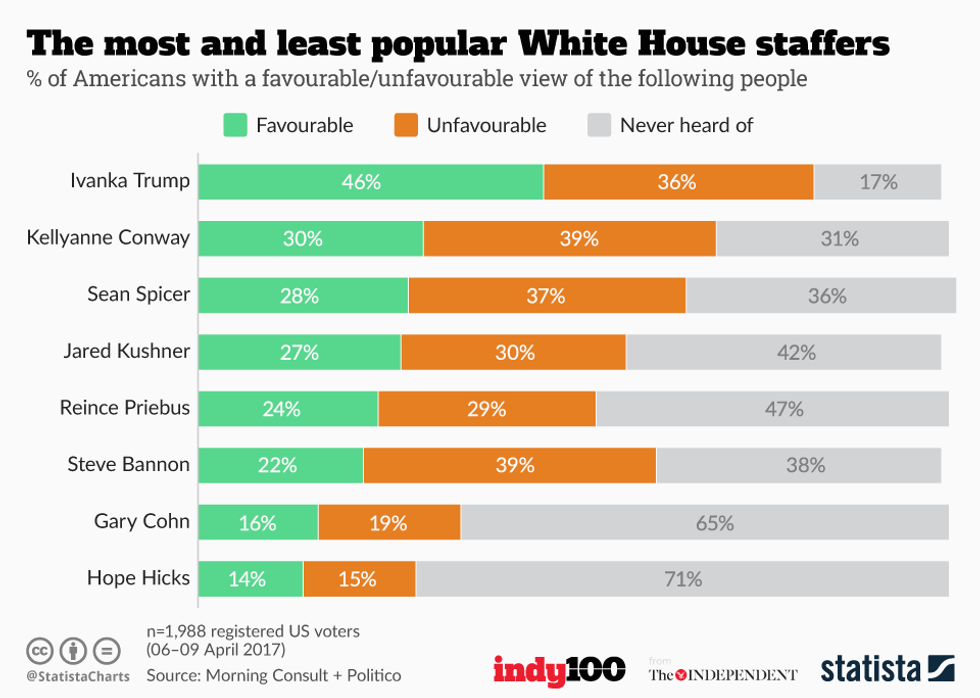 Picture: indy100 / Statista
46 per cent of respondents had a favourable view of the handbag designer, compared to a 36 per cent unfavourable view.
17 per cent professed never to have heard of her, which must mean that somewhere, some poor PR exec is for the chop.
In fairness, Ms Trump did only become an official adviser a month ago - albeit unpaid.
And may we also point out that 6 per cent of respondents hadn't even heard of Donald Trump.
Make of that what you will.
Ivanka Trump was, until recently, seen as the last light of liberal hope in the White House, given her relative moderateness and the hope that she might represent female interests to her father.
However, she's come under fire recently for "complicity," as people on both sides of the political chasm are disappointed with her influence (Republicans) or lack thereof (Democrats).
Her husband, Jared Kushner, is seen as locked in a power struggle with Trump's chief strategist Steve Bannon, which means the couple are experiencing somewhat of an alt-right backlash.
Kellyanne "Alternative Facts" Conway was the second most popular adviser - but only had a 30 per cent approval rating, as opposed to her 39 per cent "unfavourable".
Sean Spicer lagged behind, with only 28 per cent of respondents viewing him in a favourable light, compared to 37 per cent who view him unfavourably.
Although that's nothing compared to former Breitbart editor and Steve Bannon, his approval rating is at only 22 per cent, with a 39 per cent "unfavourable" view.