Lolade Siyonbola / Facebook
A black student at Yale University had the police called on her - just because she was taking a nap.
34-year-old Lolade Siyonbola, who is studying African Studies, was writing a paper in the common area of Yale's Hall of Graduate Studies at their New Haven campus, when she drifted off to sleep.
According to Siyonbola, a white woman entered, turned on the lights, and began taking photographs of her, before saying: "I have every right to call the police, you cannot sleep in my room." It is alleged she believed that the room was part of her apartment.
After two white officers arrived and began questioning her, Siyonbola posted 17 minutes of her encounter to Facebook Live.
In the video, an annoyed Siyonbola told officers: "I deserve to be here. I pay tuition like everybody else. I'm not going to justify my existence here."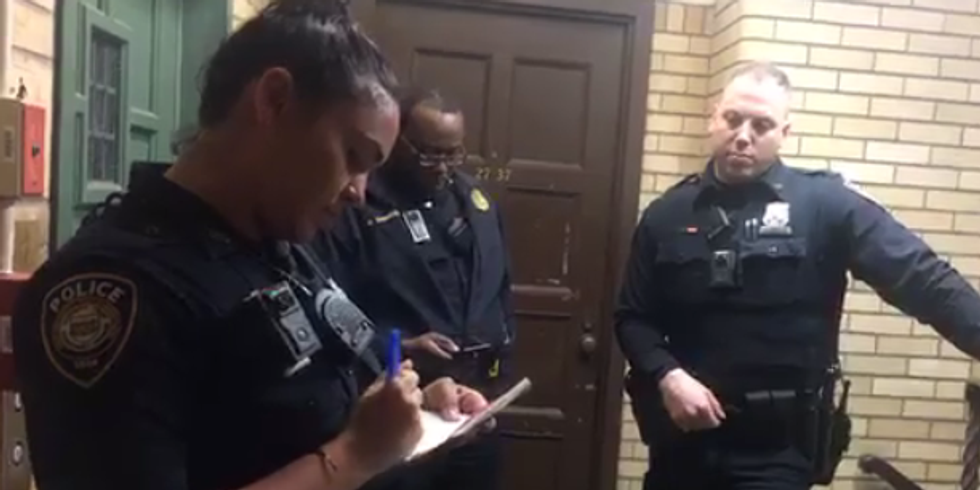 Picture: (Lolade Siyonbola / Facebook )
When she asked them about why they were questioning her, an officer commented: "She called us (and) said there's somebody who appeared they weren't... where they were supposed to be."
Two more officers arrived, and after some confusion over her ID - her name had been misspelled - the officers told her she was free to go.
Writing on Facebook after the event, Ms Siyonbola commented:
Grateful for all the love, kind words and prayers, your support has been overwhelming. Black Yale community is beyond incredible and is taking care of me. I know this incident is a drop in the bucket of trauma black folk have experienced since day 1 in America.
Since being posted at 1:56am on Tuesday evening, Siyonbola's video has been shared 8,500 thousand times, and has garnered thousands of comments expressing support.
In response to the event, Graduate School's Dean Lynn Cooly sent an email to grad students emphasising the importance of inclusivity:
Incidents like that of last night remind us of the continued work needed to make Yale a truly inclusive place.

I am committed to redoubling our efforts to build a supportive community in which all graduate students are empowered in their intellectual pursuits and professional goals within a welcoming environment. An essential part of that effort must be a commitment to mutual respect and an open dialogue. 
Incidents of this kind are becoming more and more familiar. In April, Starbucks issued an apology after two black men were arrested in one of its outlets after they 'didn't order anything'.