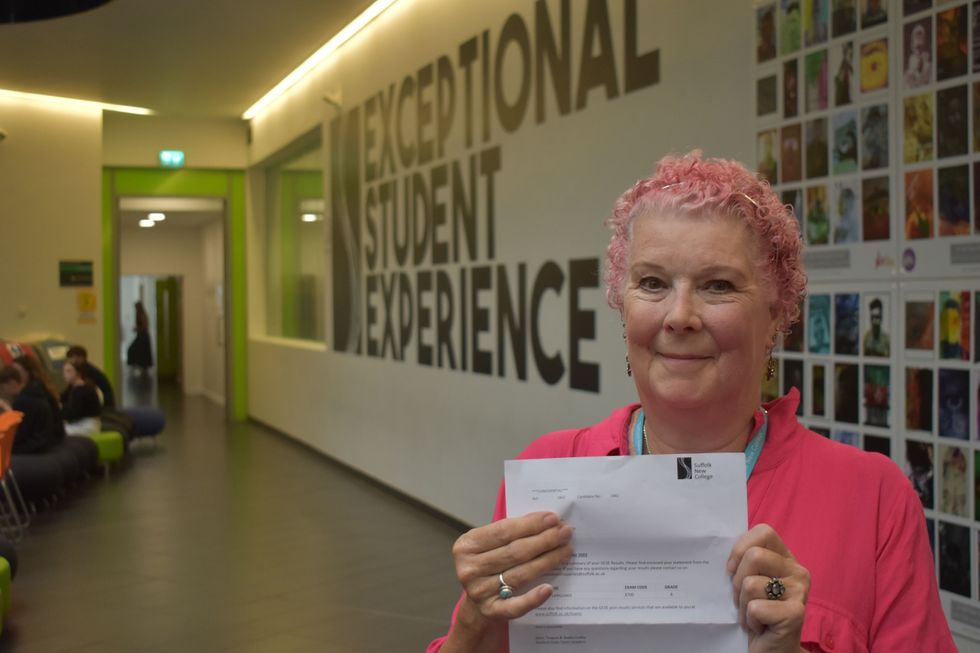 A great-grandmother who passed her GCSE English language exam aged 74 has said you are never too old to learn new things.
Anne Blowers, of Nacton near Ipswich, Suffolk worked in the family business – a lorry park restaurant and bar – before it was sold in 2016 and she retired in 2018.
The widow said she decided to return to work after spending time at home alone through lockdowns.
She got a job as a learning support practitioner at Suffolk New College in Ipswich, and decided to refresh her qualifications, having sat her O-levels in 1965.
I absolutely loved it because I'm a creative person

Anne Blowers
"There's no record of them, but primarily teaching methods and the curriculum have changed so much that if I'm supporting in the classroom I need to have those skills," she said.
She has now achieved a grade eight in her English language GCSE.
"I absolutely loved it because I'm a creative person," said Ms Blowers, who has five children, four grandchildren and three great-grandchildren.
"I do write a little bit.
"I've not had anything ever published but that might change, who knows?
"I loved the creativity, loved being able to express yourself and I loved getting that out to the students I support too.
"It's great to see them be perceptive and think outside the box."
She said that alongside work at the lorry park restaurant, she had worked in education "on and off since I was 18" including for 25 years as a lab technician.
"After being locked down and in the house on my own I really needed to get back to work," said Mrs Blowers, who was widowed in 2014.
"I have skills and I do enjoy working with young people particularly, I really do.
"When we had the lorry park I employed a lot of young people and it was great to see them blossom and move on to other things."
She said she had been one final project away from achieving a master's degree in art and design but "life got in the way" when they opened the family business and she "pitched in to help".
Mrs Blowers is hoping to go back to this and complete a master's degree.
Asked what advice she would give to prospective mature students, she said: "Go for it! The courses are really tailored to help older people as well.
"I was the oldest person in the college to get my English, but not the oldest one in the country, I understand.
"Somebody in their 80s got GCSEs this year.
"It's never too old.
"Every day's a school day and we're always learning."
She joked that one of her "go to phrases" in her role supporting young students at the college was 'do you want to still be doing it when you're my age?'"
Mrs Blowers also passed her level two functional skills exam, which she described as like a level four GCSE pass in maths, earlier this year.