Getty
Donald Trump, to look at his website, is getting hundreds of donations. At the top, there's a ticker that reads "Team Trump", and gives a list of all the people who have given money to the presidential candidate's campaign.
But when you look closer, things aren't all they seem. The ticker looks like it is a live and continuous list of names – but it's neither.

In fact it just cycles through a continuous list of names, which hasn't been updated in weeks.
The site doesn't actually say that the ticker is live, or that the donations are new. But it does give that impression – it looks most similar to news sites, and the constantly rolling styling suggests that the newly appearing names are also new donors.
The names are always the same and pulled from a spreadsheet. That spreadsheet includes only about 500 people and hasn't been updated for around two weeks.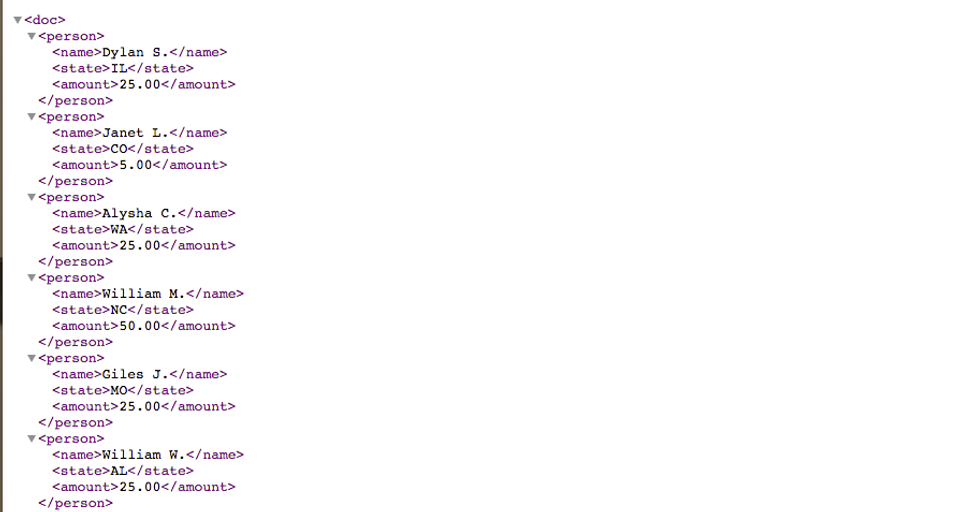 The list of names as it appears, hidden, on Trump's site
The strange ticker was pointed out by Twitter user Jack Danger. In a follow-up tweet he noted that it would have been far easier for Trump to hide the way the ticket worked if he had used a different file format.
Other replies to the same tweet also pointed out that most of the people listed in the ticker are displayed as coming from states that are either strongly Democrat or are swing states. That was probably "to create perception of a turning tide", the user wrote.
Both Trump and Hillary Clinton's campaign pages make much of donations, and each is filled with buttons encouraging people to send money in to the campaigns.