YouTube screengrab/Hoax Slayer
Rowan Atkinson is not dead.
And yet a hoax news story claiming that the 63-year-old died is circulating online.
The fake story is titled FOX BREAKING NEWS with a play button in the middle to make it look like a video clip, and can be found on social media sites like Facebook.
It claims the actor – who is very much alive – died in 2017.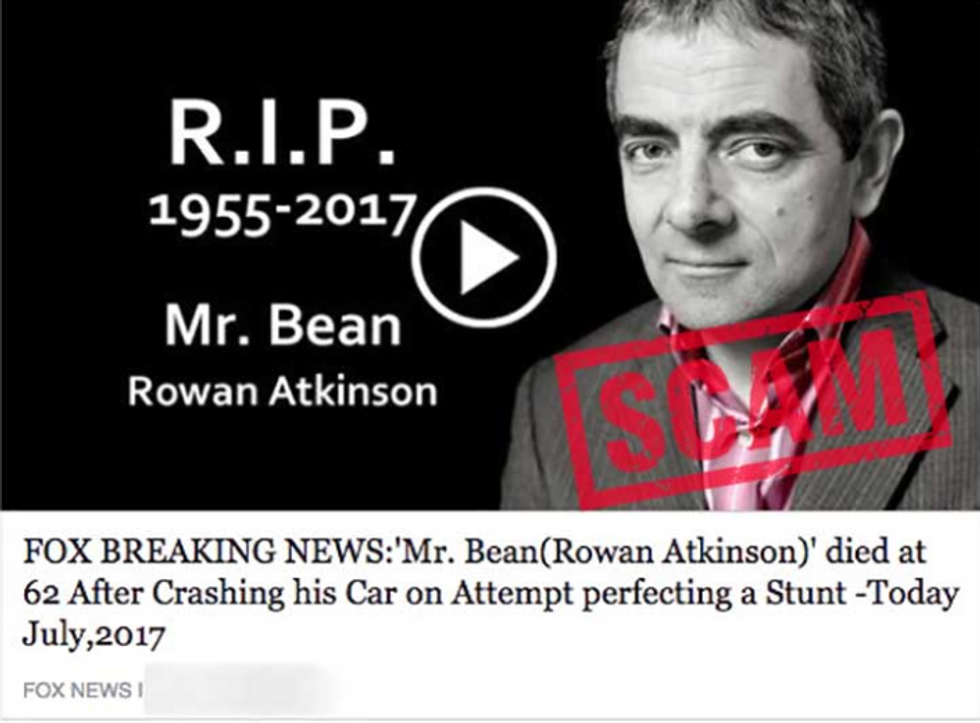 When users click the 'play' button, they're taken to a fake 'Security Error' page which says their computer is blocked and to unlock it, they must ring a customer support number.
On the other end of the line however, scammers will try to trick you into handing over your personal details, like name and address, and bank details.
According to Hoax Slayer, a website dedicated to exposing internet cons, you might also be redirected to a 'survey' website that instructs you to supply personal details like your name, home address, email and phone number in return for the chance to win a prize.
Rumours of the actor's untimely demise were first online in 2016, and reasons for his fake death included taking his own life, and dying while trying to save an actor's life on set.
Atkinson will be reprising his role as Johnny English for the comedy film's sequel, Johnny English Strikes Again.
The movie is set to play in the cinema in October 2018.