Didn't stay up? Here is what you missed at the 72nd Golden Globe Awards.
The big winners...
Boyhood won best drama, The Grand Budapest Hotel won best picture, Richard Linklater won best director for Boyhood, Julianne Moore won best actress in a drama for Still Alice and Eddie Redmayne won best actor in a drama for The Theory of Everything
.. And who was snubbed
Significantly none of America's major networks (ABC, NBC, CBS, or Fox) took home anything in the TV categories of the awards, while on a smaller scale True Detective lost out to Fargo and Orange is the New Black didn't win any prizes.
Bill Cosby jokes
Before the ceremony hosts Tina Fey and Amy Poehler had indicated nothing would be off limits, and that included Bill Cosby. "In Into the Woods Cinderella runs from her prince, Rapunzel is thrown from her tower for her prince and Sleeping Beauty just thought that she was getting coffee with Bill Cosby," Poehler said - causing this reaction:
A funny-because-it's-true George Clooney joke
This is what Fey had to say about Clooney, during her and Poehler's opening monologue:
George Clooney married Amal Alamuddin this year. Amal is a human rights lawyer who worked on the Enron case, was an adviser to Kofi Annan regarding Syria, and was selected to a three-person U.N. commission investigating rules of war violations in the Gaza Strip.

So tonight, her husband is getting a lifetime achievement award.
Also not off limits for Fey and Poehler: North Korea.
Chrissy Teigen became a meme, was OK with it.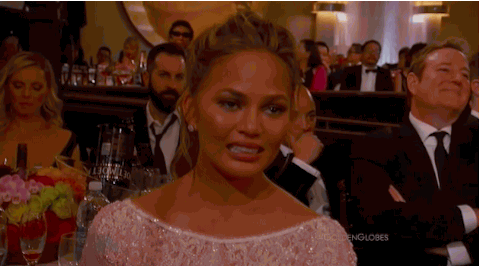 The supermodel's tearful reaction to her husband John Legend winning a Golden Globe for best original song for a film became an instant reaction gif. Judging by this Instagram pic, Teigen was OK with it.
Catherine Zeta Jones came dressed as an emoji
Note we flipped the image of Jones to help with the comparison.
Bill Murray came as Bill Murray
And Benedict Cumberbatch still can't stop photobombing
The actor recreated his 2014 U2 Oscars photobomb, this year with Meryl Streep and Margaret Cho.
On a more serious note, Joanne Froggatt had a powerful message for rape survivors
The Downton Abbey actress won an award for best supporting actress in a series for her portrayal of Anna Bates, the maid who was raped by a visiting valet. In her acceptance speech, she had this message for those who had experienced sexual violence.
I received a small number of letters from survivors of rape. One woman summed up the thoughts of many by saying she wasn't sure why she'd written but she just felt in some way she wanted to be heard.

I'd like to say, I heard you and I hope saying this so publicly in some way means you feel the world hears you.
There were Charlie Hebdo tributes
As the Independent's Los Angeles correspondent Tim Walker writes, the events in France "cast their long shadow" over the evening. George Clooney was one of the many celebrities wearing a sign or a badge saying 'Je Suis Charlie' on the red carpet - and Clooney mentioned the march in Paris during his acceptance speech for the Cecil B DeMille lifetime achievement award, saying: "They didn't march in protest. They marched in support of the idea that we will not walk in fear. So, Je suis Charlie."
Finally, everyone is about to get very excited about the new House of Cards
Neftlix released the first full trailer for the third series right after Kevin Spacey picked up his award for Lead Actor in a Drama Series.
More: Benedict Cumberbatch remains the internet's favourite celebrity