MTV / Screengrab
The internet has been at a fever pitch over the are-they-or-aren't-they relationship between Star Wars' Poe Dameron and Finn since The Force Awakens in 2015.
The Resistance fighter and the rebel Stormtropper have been the subject of countless debates, memes and fanfics over the past two years.
It's might be because of the love in Oscar Isaac's eyes when he looks at John Boyega and tells him to keep his jacket in this scene.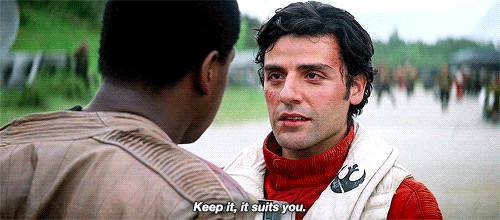 Anyway, it seems people on the internet aren't the only ones to 'ship' the pair. To celebrate the release of The Last Jedi, the cast were made to play a game of Would You Rather? by MTV.
When star Daisy Ridley was asked whether she'd rather go on a date with Poe or Finn, she well and truly flew the flag for the fandom.
Oh I can't choose my boys. I'd rather be on a date with THEM on a date.
And because it's the internet, here's an artist's impression of what that might look like, shared by Rian Johnson himself.
It seems like it's a sentiment shared by the rest of the cast and crew, too. A new star to the franchise Kelly Marie Tran - who plays Rose- was asked the same question and confessed that she "ships" Poe and Finn.
And in a move that will surely stoke the embers of fictionalised love eternal, John Boyega said that he'd rather go on a date with Oscar Isaac's Poe:
He's got an X-Wing so I wouldn't need to think about Uber or all that kind of stuff. I can just get to where I need to get to.
While Oscar said he'd choose Finn:
I'm going to go Finn. It'd be weird to hook up with myself. [We'd go to] Olive Garden, maybe.
Watch the full exchange below; it also features Kelly Marie Tran being the absolute best person ever. You're welcome.