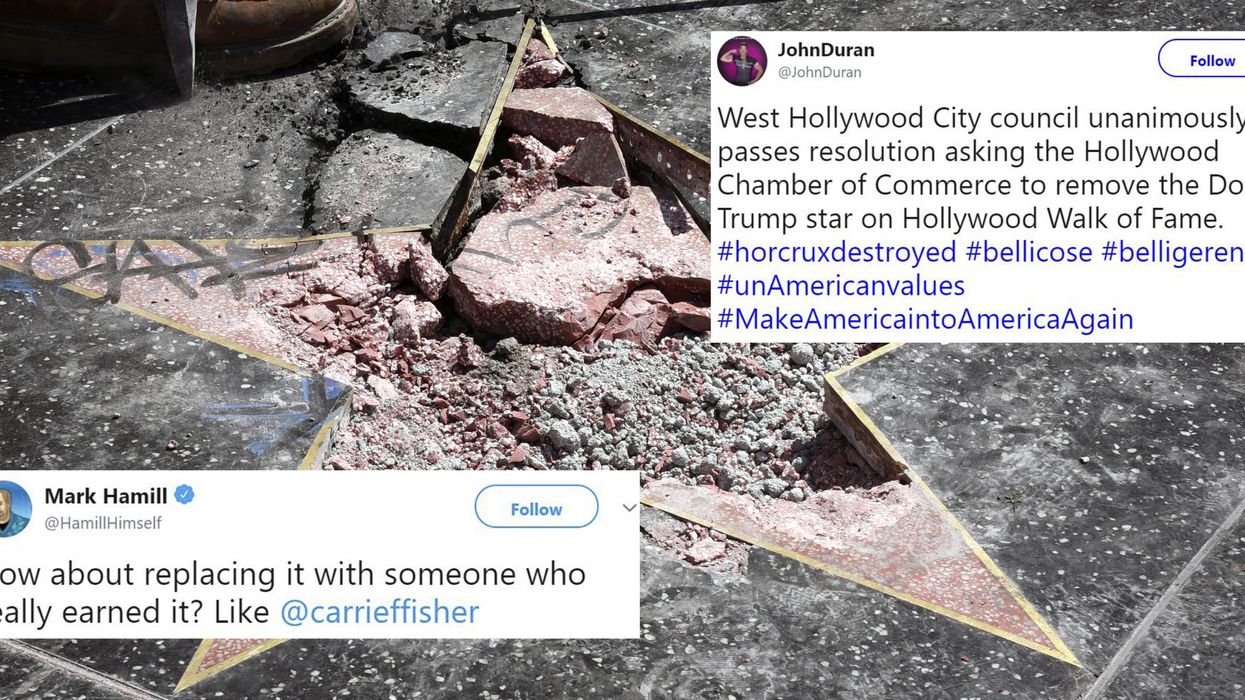 BOB RIHA JR/ EPA/ Twitter
A resolution has been passed by the West Hollywood City Council to remove Donald Trump's Walk of Fame star after the landmark has been repeatedly vandalised.
On Monday, John Duran, the mayor of West Hollywood, tweeted that the council will be asking the Hollywood Chamber of Commerce to have Trump's star removed.
He also included the hashtags #belligerent #unAmericanvalues #MakeAmercaintoAmericaAgain.
Since Trump's ascension to the presidency, the star, which he was awarded for his role on The Apprentice, has been attacked at least twice, both by men wielding pickaxes and reducing the star to a pile of debris and rubble.
Others have chosen to build miniature walls around the star, spray a swastika on in it. Even mock Russian guards were seen protecting it just a few days ago.
Leron Gubler, the president and CEO of Hollywood Chamber of Commerce told Entertainment Weekly that the organisation is looking into the issue. He said:
[The Hollywood Chamber of Commerce is] working with the police in regards to this felony and intends to prosecute to the full extent of the law. 

[It] is something that the Chamber would do for any Walk of Fame star that has been vandalised. 
He also reiterated a previous statement, that was given after the last time Trump's star was destroyed.
The Hollywood Walk of Fame is an institution celebrating the positive contributions of the inductees.

When people are unhappy with one of our honorees, we would hope that they would project their anger in more positive ways than to vandalize a California State landmark.

Our democracy is based on respect for the law. People can make a difference by voting and not destroying public property.
With news of this resolution filtering out overnight, Twitter began to react with excitement.
Others, mostly supporters of Trump, began to question why other stars belonging to celebrities with a controversial past are yet to be removed.
When suggestions started being made about which star should replace Trump's spot. The most popular suggestion was Carrie Fisher.