They've done it. Leicester City have done it. After a Premier League season like no other, the Foxes have pulled off the unthinkable. Leicester City are champions of England.
Picked by many as one of the favourites for relegation, the Foxes have been guided expertly by their Italian manager Claudio Ranieri - who was appointed in July after a dreadful time with the Greek national team.
Almost no one could have predicted Leicester's success this season, but there are a few pundits (both professional and part-time) who probably wish they could take these words back...
Speaking on BreatheSport, the former Leicester and England forward said:
Claudio Ranieri is clearly experienced, but this is an uninspired choice by Leicester.

It's amazing how the same old names keep getting a go on the managerial merry-go-round.
2. Harry Redknapp
The former West Ham and Spurs manager said after the appointment was announced:
3. Dietmar Hamann
The former Liverpool midfielder, who coached Leicester for a spell in 2011 tweeted:
4. This West Ham fan...
5. Steve Claridge
The former Leicester player turned pundit turned manager had this piece of wisdom for the Leicester Mercury:
To say I was surprised is an understatement.

It doesn't make sense. You have to stretch your imagination.

It seems a very strange way to go. I don't understand it...

It is almost like a Sven appointment, where someone hasn't really done their due diligence on someone.

To say he is hit and miss is an understatement. He is mainly miss...

I have never really fancied him as a manager.
6. Marcus Christenson
In a long opinion piece, in which he called the appointment "baffling", the Guardian's football editor concluded:
If Leicester wanted someone nice, they've got him. If they wanted someone to keep them in the Premier League, then they may have gone for the wrong guy.
7. Tony Cottee
Cottee, who played for Leicester in the late 1990s, told Sky Sports:
I'm astonished. I just didn't see this one coming.

Obviously there have been many people linked to the job but as far as I'm aware, Ranieri wasn't one and for me, it is a strange appointment...

He has managed in Premier League football before but when he did manage with Chelsea, he was working with players that were capable of winning the Premier League.

At Leicester, it's a completely different ball game. He is going to be dealing with players that are good players but Leicester have got a fight for survival on their hands.
8. Troy Townsend
The Kick It Out campaigner and father of England winger Andros Townsend, said:
Are there seriously no managers around that we have to be rolling out Ranieri again in the Premier League?
9. Richard Keys
The king of banter tweeted this out back in July: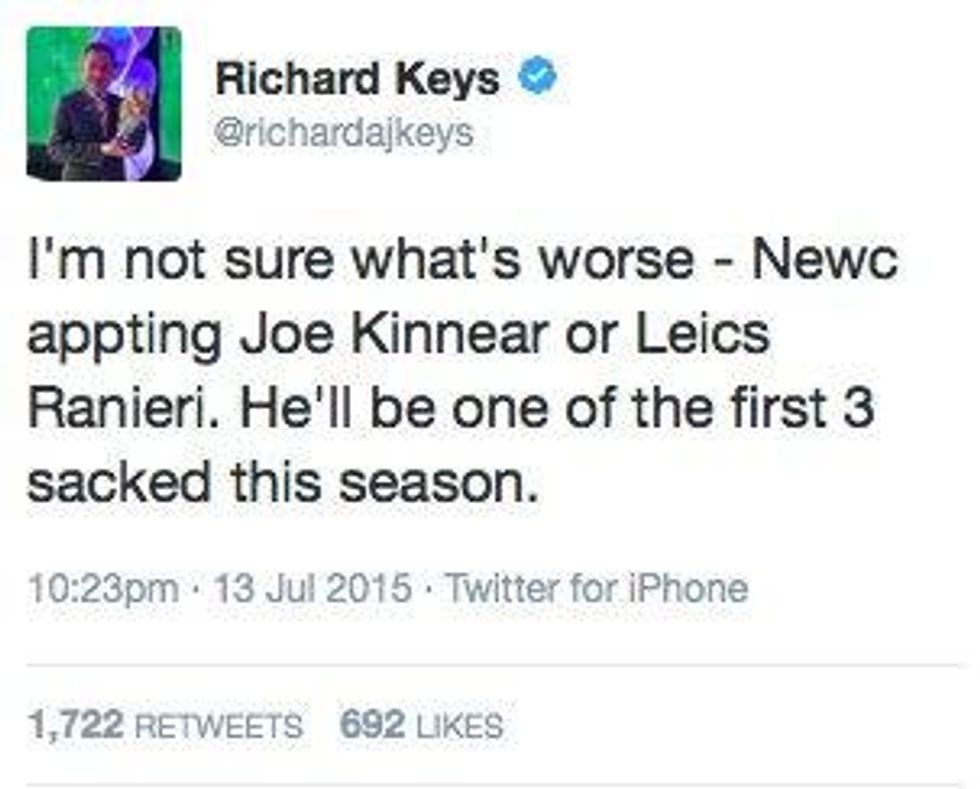 But it's now been deleted. Funny that...