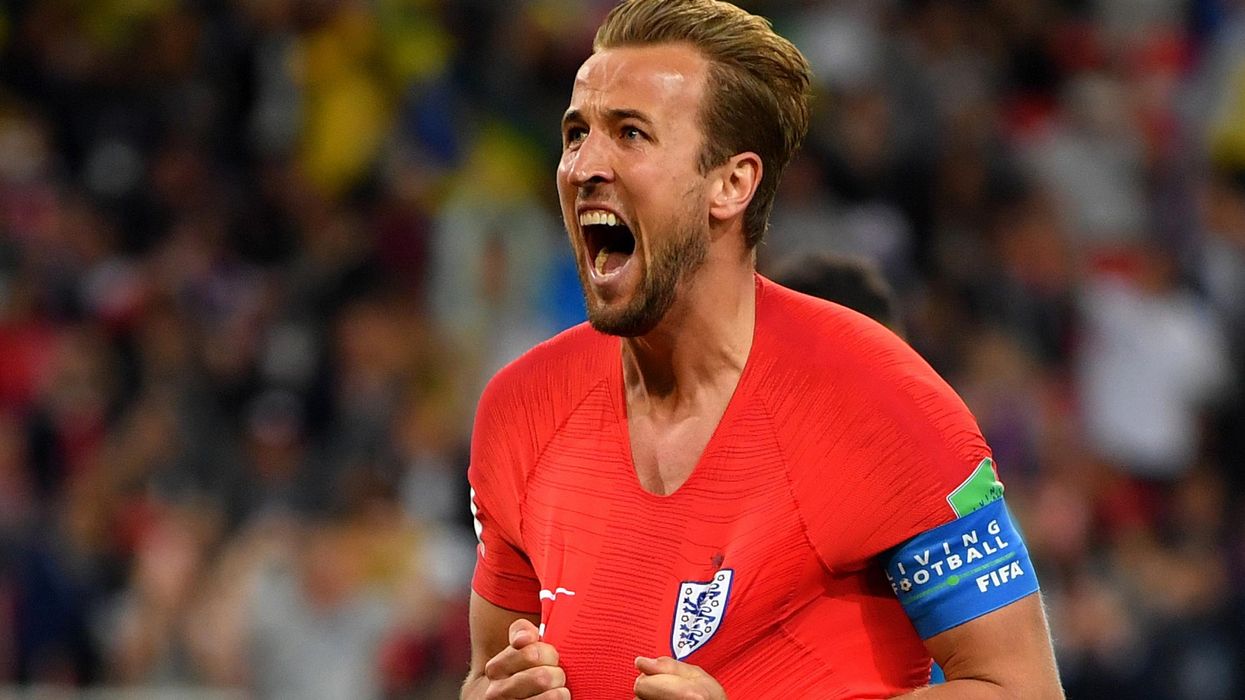 Dan Mullan/Getty Images
You might think there's only one thing to know about England's World Cup run this year: it's coming home, obviously.
But it turns out football's route home comes with more twists and turns than you might have imagined, as these forgotten yet fascinating World Cup facts can reveal.
1. Harry Kane could have played for Ireland.
Due to his Irish roots, England's main man made enquiries to the Irish Football Association but it all fell through.
Ireland manager Martin O'Neill said that he could be playing for Ireland if he hadn't made his breakthrough for Spurs, reports The Daily Mail.
2. England have scored the most set piece goals in a World Cup since 1966.
England have scored eight goals from set pieces - not just more than any other team in the tournament, but reportedly the most since 1966 by, er, Portugal.
Forget that Portugal crashed out that World Cup in a semi-final with England, but focus on the '1966' of that stat instead.
England have scored eight set piece goals in this World Cup, the most by a team since Portugal in.. 1966 👀🏴󠁧󠁢󠁥󠁮󠁧󠁿 https://t.co/wcNWEzHOVh

— Footy Accumulators (@Footy Accumulators) 1531062108
3. The most losses by way of penalty kick is shared by England and Italy.
Sometimes we get so blinded by our own penalty misery at World Cups and European Championships that we forget another country is suffering too, though Italy have won more.
But since storming into the World Cup quarter-finals by beating Colombia on penalties, are our fortunes changing?
4. Ashley Young is the oldest player in a World Cup squad to be called Young since 1998.
Despite his surname, the 32-year-old is the oldest in England's inexperienced World Cup squad.
We also saw this quirk in 1988 with South Korea's Choi Young-il.
5. Harry Maguire's mum is always there to expertly rip him apart.
The Leicester defender went viral after arriving at the first day of England training with his kit in a bin bag.
He later said that his mum wasn't impressed when she came across the clip. In a press conference, he said:
My mum mentioned it. She gave me a text later on saying what's with the bags? It was just a bit of fun.

I try my best to keep my feet on the floor and stay humble and let my ability do the talking.
6. Marcus Rashford is the youngest player to score on his Three Lions debut.
He scored in 2016 on his England debut against Australia when he was aged just 18, during the doomed preparations for Euro 2016.
7. England have a unique way of practising penalties - and it seems to work.
People have praised Gareth Southgate - a football coach who has certainly missed a penalty for England - for overcoming England's penalty curse.
By treating penalties as more than just a lottery, Southgate tried to recreate a real shootout on the training ground by reportedly practising penalties while fatigued and with teammates jeering at them.
Pickford also handed the ball to each England player on his way to the spot, a way to own the process and ensure their preparations were not disrupted.
8. Jordan Pickford is the youngest England keeper to keep a clean sheet at a World Cup.
The 24-year-old became a national hero for his excellent saves throughout England's World Cup campaign, but it's his age on top of that remarkable performance that's breaking records.
After England beat Sweden 2-0 to reach the semi-final, Match of the Day tweeted:
Jordan Pickford is now the youngest England goalkeeper to keep a clean sheet in a #WorldCup match (24y 122d). Reac… https://t.co/xhbMPpS0BV

— Match of the Day (@Match of the Day) 1530980259
9. Harry Kane met his partner Kate Goodland at school.
And here's a photo of the two of them as kids with David Beckham.
In 2005, Harry Kane met David Beckham alongside Kate Goodland. 13 years later, Kate Goodland and Harry Kane are no… https://t.co/AQUIWRNgYe

— kwiff (@kwiff) 1528730276
10. Gareth Southgate nearly didn't go into football.
In a parallel world where Southgate chose to be a travel agent instead - as he excelled academically - life would be heartlessly lacking in waistcoats.
Listen as a million hearts shatter imagining that prospect.
11. The trophy was stolen last time we won it.
The Jules Rimet trophy was stolen from a London exhibition in March 1966, only to be recovered from some bushes by a heroic dog named Pickles.
Not taking any chances, Fifa sent a policeman into the England dressing room after their World Cup Final win to switch the real trophy with a replica.
So, if it is coming home, it might not be for long.