Kevin C. Cox/ Clive Rose/ Getty Images
What will we do when the World Cup is over?
When there are no more Gareth Southgate memes? No reason to chant 'It's coming home' anymore?
It will be a dark and lonely place (well only for a few weeks, then the football season starts again).
Sadly this reality could be with us - us England fans, anyway - as early as Wednesday evening.
Despite their incredible efforts, should the Three Lions lose to Croatia in tomorrow's semi-final, then football definitely won't be coming home.
The challenge posed by Croatia is likely to be one of the sternest tests the team has faced so far, given the high pedigree of players that the Eastern European side possess.
Stars like Luka Modrić, Ivan Rakitić, Ivan Perišić, Dejan Lovren and Mario Mandžukić all play for top European clubs and have the experience to cause England more than enough problems.
But let's be honest, you haven't come here for a tactical analysis of the match, but weird and obscure facts and findings of the fixture and the people involved. So, here goes nothing...
1. 'The wally with the brolly.'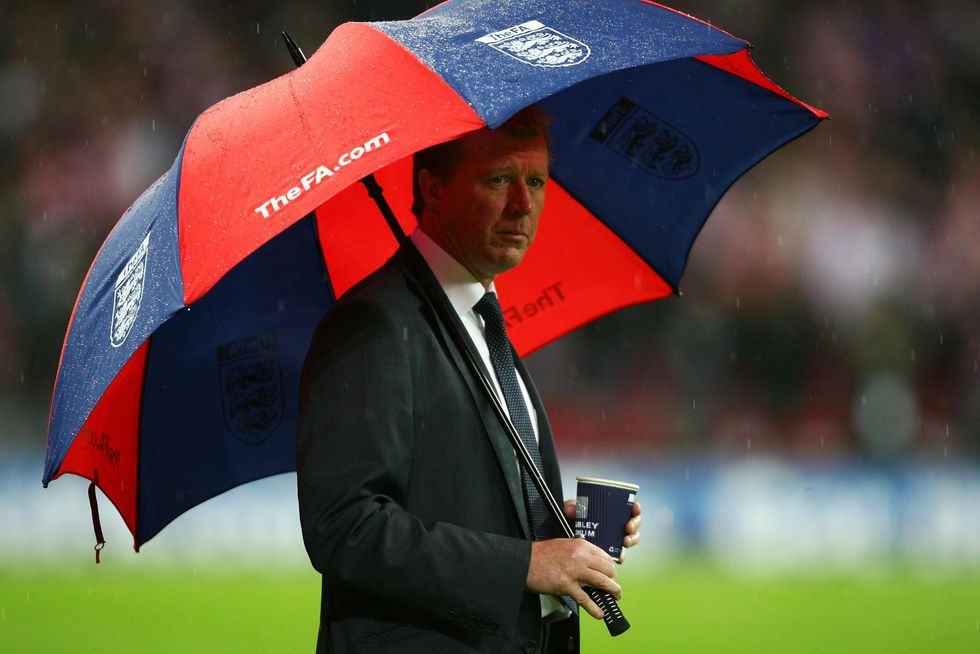 Picture: Alex Livesey/Getty Images
Although England and Croatia have faced each other seven times previously, they have never encountered each other at a World Cup.
The head-to-head standings between the two sides currently stand at England 4 Croatia 2, and one draw. It has been eight years since they last met but their most famous encounter was in 2007.
Croatia beat England 3-2 at Wembley on wet November night, which was made iconic after the then England manager spent the entire game under an umbrella.
He was quickly dubbed "the wally with the brolly", and we can't be sure, but we doubt a football manager has ever been seen with an umbrella since.
2. Croatia have reached a World Cup semi-final more recently than England.
Picture: Marcus Brandt/Bongarts/Getty Images
Much has been made of England reaching their first World Cup semi-final since 1990, but - despite only being an independent nation since 1991 - Croatia are playing their second semi-final in 20 years.
In their debut World Cup tournament in 1998, Croatia beat the likes of Romania and Germany to reach the last four, only to lose to eventual winners France.
Their squad in that time featured many greats of Croatian football, including Robert Prosinečki, Zvonimir Boban, Robert Jarni and the legendary Davor Šuker, who won that year's Golden Boot after scoring six goals.
3. Rooney announced himself onto the world stage against Croatia.
Cast your mind back to 2004. NASA landed their Exploration Rover on Mars, George W. Bush won a second term in the White House, and Facebook was launched.
Among all that, a young man named Wayne Rooney announced his arrival onto the world stage of football with an inspiring performance against Croatia at Euro 2004.
The then-Everton forward was just 18 at the time, but arguably put in his best ever game for England, helping his side cruise to a 4-2 win.
Months later, he signed for Manchester United and we would say the 'rest was history', but it depends how you feel about his overall contribution to the game.
4. Theo Walcott once scored a hat-trick against Croatia.
Yep, that Theo Walcott. The lovable but ultimately frustrating former Arsenal player, who is now fairly anonymous at Everton, once bagged a hat-trick for England.
This came in a 4-1 win over Croatia in Zagreb in September 2008, and they were the first goals he scored for England before going on to score five more until his last selection in 2016.
Incidentally, the last player to score a hat-trick for England was Harry Kane just a few weeks ago against Panama. More of the same on Wednesday please, Harry.
5. The Borat incident.
As you may have already noticed, things have been a mixed bag for England against Croatia. A year before the loss at Wembley in 2007, they managed to slip up against 'The Blazers' on their home turf.
The result ended 2-0 to the Croatians, but it's probably best remembered for the mistake from goalkeeper Paul Robinson, who accidentally let the ball slip under his foot resulting in an own goal.
The incident was made even more agonizing and comedy due to the fact that adverts for the Borat movie were being displayed pitch-side at the time.
6. Šime Vrsaljko once got on the wrong team bus.
Croatian right-back Šime Vrsaljko is looking like a doubt for the semi-final due to injury, which is a shame, as he'll be wanting to redeem an embarrassing moment from earlier this year.
Following a game between his club team Atlético Madrid and fellow Spanish side Sevilla, the 26-year-old was so distracted by his phone that he managed to walk on the wrong team bus.
He quickly spotted his error but it didn't stop the footage going viral much to his humiliation.
7. Vedran Ćorluka'sgenerosity.
At 32, Croatian defender Ćorluka is one of the most senior players in their team, with 101 caps to his name.
Despite being a good footballer, he also doesn't mind being a generous and decent individual.
In 2011, when attending a nightclub in Mayfair, he swapped his £36,000 watch with a waiter after the gentleman complimented him on the expensive accessory.
In return, he received the waiters £150 watch, which seems like a fair deal for a footballer. At the time, a source from his then-club, Tottenham Hotspur, said:
Charlie (Ćorluka) took it off and handed it to him.

Then he spotted the waiter's watch and said he liked it. He said, 'Let's swap.'

The waiter thought he was joking. Charlie's a lovely bloke and always polite.
8. EpicBrozo.
Croatia has many great midfielders, but none of them has trademarked their own celebration like Marcelo Brozović has.
Following a 4-0 win for his club Inter Milan over Udinese in December 2015, he trademarked the celebration calling it 'EpicBrozo', which literally involves nothing else beyond putting your hand on your chin.
In January of this year, he also brought a cafe-bar in Croatia and once again named it EpicBrozo, with the logo being an emoji of the chin celebration.
9. 'I Don't Wanna Know' was number one last time England and Croatia played at a tournament.
Although it's not quite as good as Nelly Furtado it's also worth looking back at what the popular music choice at the time was.
Back in June 2004, Mario Winans was top of the pops with the decent enough 'I Don't Wanna Know'.