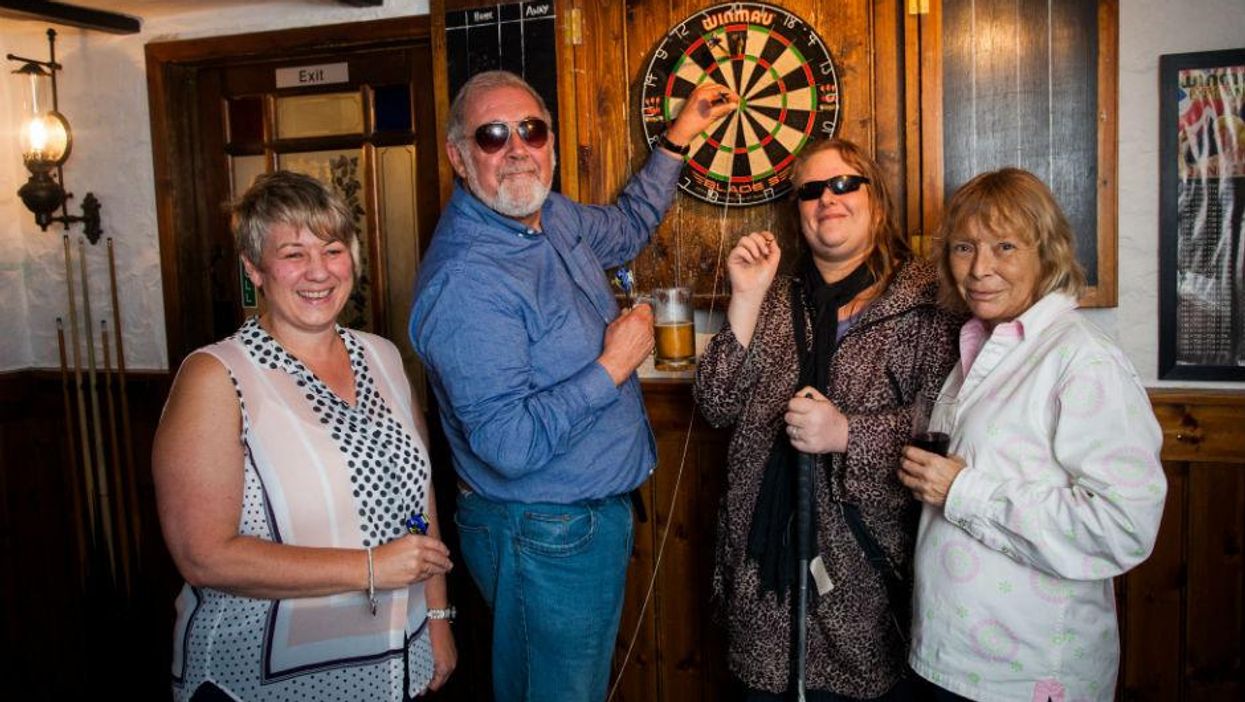 Who are this lot, then?
A group of friends has set up Britain's first darts team for the blind. The Optimists – comprising Richard Pryor, Rachael Beresford, Carol Pirret and Sharon Walters – are training for their first match and the players have announced that two out of three of their arrows are now hitting the board.
Wait, darts, how?
The team uses a piece of string attached to the board to help guide them to the bullseye. They have, inadvertently, caused some damage to the interior of their local pub, The Dolphin Inn in Grampound, Cornwall. However, they insist nobody's been injured.
Why a darts team?
Mr Pryor, 68, said: "The landlord mentioned that the Rotary Club had organised for pubs to take part in a fast darts competition. He asked if we wanted to put in a blind darts team. After three pints I am up for anything and we said yes."
The former social worker went completely blind over the course of three days when his retinas haemorrhaged irreversibly 38 years ago, but he was determined to continue enjoying his favourite hobbies.
Optimist by name, optimist by nature…
"Just because you can't see, it doesn't mean it's the end of the world. I have been blind for nearly 40 years and I have a superb time, I wouldn't swap it for anything," said Mr Pryor, who organises a monthly support group for the blind and visually impaired.
However, he added: "On the night people might want to stand back a little bit as I don't think we get any points for hitting the spectators."
How long have they got to hone their skills?
Tomorrow they will participate in the fast darts contest, when they will attempt to score as many points as possible in 90 minutes.
They will be competing against 13 other clubs, all of whose players can see. Ms Pirret, 53, said she was "very excited", though Ms Walters, 46, took a more pragmatic approach. "It's going to be fun, but I don't fancy our chances," she said.
Top 100