A West Ham United fan who attended the Hammers' last major European final in 1976 has recalled feeling like West Ham was "the only thing in the world" as there was claret and blue "everywhere you turned".
Mark Sullivan, 57, was nine years old when he went to the European Cup Winners' Cup final against Anderlecht at Heysel Stadium in Brussels, Belgium, with his late father Pat Sullivan and a group of his father's friends.
Recalling the match, Mr Sullivan said he stood on a crate from a greengrocers to watch the game from the stands, which were mixed – Anderlecht fans stood side by side with those supporting West Ham, and one even shook his father's hand when goals were scored.
The Hammers lost that game 4-2 but on Wednesday evening, 47 years later, they face Fiorentina in the Europa Conference League final in Prague.
Mr Sullivan, a father-of-three from Hackney, north-east London, told the PA news agency: "My biggest memory apart from the game itself is going over on the ferry… either the ferry was entirely booked to take football fans or that's what it felt like, because the ferry was absolutely loaded.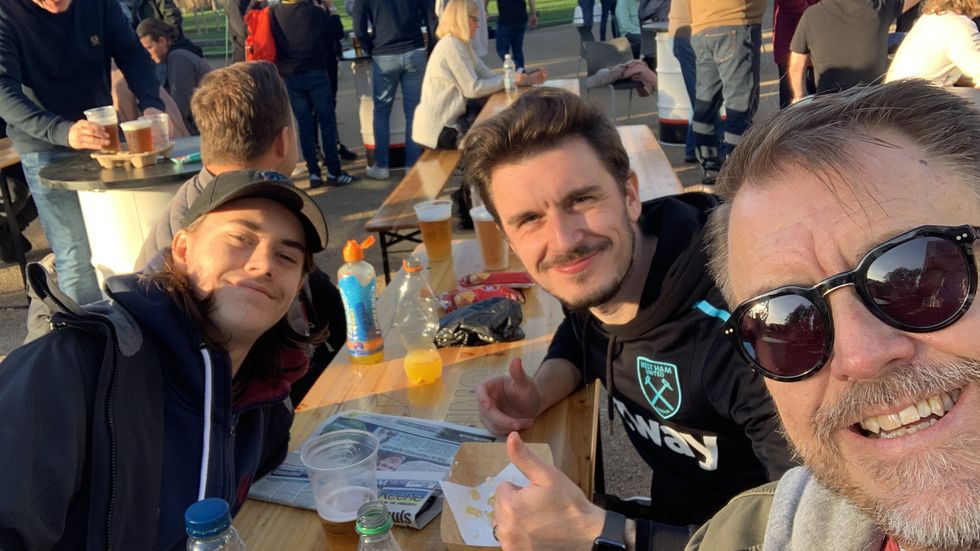 Mark Sullivan (right) with his sons, Jack (left) and Matthew (middle), at a West Ham match (Mark Sullivan)
"The whole day really for me, it felt like the only thing in the world was West Ham, because all the coaches were West Ham fans, all the ferry was all West Ham fans and then when we got to Brussels, we were surrounded by West Ham fans.
"My recollection of it, from the minute I got up in the morning to the minute I got home at night, was just being completely blown away by how the world was entirely West Ham for the day – everywhere you turned it was claret and blue."
Mr Sullivan now takes his two sons, Matthew, 32, and Jack, 16, to West Ham matches, and he will be watching Wednesday's final at home with his youngest son who also supports the team.
"Getting to the final is absolutely fantastic, but for my son, he's just over the moon about it," he said.
"Watching it through his eyes, and remembering how I felt when we got to the final, there's that much more energy for the pair of us whenever we watch a football match."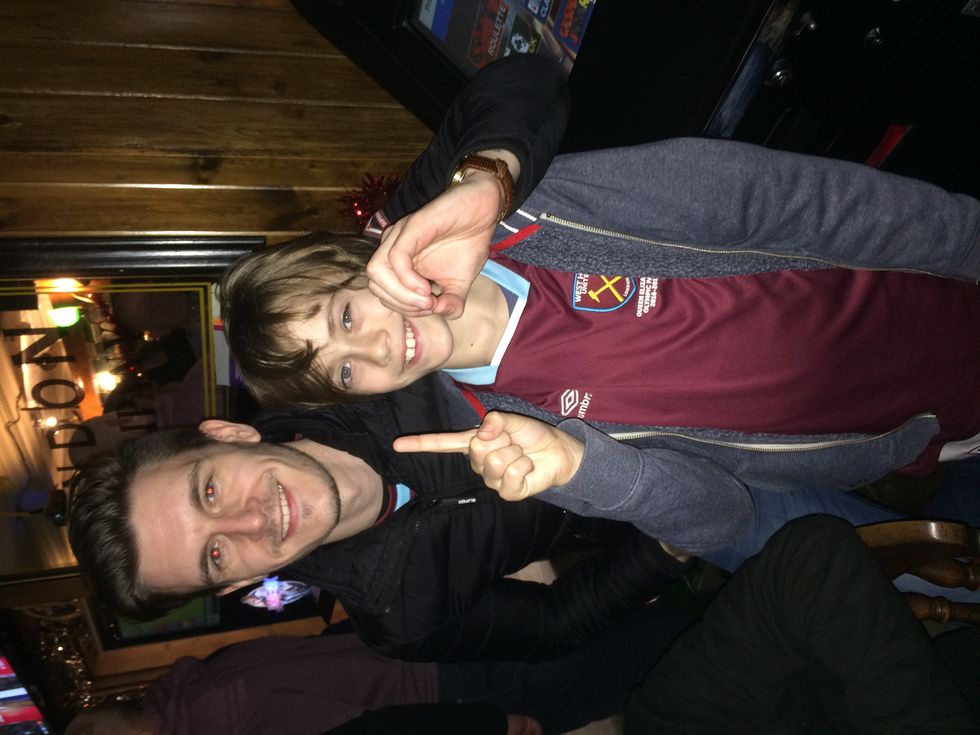 Matthew Sullivan (left) and Jack Sullivan (right) after a West Ham win in 2016 (Mark Sullivan)
Reflecting on the 1976 game, Mr Sullivan recalled how home and away fans stood "side by side" in the stadium, in contrast to today's game, and he remembers seeing his father shake the hand of the Anderlecht fan next to him when either side scored.
"Home fans and away fans were side-by-side," he said.
"I've got a very strong memory of my dad standing with an Anderlecht fan and talking through almost the entire game.
"As I recall, I'm sure they shook hands if one of the team scored a goal.
"Maybe I've romanticised it, but I'm sure that's what happened."
Mr Sullivan also recalled how his father had acquired a fruit crate from a greengrocers in east London for him to stand on throughout the match, which they took with them all the way to the stadium in Brussels.
"In the ground, I was standing on the crate in front of my dad so that I could see," he said.
"Towards the end of the game, when it was clear we were going to lose, there started to be some trouble.
"There was a West Ham fan who came down, and said to my dad that he wanted the crate – presumably he was going to break it up and use it for stuff.
"My dad said no and then the boy went off and came back with an Anderlecht flag and set fire to it in front of us."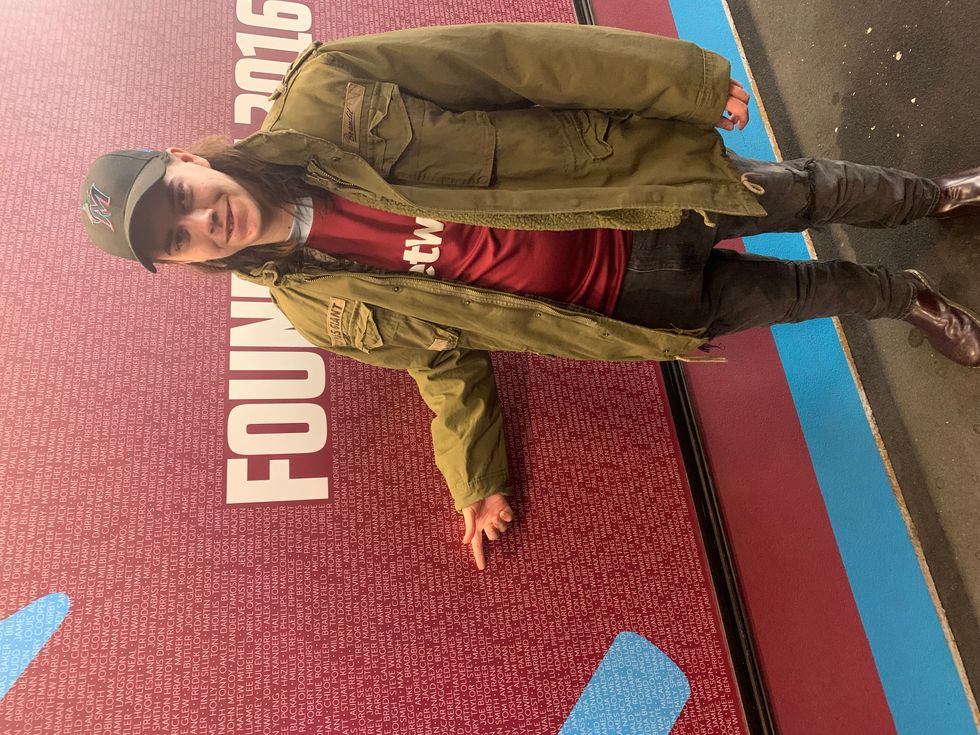 Jack Sullivan pointing to his own name on the Founders Poster at West Ham's London Stadium (Mark Sullivan)
Mr Sullivan said the Belgian Police dealt with the incident "fairly swiftly".
"My only recollection of aggravation of any kind was that guy, who was clearly very drunk and upset," Mr Sullivan said.
He added: "My sense is of a largely peaceful and happy occasion.
"At the end of the game, when we'd lost, I remember seeing lots of grown men cry – which has really stuck with me."
As West Ham take to Prague's Eden Arena on Wednesday, Mr Sullivan said it would be the "greatest result" in his lifetime if the team were to win, and for his son Jack, he said "it would mean everything".
"I've seen us win FA Cup finals and play-off finals, but this would be the greatest result in my lifetime supporting the team," he said.
"For my two sons, I'd like to think a win would mark the start of a period of time when West Ham play in Europe on a regular basis.
"For Jack, my 16-year-old son, it would mean everything."
He added: "We live in North London, so all his neighbours and school friends are Arsenal supporters.
"If we win, he would have bragging rights over them for the next 12 months at least."