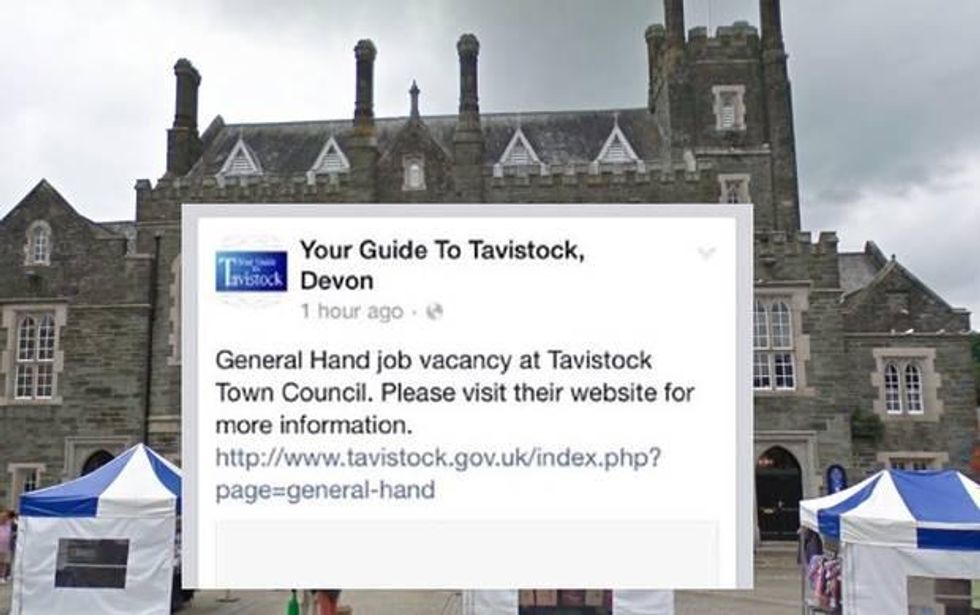 This 'General Hand job' application appeared on the 'Your Guide to Tavistock' Facebook page on Wednesday, leading to much hilarity.
But the local area guide website is the not the only one to suffer an unfortunate gaffe in the job applications process.
1. "Um. Dear Heather..."
Heather McNab, 18, was applying for a job at an estate agent when she made this crucial error. Her confession on Twitter went viral and she even caught the attention of the chef himself.
2. How not to travel to a job interview
A moody commuter might have regretted his actions when he realised who he'd sworn at his interviewee on the way in. Fortunately recruiter Matt Buckland said he didn't hold it against him.
3. CORRECTS TO REMOVE UNNEEDED INFORMATION
Lauren Sherrick of Davenport, Iowa, helps paint a compass on the Mason City, Iowa, Municipal Airport ramp on Sunday, May 18, 2014. Instead of starting this cover letter by listing the top ten reasons why I am the perfect candidate to be Buzzfeed's photo essay editor... (AP Photo/The Globe Gazette, Arian Schuessler).
An Associated Press employee accidentally pasted her BuzzFeed job application spiel onto a photo credit and thus sent it to 1,700 newspapers in 120 countries around the world. Although she managed to redact it quickly, the folks at Gawker spotted her error and the mistake went viral. Good way to get the attention of a prospective employer at least.
5. More unfortunate attachment issues
Posting this image on her Tumblr, Canadian jobseeker Vanessa Hojda explained: "I ACCIDENTLY SENT MY POTENTIAL FUTURE BOSS A PICTURE OF NIC CAGE RATHER THAN MY COVER LETTER + RESUME, WHICH HAS A ZIP FILE TITLED WITH A BUNCH OF NUMBERS LIKE THE JPC I ACCIDENTALLY ATTACHED OH MY GOD." Oops.
6. Those maths don't quite work
The Royal Australian Air Force was trying to attract the cleverest applicants by hiding the relevant telephone number for an engineering job in this advert, but a mistake in the complicated algebra meant the puzzle was actually impossible to crack.
7. Calling all bad drivers
8. Boooo
9. Insensitive timing or poor choice of stock image?
10. An hourly wage we can all appreciate