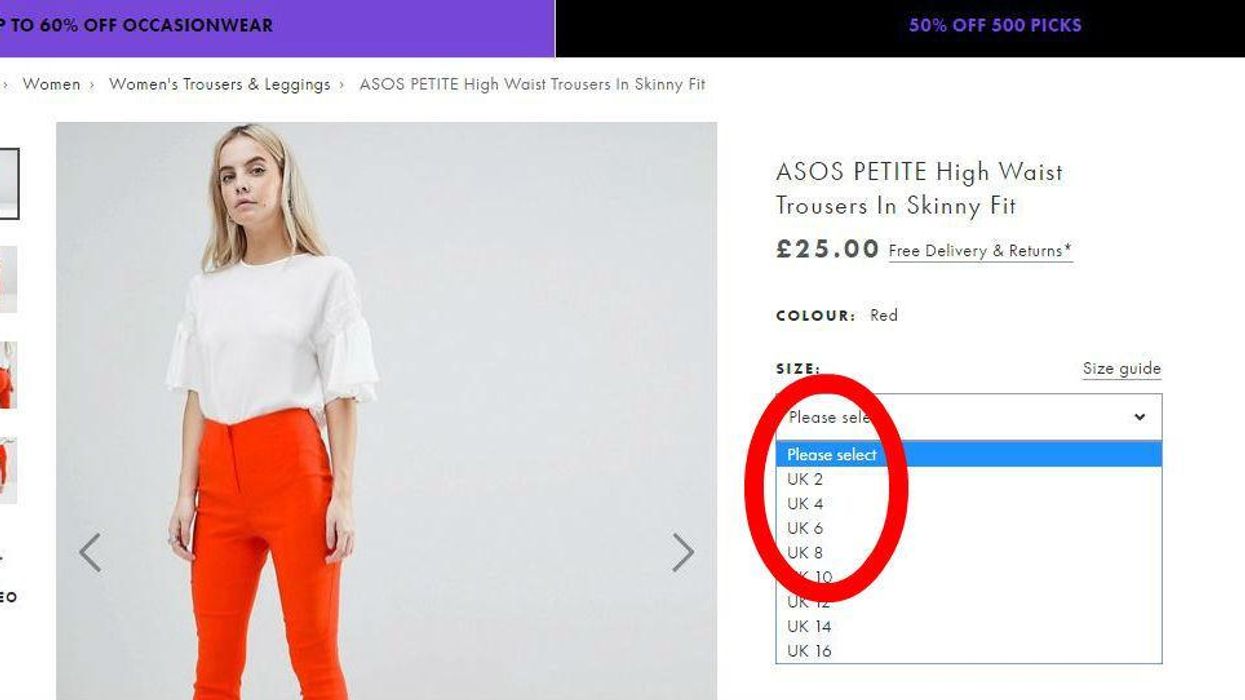 ASOS screengrab
Clothing brand Asos has come under intense scrutiny for selling clothing sizes for women that are far smaller than the average.
The British company, which has its own brand and stocks other high street brands as well, offers trousers with a waist measurement of 22 inches - a size two
The UK average is size 16 with a 34 inch waist.
Liberal Democrat MP Normal Lamb, former minister for mental health told the Mail Online stocking the small size was 'dangerous'.
This is totally irresponsible behaviour from Asos. It runs the risk of normalising sizes which are extreme for adults. It sends out a very dangerous signal to teenagers and young women.
Lib Dem MP Christine Jardine added that though "there are young women who are naturally this size…we must be responsible about how this is portrayed and not promote it as an ideal".
The size 2 clothing is found in Asos's petit' section, specifically designed for smaller women.
One person called it 'ridiculous'.
Another person has decided not to shop at Asos anymore.
However, others are pointing out that Asos is merely catering to a diverse group of women - both large and small.
And smaller women are actually happy that Asos is expanding its sizing.
A spokesperson told the Mirror:
We take an inclusive approach to helping young people look, feel and be their best.

We believe cultural, physical and individual differences are to be celebrated and so we offer fashion in over 30 different sizes.
indy100 contacted Asos for comment.