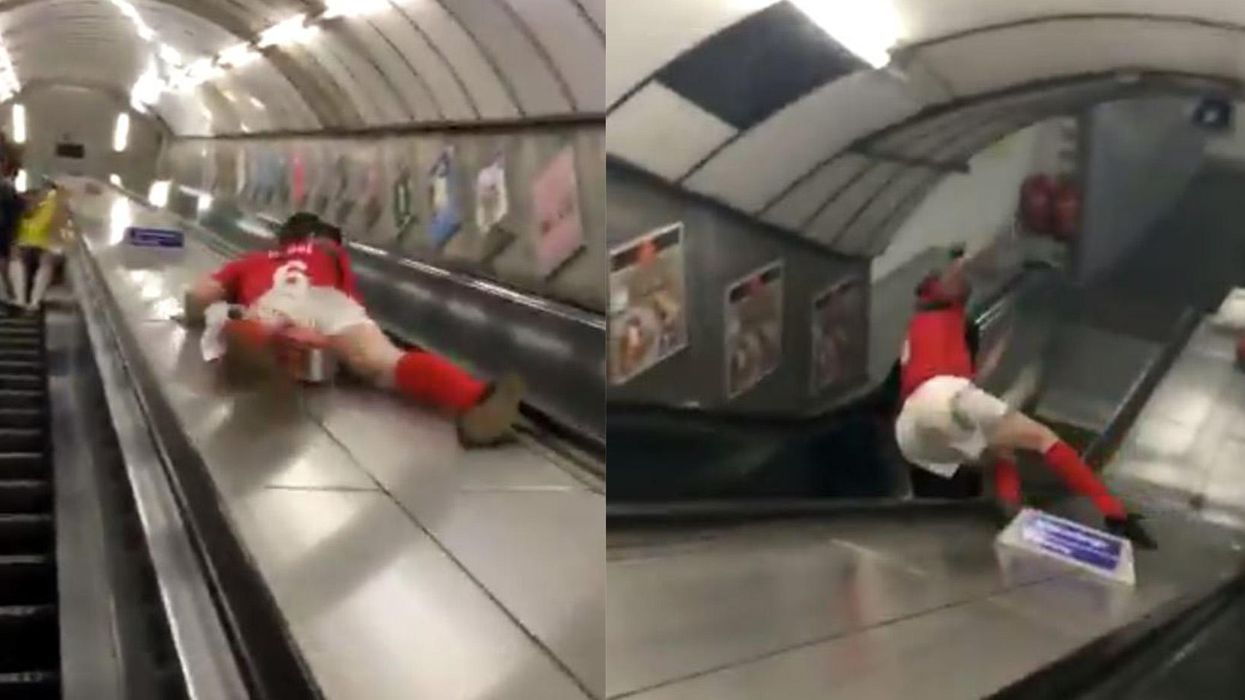 JAMES GOWER/TWITTER/SCREENGRAB
Escalators on the London Underground are principally for getting from one part of a station to the other safely.
As tempting as it may be, the section that separates the two sets of moving stairs is not for sliding down.
For a start, there are several obstacles like alarms, signs and spikes in the way - and there isn't exactly a way to stop yourself mid-slide.
Someone should have told this unfortunate chap, who learned those facts the hard way after a drunken night at the PDC World Darts Championship at Alexandra Palace on Thursday night.
All we can say is "ouch".
The tweet, which was posted by James Gower, has since gone viral and has picked up over 200,000 retweets at the time of writing.
Thankfully James was able to confirm in later tweets that his friend, named Freddie Andrews was OK and only suffered a few cuts and bruises.
Despite this, people still couldn't help but wince in pain at the video.
@__gower Well that escalated quickly! 😂

— Bianca Westwood (@Bianca Westwood) 1513895679
According to the Evening Standard, the stunt took place at London Bridge station and Freddie did regret it.
The 22-year-old is quoted as saying:
I was that drunk - I'd had about 10 pints - the escalator was free and I thought, 'why not?'

It was faster than I thought it would have been. But as I was sliding I couldn't stop myself and had no choice.

I did regret it. I  was so drunk I did not feel a thing until I woke up yesterday and could not move.
He concluded by saying that he definitely wouldn't recommend it to anyone else.
In response, the London Underground has criticised the stunt and encouraged people to follow their safety guidelines.
A spokesman told the Standard:
Safety is our top priority and pranks like this are dangerous for not only those involved but also to other customers.

We have frequent PA announcements reminding customers to be careful when using escalators, and we also run safety campaigns throughout the year to encourage customers to take care whilst travelling on our network.