Getty Images / ANDERS WIKLUND / Contributor
A giant blue penis mural was recently erected in Stockholm - but it won't be up much longer.
You might remember that an enormous pink penis appeared in New York City on Christmas Eve, only to be painted over by order of the building's landlord.
The same fate awaits a recent unveiling in Stockholm, entitled 'Fuck the World', which is by the same Swedish artist, Caroline Falkholt.
The mural was meant to stay up for six months, drawn on a wall where graffiti artists with permission are allowed to paint what they want, including a giant blue penis complete with bulging veins.
But an overwhelming number of complaints - and banners over the mural reading "keeping your penis inside" - has meant the company that owns the residential building will paint over it just one week after it was unveiled.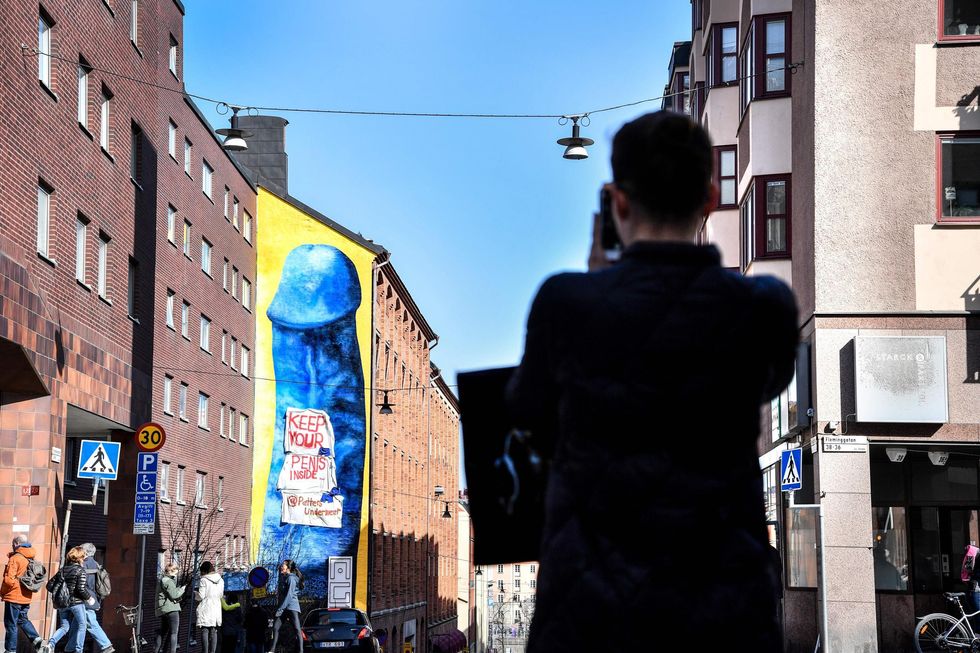 PIcture: Getty Images / ANDERS WIKLUND / Contributor
Falkholt told The Guardianthat her work was often about "not feeling ashamed of your body and who you are as a sexual being", a message pretty much anyone should be able to get behind.
But apparently sexuality isn't so easy to celebrate for the masses if it means a giant blue penis in your face every time you walk down the street.
One Swede wrote on Twitter, according to Russia Today:
Think of the neighbours and the children… embarrassing.
Another wrote:
That blue penis only shows how low the culture in Sweden is today.

I have limited faith that this outstanding monster will create dialogue around sexuality and freedom.
In response to disgruntled residents, Falkholt told the Afotonbladet:
They should consider what it is they are so upset about and then talk about it.

Sex is so important, but it's always been too dirty to discuss.