Resigned yourself to living in the rat race forever? At least know which cities to pick - and which to avoid.
140 cities have been judged on factors including political and social stability, crime, education and access to welfare by The Economist Intelligence Unit (EIU) annual survey.
The survey saw global liveability broadly increase over the past year thanks to a reduction in terror threats, which had dragged Manchester down the rankings last year after the Manchester arena attack.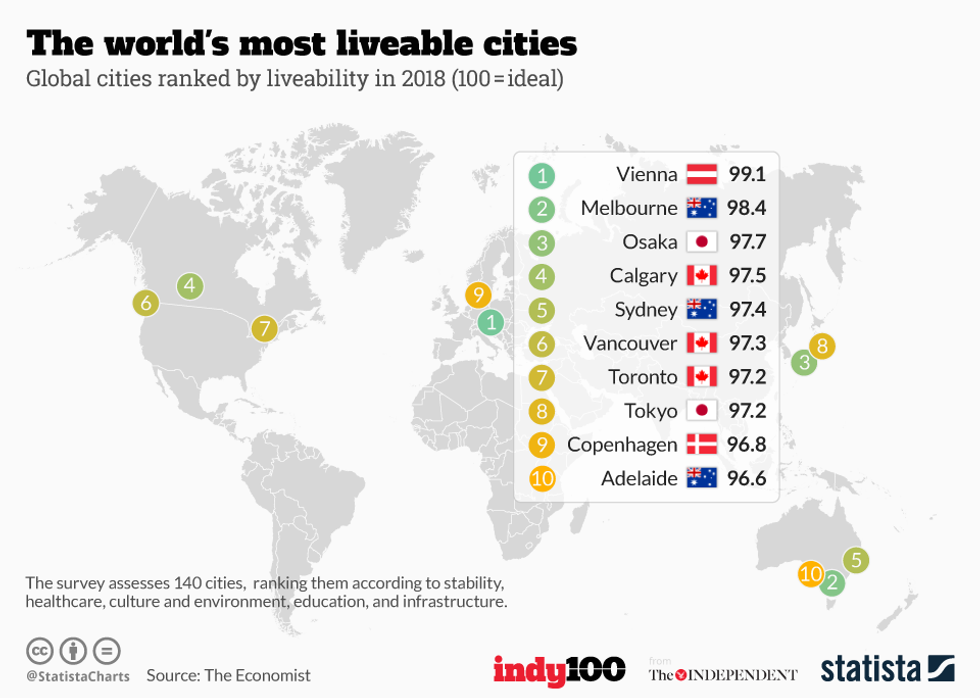 Austria's capital Vienna tops the rankings, a first for a European city. It displaces Melbourne, Australia, from the top spot, which it had held for a record 17 years.
Manchester is also making its continent proud by jumping 16 places to rank 35th, ahead of London by 13 places.
This is the biggest improvement of any European city and, according to the EIU, is thanks to its improved security score.
Sydney (5th) and Adelaide (10th) also made the top 10, while only one other European city (Copenhagen) hit the top-ranked places.
Damascus, Syria remains at the bottom of the table with a liveability scored that is 7.3 per cent lower than the second lowest ranking city, Dhaka, in Bangalesh.
Conflict is behind many of the lowest scores, damaging infrastructure, overburdening resources and undermining the availability of goods.
The survey doesn't include locations such as Kabul, Afghanistan and Baghdad, Iraq, as they were not deemed stable enough to live in when the list of cities were drawn up.
This was before the 2011 Arab Spring, when cities such as Damascus and Tripoli were more stable.