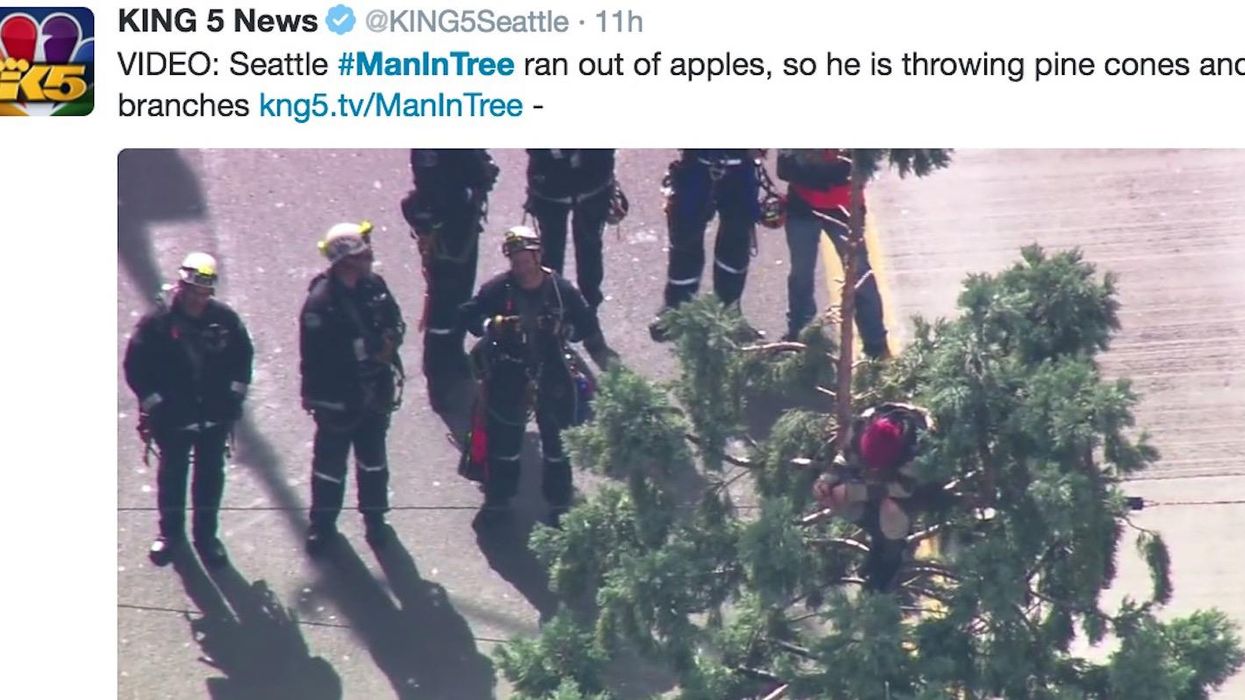 There is a man who has climbed the 80-ft Sequoia tree in downtown Seattle, and will not get down.
The tree, located on the corner of Fourth Avenue and Stewart Street, was planted in the 1970s, and is roughly 25 metres tall.
The man, who has been described by police and witnesses as "agitated" scaled the tree just after 11:30am on Tuesday (roughly 6:30pm GMT).
Police were called after people noticed the man in the uppermost branches, and the Seattle Police Department and fire crews were called to the scene.
Negotiators scaled a fire truck ladder to talk with the man, who has been throwing apples, orange peels, pine cones and small branches at law enforcement.
He has been tearing branches off the tree and told rescuers he was armed with a knife. He has also requested a pack of Camel Crush cigarettes.
To give you an idea of the scale of this tree:
Before 9pm local time, KOMO News reports the man climbed roughly halfway down the tree, before returning to the top and breaking off branches en route.
As of Wednesday morning, the man remained in the tree, and #ManInTree has been tracking the situation on Twitter, while several local news organisations are live streaming the standoff.
He's become quite the story
People from all over the world were watching
There were puns
And concern
The news even brought local 'superhero' Phoenix Jones to the scene
Who was dismissed by local authorities