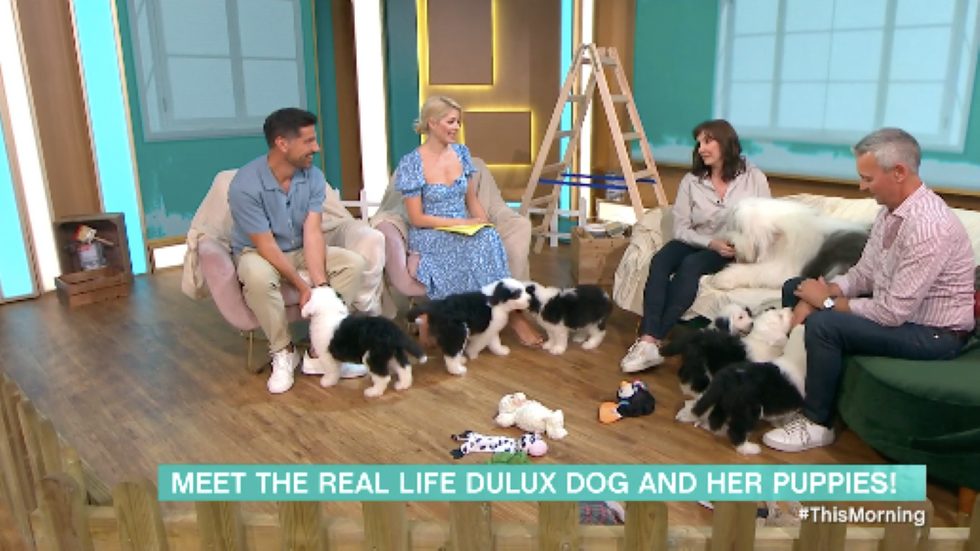 This Morning's hosts were kept on their toes as the real-life Dulux dog and her litter of puppies ran rampant on the show's set.
The six-year-old English sheepdog, named Olivia, and her batch of seven puppies appeared on the ITV morning show on Wednesday as their owner discussed what it takes to be the mascot of the paint company.
However, hosts Holly Willoughby and Craig Doyle got more than they bargained for as the young dogs began causing chaos by peeing and pooing during the segment, while one ran off to the set of fellow ITV show Loose Women.
As Willoughby was chatting to the Olivia's owner Ellen Wheeler, one of the puppies pooed on the floor, with the TV presenter dismissing it saying: "You're not the first puppy to do that on here."
Doyle was landed with cleaning up the mess in between cuddling with the puppies, saying: "I have to laugh, the gang up in the gallery are saying: 'Don't worry, we'll clear it up later.'
"No it's under my nose, it's literally all I smell."
At one stage, one of the puppies ran off the set to roam around the Loose Women stage before returning.
The puppies were born eight weeks to Olivia, who features in the Dulux paint commercials.
Owner Wheeler revealed that Dulux only allow the dogs to work for four hours at one time and that a vet is present throughout to ensure the pet is happy.
She also explained that no puppies in this new litter are expected to take over from Olivia as the dog's older pup, Vienna, is already in training.
Wheeler said: "I did actually take this litter to keep the next Dulux dog but we actually have Vienna who's Olivia daughter from three years ago, and Vienna's already in training to replace her mum in a few years.
"So the next one that will come from probably Vienna's litter, that will then be Vienna's replacement."