Daniel Britton is a graphic designer who was diagnosed with full dyslexia in his last year as a student at London College of Communication.
In response to the diagnosis and in an attempt to recreate the emotional experience of dyslexia, he created a font.
See if you can read it:
Picture: Daniel Britton
It took you a while, right? That's the whole point.
Daniel told indy100 that he made the font because he was frustrated with the current material which tries to mimic the condition - or give people a taste of it:
What's out there at the moment, in most of the awareness posters, tries to recreate what it's like with dyslexia - the problem is that with a non-dyslexic brain you can work out exactly what's going on very, very quickly. You can look at it and decode it in two seconds flat, why is this a problem? It's not doing dyslexia justice.

The font, is all about putting people in the shoes of a dyslexic, by trying to give them a sense of that frustration.
The font uses Helvetica, and removes 40 per cent of the lines in the typeface, to make it harder to discern each character - in doing so, and by making the brain work harder to discern each individual character, it gives readers a sense of the frustration people with dyslexia face on a daily basis.
Picture: Daniel Britton
Britton set up a crowdfunding page, with which he hoped to create an educational pack around the font, for use in schools, because he sees a lack of awareness about the realities of the condition.
He was initially diagnosed in Year 4 at primary school (age 8-9) which established some level of dyslexia, before he was diagnosed fully aged 18.
Daniel said he experienced lack of awareness about the condition first hand, both in the lack of understanding in school, and in the information packs he was sent when he was diagnosed.
Daniel told indy100:
The British Dyslexic Association sent me the packs they send to schools, to teachers, to parents. It was like a bible, it was enormous and I thought 'what on earth is this for?', what dyslexic person can read 400 pages of information, all printed in black and white?


>All of the inspirational posters in it are people like Brian Conley. What 11-year-old child will be inspired by Brian Conley? They don't know who the guy is!
The problem with it is it's outdated and probably not written by someone who is dyslexic in the first place, because they have absolutely no idea who their audience is.
Picture: Daniel Britton
Since the font started receiving attention online, Daniel said teachers have been imploring him to create the pack:
I've had so many emails from teachers, not only in England - in Peru, Chile, all parts, asking for the pack because we don't have the proper equipment.

I want it to have all the material in the official one, but in a way that is incredibly, incredibly simple to read if you're a child of eight, a child of fifteen or if you're a parent. Everyone should be on the same page.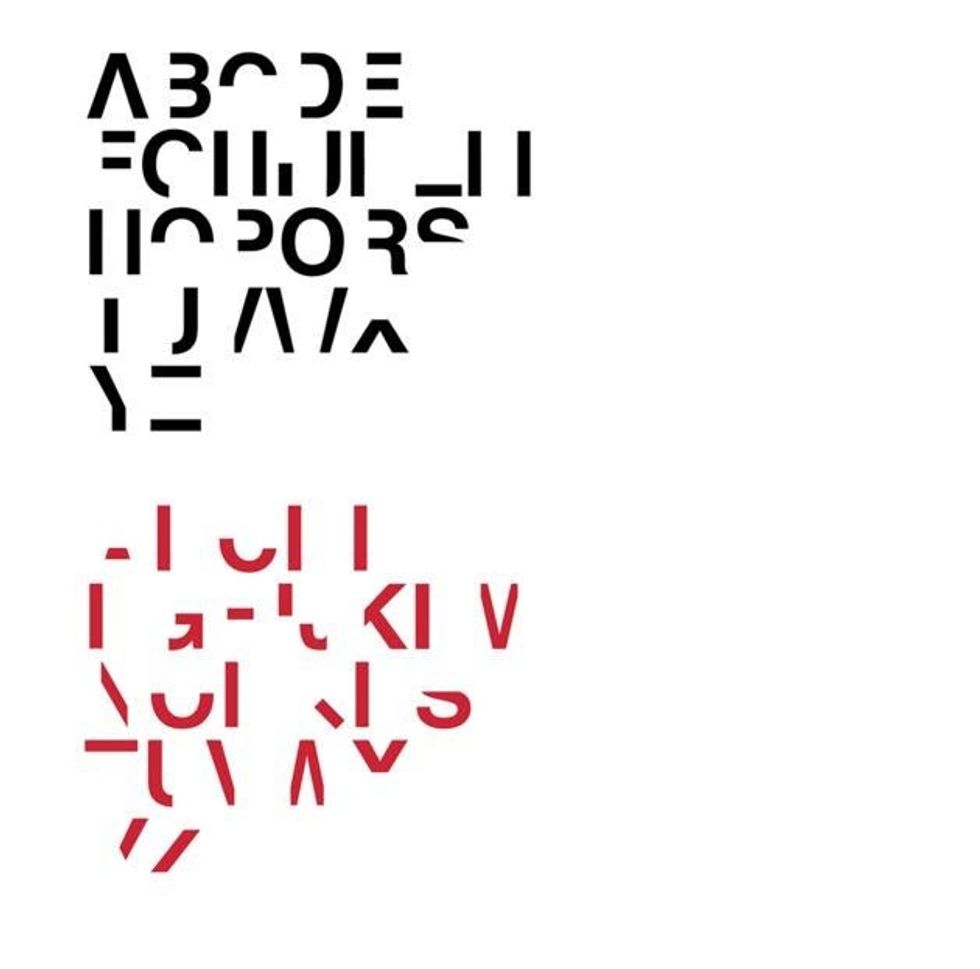 Picture: Daniel Britton
Being a graphic designer, and a dyslexic, I'd design it in a way that wasn't as intimidating - the current information so poorly designed - make it is as easy and comprehensive as you can.
Daniel says he hopes to start new crowdfunders and kickstarters due to the renewed interest in the font, in order to fund the educational pack in August, and should the leaflets prove popular and helpful he may release the font for download too.
I hear Richard Branson's always up for funding things, maybe he'll sort it out. I'd love to do a dyslexic experience in the Tate or the V&A or the design museum, take a room and make you live a day in the life of someone with dyslexia.
Picture: Daniel Britton
You'd get on a train carriage, and the papers would all be reproduced exactly but in that font, as would the signs, and then you'd walk through to a place of work and you'd be using phones and computers with only that font available, so you have to sit through a whole day of the frustration.
Picture: Daniel Britton
He says that awareness, co-operation, and de-stigmatising assessments are key in schools, exactly what he hopes to achieve with his educational leaflets:
Schools can only do so much, you have to have the parents, the student and the parents all working together.
If you suspect you may have dyslexia, or that a friend or relative does, you can consult the British Dyslexia Association or the British Psychological Society for details of a professional who can give you an assessment. Dyslexia is not covered by the NHS, so a GP may not be able to help with a diagnostic assessment.