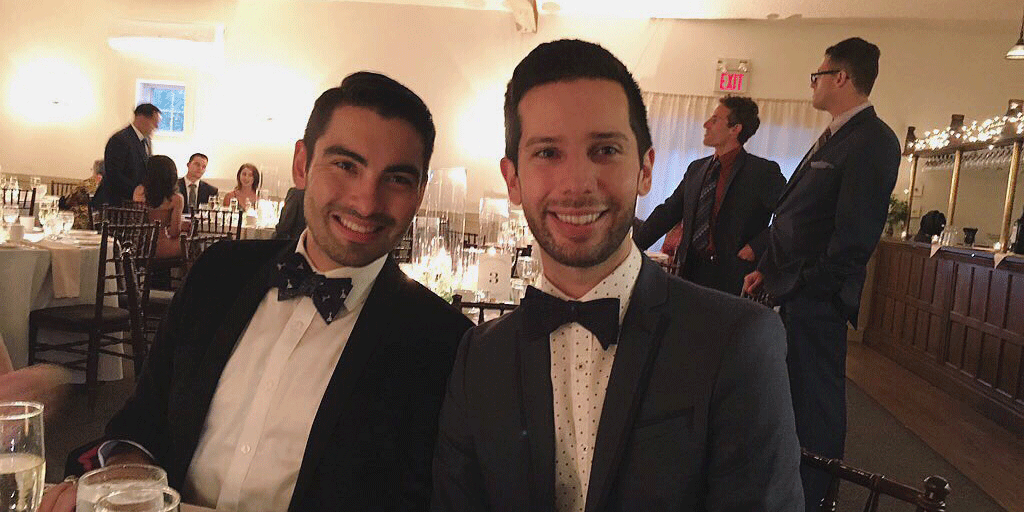 Twitter / @majtague
You think blinking during a photo is bad? You have nothing on this guy.
New Yorker Mike Tague recently attended a wedding with his boyfriend, Andrew Mercier.
The two happily sat looking dapper as the wedding photographer took what could have been a beautifully candid photo of the couple.
But instead the photographer inadvertently created a horror show with glass completely distorting Tague's head.
Tague told Mashable:
My first reaction was 'This is so ugly that I hope nobody ever sees it.'

But then I thought that my friends and family would really enjoy seeing a messed up, ugly, crazy version of my face in such a nice setting.

And the contrast with Andrew really helped make it funny, at least to me.
It's funny to everyone else too, Mr Tague.
Mercier said:
I definitely laughed because Mike has such bad luck with photos, but mostly I was glad that at least I looked pretty!
It's even better zoomed in.
The shape of the head does look oddly familiar...
The photographer's motivation has been decided by international jury (aka Twitter poll).
Tague has learned the cruel rules of the internet.
And in the process, he has nobly benefited both science and art.