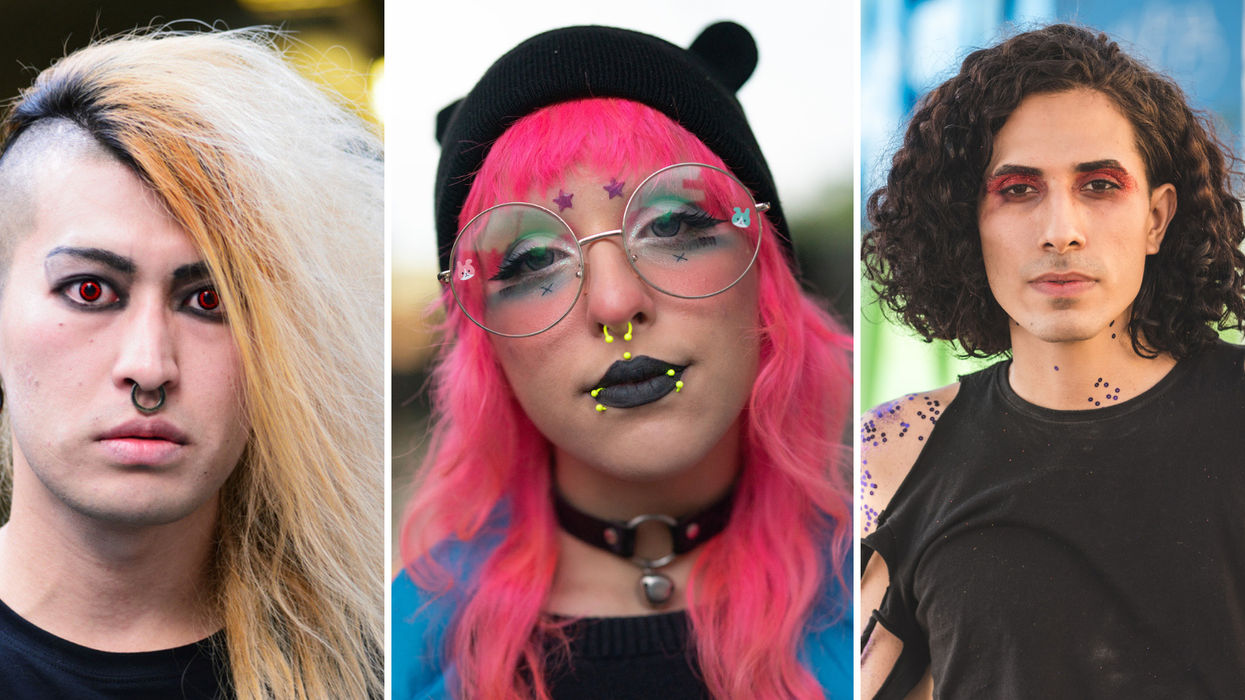 Today is World Goth Day, which means it's high time you got yourself clued up on the black-clad sub-culture.
OK, so you're probably at least a teeny bit familiar with the basic aesthetic of a goth. If you're not, let us tell you – it involves lots of black, most of the time. But is there more to it than that? Is it really as dark and eerie as people presume?
Well, the sub-culture initially blossomed during the early 1980s as an offshoot of the post-punk scene in the UK, culminating in a new musical genre of the same name. Early bands that are often linked to the scene are generally the more genre-bending acts of the post-punk era such as Siouxsie and the Banshees, Joy Division, Bauhas and The Cure with their iconic king goth frontman Robert Smith.
Aside from music, which we should add isn't all doom and gloom per se, the scene is heavily influenced by fashion, literature, the fetish scene and Victorian and Edwardian styling. Although, as we'll come to, being 'goth' isn't hard and fast and there are various sub-sections of the sub-group that have their own entirely different vibes. Largely though, the aesthetic is gothic in nature and generally comprises of lots of black but colour isn't unusual on occasion. Often pale face make-up is also worn with black hair, lipstick, eyeliner and sometimes mascara.
As a whole, the movement was born from music but is widely regarded as an 'aesthetic', not just a music scene. It's about being seen in the way you want to be and taking control of that.
What is World Goth Day?
As the title would suggest, World Goth Day is a single day every year that's set aside by the alt-communities to celebrate gothic sub-cultures.
The event is seen as an opportunity for the scene to 'celebrate its own being, and make its presence known to the rest of the world.'
The first Goth Day event was held in 2009 in the UK and has taken place on 22 May every year since, becoming a global event.
Now an annual event, the day was first recognised in the United Kingdom by BBC Radio 6 DJs Cruel Britannia and Martin Oldgoth following a week of the station examining musical subcultures.
The date of 22 May was the 'Goth Day' of the week and this, it was decided as the day of the goths, thereafter.
What happens on World Goth Day?
22 May is the day to recognise and embrace (you should really do this every day too) every facet of Goth Subculture.
From fashion, music, art and film, events are held around the country showcasing Goth in all its brilliance for other like-minded individuals.
Many of the events feature local goth bands, and some also take on a charity aspect with events in the United Kingdom and Australia supporting favoured charities like the UK Sophie Lancaster Foundation, a charity that tries to curb prejudice and hatred against subcultures.
In 2019 there were over 50 events across the world, including UK, US, Canada, Australia, Singapore, Brazil, Spain, Macedonia and South Africa.
What if you can't celebrate May 22 because it's a Friday and not 'Goth appropriate'?
Well, to that we say... all days are Goth appropriate, just maybe tone down the steel capped boots and hold back on some of the eyeliner if it's a problem. Black looks great every day.
But, yes, you're right, this year the event is held on a Wednesday which isn't that convenient for most people. Don't worry!
How can I get involved?
Goth Day is more of a place marker for the truly committed, and there'll still be more than enough good events that stretch out through tour the week and the weekend for you to party in a sea of utter darkness.
Support your local goth night. Seriously, when was the time you cut loose in your DMs and black lipstick to some [insert goth band]?
Goth Nights, in fact like all good music nights, are sadly in decline what with the steady closing down of pubs and clubs. Many are run as true Labour of love and can be the focal points of whole bunches of sub-cultures. They're important ways for many to identify and be their true selves as well as have fun in the process. If you're interested check one out, grab some black (don't go too over the top if it's a first time...) and get involved.
Look the part and make sure you do your homework. Here are your options:
1. Traditional Goth
Arriving on the scene during the 1980s, this traditionalist listens to music of the era and their look will often reflect the scene of the time. Lots of black, occult and otherworldly imagery can also appear as well as piercings and pale make up.
2. Cyber Goth
Unlike trad-goths, this bunch involve a lot more colour and tend to give things futuristic or industrial twist. Heavily inspired by both the goth, rave and cyberpunk scenes their aesthetic can include bright neon colours, black, PVC and latex, goggles and dreadlocks.
3. Romantic Goth
Very much inspired by Victorian fashions and iconic literature like Bram Stoker's Dracula – think Mina Harker style and you're along the right lines. This sub-section can often be seen wearing frock coats, top hats, reds and maroons and occasionally orange and greens. Their values are wrapped around the dark and moody but with a fondness for romance and love, as the name suggests. An elegant, otherworldly, nostalgic take on the goth scene.
4. Vampire Goth
Exactly as you'd expect, these types of goths tend to emulate the look and vibes of vampires. Often wearing false fangs, some even go to the extreme lengths of filing their own teeth to a point. Typical looks will involve dark, long hair, meticulously pointed nails and dark eyeliner. They may also emulate the actions of drinking blood (some may even actually partake in the practice) but this isn't a pre-requisite of a Vampire Goth.
There are of course many, many more types of goths but we'd encourage you to do some research and unleash your own inner darkness...
5. Listen to some goth music
Here's a list of some seminal goth bands that are worth checking out.
Bauhaus
The Cure
Siouxsie and The Banshees
Sisters of Mercy
The Chameleons
6. Watch a goth movie
And some required gothic viewing if you're really making a day of it.
The Crow (1994)
Beetlejuice (1988)
The Nightmare Before Christmas (1993)
The Craft (1996)
The Hunger (1983)
7. Read some great goth books
And for the true diehards, you could also give these books a go.
The Vampire Chronicles, Anne Rice
Native Son, Richard Wright
The Sandman, Neil Gaiman
Dracula, Bram Stoker
Enjoy!
Top 100